Tea Tree Essential Oil Beauty Glossary from BellaSugar Uk
Beauty Glossary: Tea Tree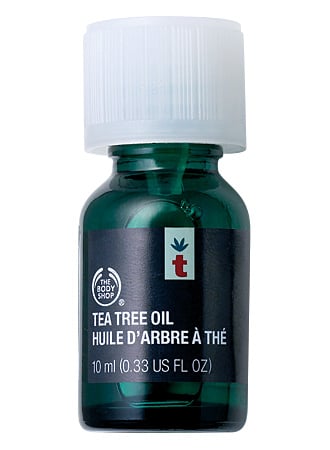 Tea tree is a well-known essential oil, that become widely used in the beauty industry, from the 1990s, partly because of The Body Shop's popular Tea Tree range.
It is obtained by steam distillation, from the leaves of melaleuca alternifolia, a plant native to Australia.
The Australian Aborigines were the first to unearth the medicinal benefits of tea tree. Tea tree oil is ideal for blemished and teenage skin – it is a powerful antiseptic that can alleviate inflammation and also helps healing, by encouraging tissue regeneration.
Extensive scientific studies, over recent years, have shown it to be effective against bacterial, viral and fungal organisms, whilst being a powerful immune system stimulant – increasing the body's ability to fight off illness or infection. Just read more
Tea tree is, strictly speaking, one of only two essential oils (Lavender being the other) which can be used neat on the skin in small amounts. However, recent warnings have meant that it is much safer to dilute the oil or to use products which contain just a small amount of the oil. Try one that has already been diluted, such as The Body Shop's, (£4).
There is also evidence from researchers that believe that tea tree oil may have hormone-like properties that lead to gynaecomastia – the growth of breasts, and that this oil should be avoided by men, especially teenage boys going through hormonal changes.
Tea tree oil has been used for a variety of medicinal purposes – it is said to help spots, cuts, insect bites, stings, blisters and viral problems such as warts, verrucae, cold sores, shingles and chickenpox marks. In the treatment of moderate acne, topical application of 5% tea tree oil has shown to have an effect comparable to 5% benzoyl peroxide, although the tea tree was found to work slower.