Three Historical Royal Wedding Fragrances to Mull Over
Yesterday I went over the amazing Roja Dove Haute Perfmumerie in Harrods, which you can think of as a specialised fragrance boutique. The room itself is lavish, smells divine, and I had lots of fun testing out and learning about some of the most incredible and rare juices in the world. Among them were Dorin, Creed, Lubin, and Clive Christian, the maker of the most expensive perfume. The room made me feel like a queen, but it's no surprise as three of the parfums have been created or worn by royalty.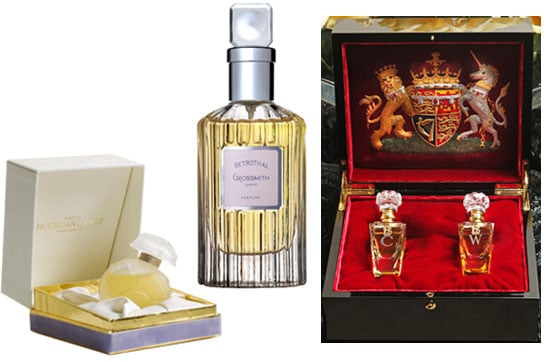 For example, on her wedding day to Prince Charles, Princess Diana wore Quelques Fleurs l'Original. Bethrothal by Grossman, was created for the wedding of Princess Mary and Prince George who became Queen Mary and King George V. Lastly, check out this gorgeous set of Clive Christian No. 1 bottles created and presented specially to His Royal Highness Prince William and Catherine Middleton for their pending nuptials. The collars of the bottles contain a diamond and their initials are written in gold. The scents are intended to complement each other and have been worn by Tom Cruise and Katie Holmes on their fairy-tale wedding day.
Fragrances evoke all kinds of memories for me, and I think it's pretty amazing to smell the same scents as such famous royals. I wonder if Kate and Wills will wear Clive Christian, what do you think? Click through this gallery below for more history of the fragrances.