Tom Ford Makeup Collection Launching in September!
Tom Ford to Launch 132-Piece Colour Collection
We've been patiently waiting for Tom Ford's next big beauty breakthrough to arrive, and it's finally here! Not only have I, and I am sure most of you who have tried Tom's lipsticks, fallen head over heels for his creamy nudes and bright shades, and this is a complete colour and skin care line full of even more wondrous goodies. The king of Italian ready to wear is officially launching a 132-piece makeup line due in stores on 3 Sept. Inspired by the late 1970s and early '80s, where beauty icons with full brows and lips like Angelica Huston and Gerry Hall reigned supreme, this range will not disappoint, as there's something in here for everyone.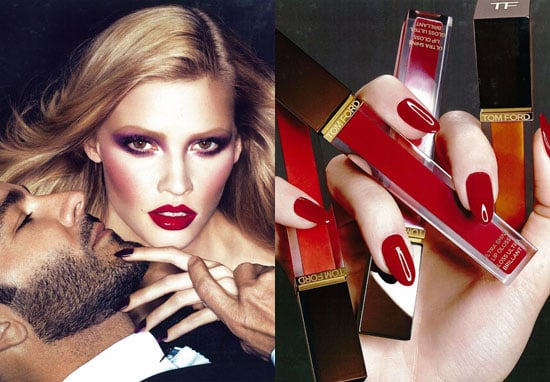 The line contains 12 brushes, a skin care range, 12 foundations, two SPF 15 foundation sticks for heavier coverage, four concealer pens, four translucent powders, an illuminating powder, 10 eye shadow palettes, six powder blushers, a black mascara, a long-wear gel eyeliner, 10 lip glosses plus a clear gloss, six eye pencils, a brow pencil in four shades, a cream illuminator, and a bronze cream contour available in two shades, and two fragrances called Santal Blush (a woodsy sandalwood scent) and Jasmine Rouge (a soft floral scent), which I happen to favour. All of these items come in sleek packaging with not-so-cheap price points, but I think once you play with them, you'll learn to appreciate their luxuriousness.
Oh, and I mustn't forget to mention that all of the lipsticks, with the exception of four shades, have been edited and extended. So the colours that you liked but were a bit iffy about have been reworked, and they're better than ever. My star picks of the pack are pink adobe lipstick (a deep, rich rose), ravish blusher (a brick, sienna red), burnished amber eyeshadow quad (full of soft rusty metallics), and the illuminator compact (£50) that contains a creamy highlighter and rich brown contour for the face. If you like what you see, get even more excited about the 12 nail lacquers set to reach stockists this December!