Toma Foot Therapy
New Product Alert: Foot Therapy System by TOMA
New from TOMA is a three-item at-home pedicure range called Foot Therapy System. The products are designed to treat dry and tired toes and feet at affordable prices (£4.99 per item). The first step is the regimen is the Foot Soak, then comes the Foot Scrub and finally the decadent Foot Lotion that seals in the moisture needed to soothe and smooth your barking dogs! The range has a wonderfully minty aroma (think mint ice cream) containing tea tree oil (to disinfect) and mint (to freshen). Follow these three simple steps to achieve fabulous feet: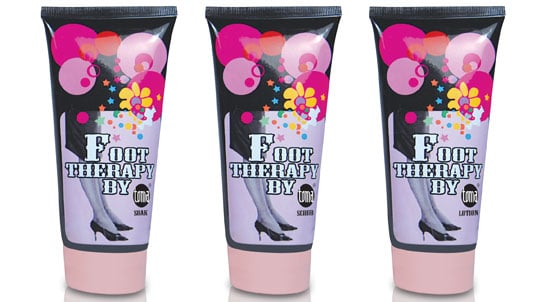 Soak: Begin by bathing your feet in Foot Soak for anywhere from five to fifteen minutes and wait for the tingling sensation to kick in (don't worry, it's not super strong). This helps stimulate circulation and it also contains cleansing, anti-fungal properties.
Scrub: Next, while your feet are in the bath, use the scrub to exfoliate your feet (paying special attention to your heels). The scrub contains walnut shell extract to help gently remove any dead (and calloused) skin cells.
Moisturise: After you've washed off the exfoliator and dried your feet thoroughly, apply the lotion generously and massage it in a circular motion until it's fully absorbed.
For close-up images of each of the products, read more.