Toni Collette at the SAG Awards, Toni Collette Tanned Skin
How To: Get Toni Collette's Total Body Tan
At the SAG Awards, Australian actress Toni Collette wowed the red carpet with her bronzed skin, flesh-toned dress and long, loose, highlighted amber waves. Knowing Toni from her work in films, she's not one to tan easily, in fact, her skin is quite pale and freckled. That's why I was so impressed with her flawless spray tan which really helped her from looking washed out in her blush gown. The products she used were from St. Tropez (a brand I also heart) and I've got the skinny on how you too can achieve this amazing red carpet tan at home.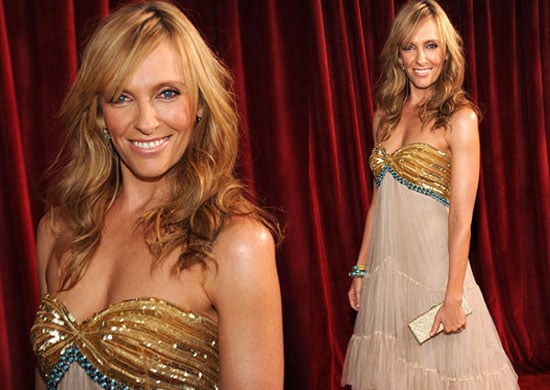 STEP 1: Begin with clean, dry, exfoliated skin that has been waxed or shaven at least 24 hours prior. Exfoliation is key to a flawless self tan so that the colour goes on as smooth and even as possible. Next, apply moisturiser to dry-prone areas like your wrists, elbows, knees and feet, as self tanner tends to collect there. Also, you'll want to protect the palms of your hands by wearing gloves or a mitt and then self tan the backs of your hands later.
To find out the rest of products needed to create this HDTV-ready glow from head to toe in just four more easy steps, read more.
STEP 2: The first product to use is Self-Tan Bronzing Lotion or Bronzing Mousse all over the body. Apply it generously, however, make sure it doesn't clump anywhere. Also, don't rub it in too hard, just apply it gently to do the trick. Wait until it's dry and then either re-apply the next day (or every other day) for deeper colour.
STEP 3: Since your hands and face fade more quickly than the rest of your body (you wash them more frequently), you'll want to apply Rapide Face to your face, neck and the backs of your hands to keep your tan looking like it's in synch with the rest of your body. To refresh the colour on the rest of your body, you can also use Tan Intensifier every few days whilst also re-polishing and moisturising regularly.
STEP 4: Lastly, when it's finally go time, you may want to sauce things up a little but with a touch of Radiance Mousse to enhance and highlight your face, shoulders, decolletage and the front of your legs with a bit of shimmer. Lastly, if you've gone too heavy in one particular area, have no fear. Simply use a little of Our Tan Detox – to remove anything unwanted!