Too Faced Sex on the Peach Collection at Sephora
Too Faced Released a "Sex on the Peach" Kit, and I Can't With This Marketing
As POPSUGAR editors, we independently select and write about stuff we love and think you'll like too. POPSUGAR has affiliate and advertising partnerships so we get revenue from sharing this content and from your purchase.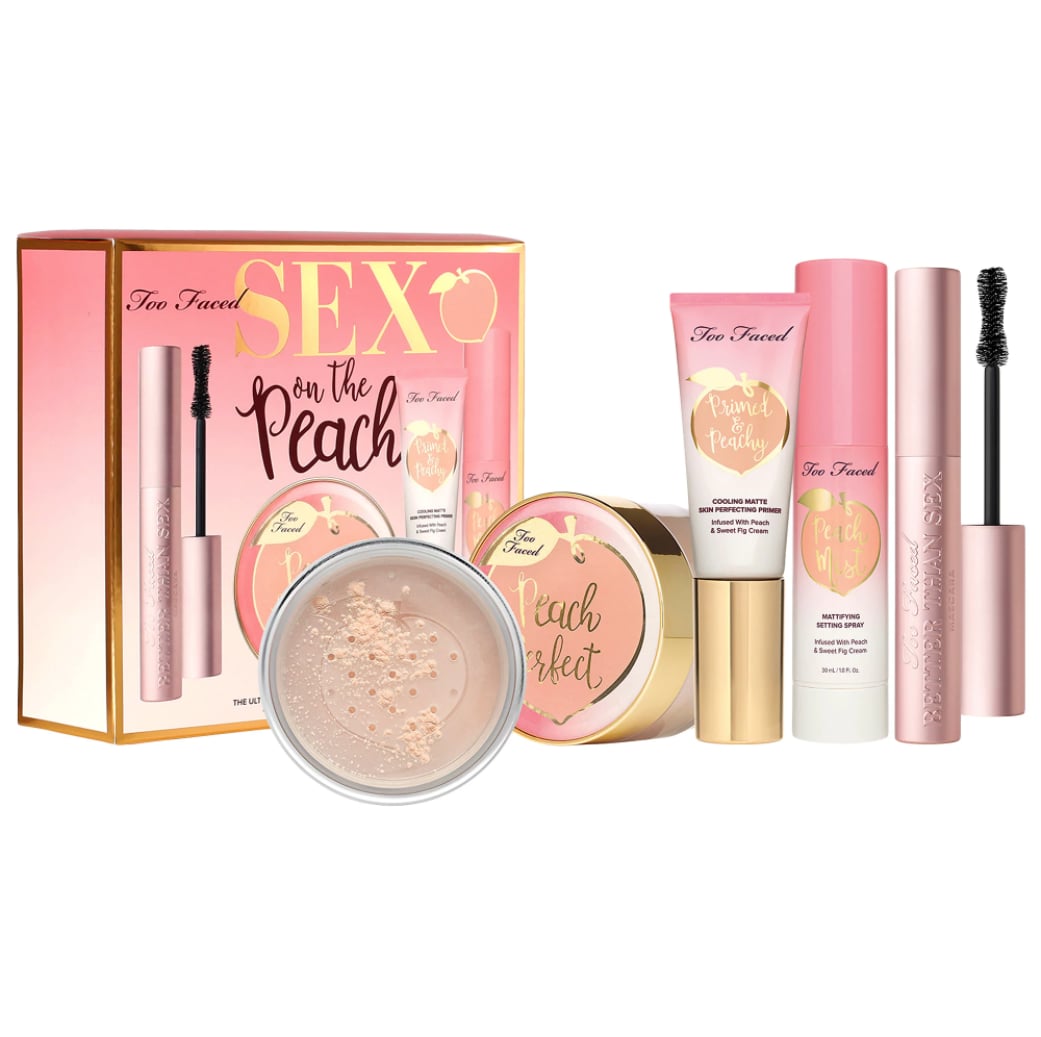 Look, I get it: sex sells. And peaches are a very sexualized fruit (just ask Timothée Chalamet). So I guess Too Faced bundling up its best-selling stone fruit-inspired beauty collection and titling it all Sex on the Peach ($45) isn't really that out there. I'm stoked that this complexion-fixing line is finally available in one set, at a cost that's significantly lower than everything would be separately. But why must we call it Sex on the Peach? What does that even mean?!
That's a question I'll go to the grave wondering, but until then, let's talk about this new stuff. This kit includes four of the brand's best-selling and most-loved products. First up is a full-sized tube of the famous lash-enhancing Better Than Sex Mascara.
There's also a Peach Perfect Setting Powder, a feathery concoction that's perfect for Summer, as it mattifies your face and keeps things looking shine-free. If you're more of a mist lady (or like to alternate between spray and powder setting products), the lineup also includes a Peach Mist Mattifying Setting Spray.
To round everything out, you'll get a mini version of the Primed & Peachy Primer, a scented version of the brand's beloved Hangover Replenishing Face Primer. This pre-foundation step has a slight (you guessed it) peachy tint, which works to colour correct any dark spots on your face.
So, even though I am very confused by the concept of having sex on a peach, I do urge you to check out this new complexion set! Or if you're more of a veggie-lover, you could always go for Too Faced's latest collection, a line made to enhance your natural beauty. There's not a peach in sight!