Trend Alert! Hair Extensions are Back!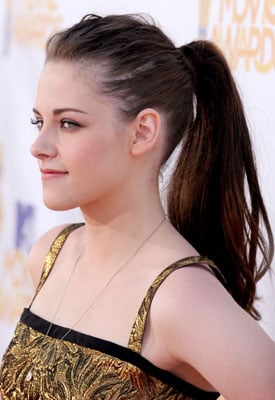 Kristen Stewart has been rocking the red carpet recently and that, in many ways, is down to one thing: Some seriously fabulous hair extensions!
Kristen has worn extensions in a glamorous top knot to two events now, an Eclipse premiere in Seoul, and more recently at the 2010 MTV Awards. She looked fab!
She's not the only one embracing extensions, either. All over the place celebrities have using them to switch up their look. Last week, Kate Moss was spotted, fresh from a fashion shoot, sporting some ultra-long blonde versions. Meanwhile, Cheryl Cole's natural extensions from her controversial L'Oreal Elvive Shampoo ads have received endless press.
New hair extension treatments have also been cropping up everywhere at top salons. London hair hub Michaeljohn has created a Foundation Blow Dry (£200), in which 25 extensions are added to give hair extra volume. Nearby Hari's Hair & Beauty has introduced semi-permanent extensions as part of its Red-Carpet hair service (£150).
The fashion pack are also starting to take more note of extensions. In March this year hot fashion label Balmain even unveiled a range of uber luxe extension pieces.
Extensions can be tricky. Cynthia Nixon's versions for the London premiere of Sex and the City 2 received a mixed response due to their ill-matched colour. It's really important for them to be done well or the whole thing can totally backfire! Are you a fan of hair extensions?