Trend Alert: Making Straight Look Great
At last night's New York City screening of The September Issue, a documentary about Vogue, Anna Wintour and what goes into putting together the biggest issue of the magazine, the crème de la crème of the fashion world rocked the red carpet. I don't know about you, but I especially loved this photo of Sienna Miller touching Anna Wintour. Doesn't it just make you feel uncomfortable to see someone warmly and openly engaging the model ice queen?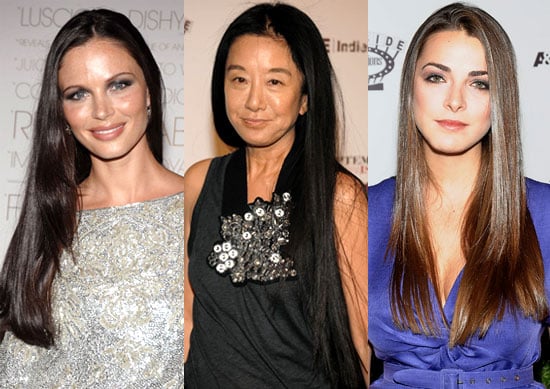 I also loved gawking at Georgina Chapman (Marchesa designer), Vera Wang and Bee Shaffer's shiny, long hair. They make straight look glamorous and enviable with evenly cut edges and a kind of body that only comes from what I have to guess is hours of mane maintenance. Seriously, it looks as though their hair has been spun from silk! No matter how many deep conditioning treatments I incur, my hair will never grow to be that long and look that healthy. Do you have any secrets for how to get luxe hair like Georgina, Vera and Bee?