Trend Alert: Upside Down False Eyelashes 2010-04-18 06:00:35
Trend Alert: Upside Down False Eyelashes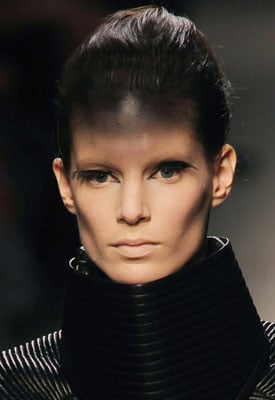 Just when you thought you'd got a hold on the latest lash trends, another development emerges! Apparently the newest lash innovation to emerge following the round of 2010 Autumn Fashion shows is wearing false eyelashes upside down.
Makeup artist Alex Box is the visionary behind the look. She first created it for Gareth Pugh's show during Paris Fashion Week, by placing a pair just above the lash line the wrong way up making a dramatic lid to the eye.
I love it! I'm not sure how comfortable it would be to wear but there's something fabulously 1960s about it, almost like a Twiggy photoshoot. Others have said that the look appears almost like raven wings.
There's no doubt that eyes, and eyelashes are a major beauty focus at the moment. The onus seems to be on drama, length and volume galore. What's your take – will you be rocking this trend?