Trilogy Cream Cleanser product review by BellaSugar UK
Product Review: Trilogy Cream Cleanser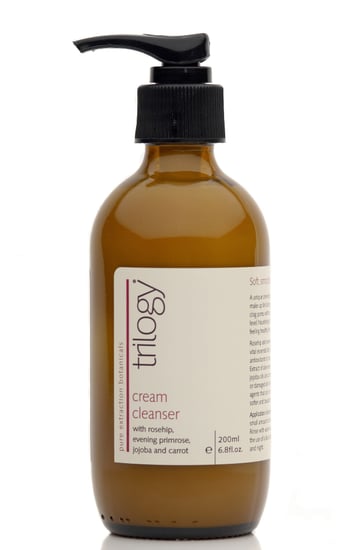 Trilogy is a cult New Zealand skincare brand that just keeps getting bigger and bigger in the UK. It's based around the principle of using pure plant extracts to work in conjunction with the skin's natural healing ability.
Trilogy uses 100% natural ingredients and fragrances and is free from any parabens, silicones or harsh detergents so it's super kind to the skin.
I first discovered Trilogy's amazing rosehip oil, which helps to heal damaged and scarred skin, a few years ago, and have been a devotee of the brand ever since. The luxurious cream cleanser, (£18.95), is one of my favourite products. It cleans the face, without feeling like it's stripping your skin of it's natural oils.
The cleansing ritual feels almost spa-like, as the cream smells gorgeous and is very luxe. For why, just read more Smooth on the cream cleanser and massage into the face and neck. Use your fingertips, to smooth away any tension and ease stress. Then rinse with warm water. I tend to use the cleanser first with cotton pads to remove any traces of makeup or grime, (though I prefer to use a separate eye makeup remover) and then do the massage-and-rinse routine.
Trilogy is especially good on dry and mature skin as the ingredients are really nourishing. The rosehip and evening primrose oil in the cream cleanser provide the skin with essential fatty acids, as well as protective nutrients, whilst the extracts of aloe vera, jojoba and carrot oils soothe the skin.
My skin always feels velvet-soft after using it and I adore the rich, natural aroma. It is too creamy for some people, and if your skin is very oily then you might prefer a slightly more antiseptic face wash – but it's the perfect treat for dry or combination skin, and sensitive skin will feel soothed by the calming ingredients too.