The Ultimate Christmas Nail Art Idea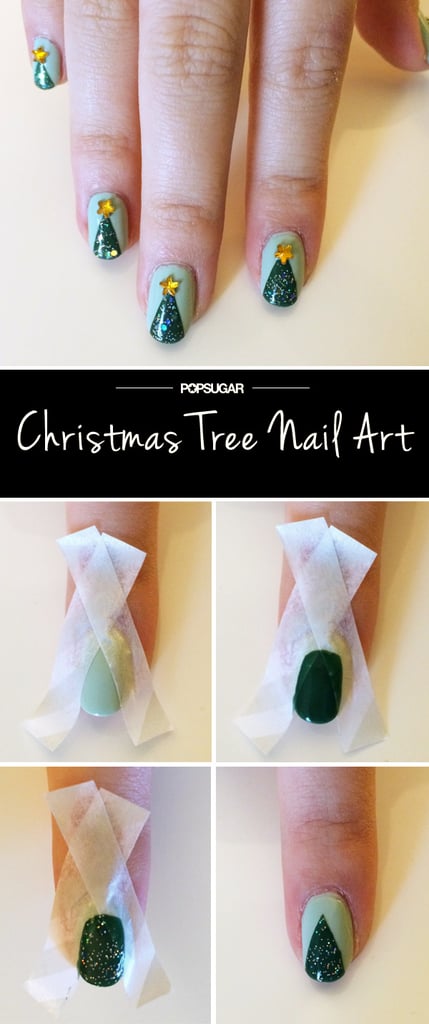 A simple Christmas tree design is the easiest way to wear your holiday spirit on your fingertips. For this look, I used Zoya Nail Polish in Neely (£11), a pale green, as my base; Illamasqua Nail Varnish in Rampage (£15), a forest green, for the tree; and a glittering top coat like Topshop Glitter Nail Polish in Ice Crush (£6) to add festive sparkle. I found yellow stars at a craft store to add the final touch, but you can easily use gold polish to paint on your tree topper.
To create the look, I applied a base coat followed by two layers of the light-green shade. I let the shade dry overnight, but if you don't want to wait, then I recommend at least 30 minutes (for thin coats) to let your nails dry, because the next step requires tape. I cut one- to two-inch segments of tape in half and placed the straight edge along my nails to create the triangle shape. Next, I painted a coat of the deep green shade over the tape to create my tree. While the paint was still wet, I painted a layer of glittering polish to add the ornaments and lights to my tree. Peel the tape off to reveal a sparkling triangle. To make it really look like a Christmas tree, I added a star-shaped rhinestone to the top of my trees with nail glue. Voilà!