Union Jack Makeup
Trend Alert: Union Jack Beauty Products
Londoners have always been akin to supporting their Union Jack. There are countless amounts of handbags, fashion items, home accessories and celebrities that adore patriotic baubles and now the beauty world is jumping on the bandwagon too!
Nails Inc. has developed ten collectible charms that attach to their nail varnishes to celebrate Summer. In particular, the pale pink shade Elizabeth Street (£15) comes with a Union Jack charm for a limited time. Additionally, one of the chicest new face illuminators that was created to honour Selfridges 100th birthday is Chanel's London Madness Pearly Banner Palette (£52). The powder highlighter contains a golden, silvery and shimmery cream Union Jack — but don't let it scare you off, it's actually quite wearable. The compact is one of the items in the three part collection that also includes a bright red lipstick and a matching nail polish.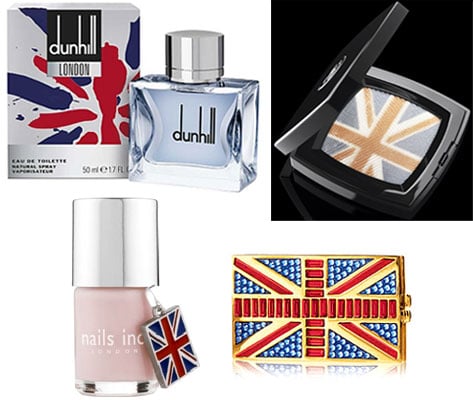 For more about the Esteè Lauder Union Jack crystal-embossed compact, Dunhill's Eau de Toilette for men and close up images of each of these four patriotic products, just read more.
Although quite pricey, this Esteè Lauder Jewelled Flag of Britain Perfume Compact (£200) is something that you can pass down to loved ones for generations. It makes a fabulous gift for someone special and can be purchased online or in-store at Harrods.
Last but certainly not least is the too cool for school Union Jack packaging on Dunhill's
London Eau de Toilette (£31.32). Technically, the scent is for men, however considering the main ingredients are apple, rose, vanilla and patchouli, it's unmistakably suitable for both sexes. Which is your favourite Union Jack beauty product?