Urban Decay Makeup
Introducing Pocket Rocket (The Lip Gloss — You Dirty Bird, You!)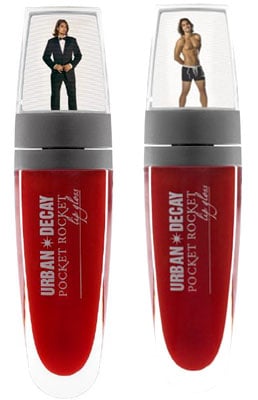 New from Urban Decay are eight flat-shaped, over-sized lip glosses called Pocket Rocket (£10.50). Adorned with (double-sided) photographs of hunks who change from being fully dressed into their skivvies as you turn the tube, these lip goodies are satisfying to your senses in more ways than one.
Firstly, the gloss glides on smooth, they're only the teeniest bit sticky and the shades are relatively sheer. Secondly, if you rub the side of the tube, pheromones that have been formulated in the ink, are released which have been proven to help you attract the opposite sex. Lastly, the guys pictured are hot!
Whilst I can't deny that this is by far the heftiest sex-inspired gimmick I've seen to help sell makeup, I keep mine with me at all times just to get a reaction from my friends.
The colours are pretty, the packaging is hilarious and the gloss is tasty good too (they've been enhanced with crème brulee flavouring). I say why not have fun with your makeup, even if it means pulling a picture of a half naked man out of your purse. Do you think you'd be too embarrassed to buy a pocket rocket?
For additional images and descriptions of each of the colours, read more.
Eric is a sheer, bold, blue-ish red hue.
Jesse is a dark shimmery purple.
Kirk is a pale and sheer muted gold, sans shimmer.
James is a bright, sparkly pink with flecks of glitter.
Doug is a purple-y pink hue infused with silver glitter.
David is a deep candy, cherry-berry shade.
Timothy is a bright coral-pink colour.
Julio is a see-through crystal shade that can be worn over any lipstick.