Victoria Beckham on Allure Magazine Front Cover
Victoria Beckham Has Allure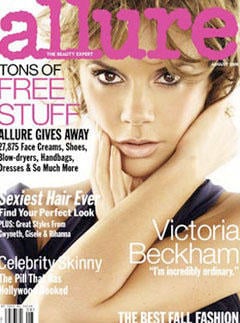 Victoria Beckham is certainly trying very hard to solidify her fame in America. She appears on the cover of Allure magazine this month, with glowing skin, a nude pout and sultry eye makeup – courtesy of makeup artist Scott Andrew.
At the shoot, Allure reveals that the former Spice Girl does, in fact, smile. Victoria also admits "I just make the best out of what I have. I'm not out-of-the-ordinary-looking at all – I'm incredibly ordinary."
Hmm, well not sure if ordinary would be how I'd describe her. But with a new fragrance in the works, a successful fashion line and that hunk of a husband, she's certainly a very lucky, ordinary girl.