View From Above: Celebrities' Best In-Flight 'Dos
View From Above: Celebrities' Best In-Flight 'Dos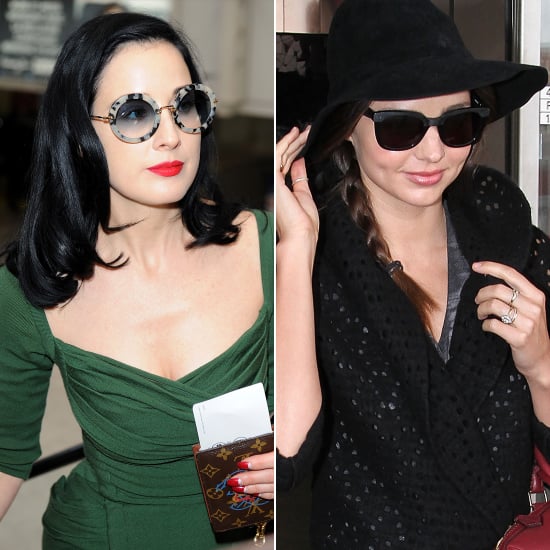 Celebrities crisscross the globe to walk red carpets around the world time and time again. And while most of us don't have to worry about paparazzi snapping our mugs postflight, when it comes to looking impossibly fresh and perfectly coiffed, this jet-setting bunch knows a thing or two about getting it right. Garner in-flight hair inspiration from these world-traveling women, and no one will ever know that you slept for hours . . . at 30,000 feet.
1. Loose waves: Second-day hair is ideal for airplane travel. Just take Dita Von Teese's stretched curls as an example. Let your day-old waves or curls fall flat when you fly, refreshing roots with a touch of dry shampoo. Amp up the look with a swipe of bright lipstick and paparazzi-blocking shades.
2. Side plait: Miranda Kerr knows that anything styled to the side is an airport winner. A ponytail or plait flipped over one shoulder will allow you to sleep with ease. Plus, you can take the plait down once you reach your destination for an effortless, wavy look. Another nap-friendly style is a milkmaid plait. Go ahead: put those earplugs in, and get some beauty rest.
3. Hat: A celebrity airport staple is a floppy or fedora hat. Jessica Alba threw on a felt fedora after her long trip to distract from tousled hair. She also had a chance to apply mascara, blush, and a rosy lip colour. If you plan on stuffing your hat in your carry-on, then fill it with your underwear to make sure it maintains the shape while in the cargo hold.
4. Topknot: Steal this look from Carly Rae Jepsen on your nighttime plane ride. A topknot will keep hair from getting mussed by the headrest or your neck pillow. By adding a scarf around the base, you can hide flyaways and add an element of style.