Vivienne Westwood Anglomania Catwalk Fashion Show
Vivienne Westwood Anglomania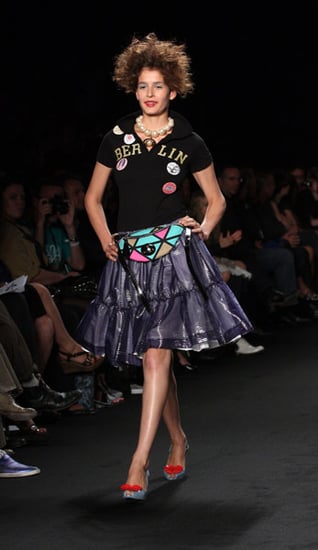 Vivienne Westwood's infamous return to London Fashion Week, earlier this year, meant the show for her Red Label autumn/winter collection was one of the season's hottest tickets.
Her Anglomania collection, which showed in Berlin at the Mercedes Benz Fashion Week, yesterday, was as fanciful and incredible as you'd expect from our grande dame of British fashion.
As ever, Vivienne incorporated Punk elements into the collection – clashing badges and pins on t-shirts that read 'Berlin', with a froth of frills, bow-clad shoes and finger-in-the-socket, wild hair.
Lace, applique, florals, stripes and even diamond-print bum bags, made their way down the catwalk, in this eclectic collection, that referenced all the usual Westwood motifs – Queen Elizabeth I, the New Romantics, English aristocracy, hour-glass shaped screen sirens, punks, trapeze artists and pirates – as well as Vivienne's Seditionary days of bondage straps, belts and definite elements of Sex.
Not one to grow old gracefully, we applaud her still-relevant erudite and anarchic approach to fashion. Long live Queen Vivienne!