Vivienne Westwood Show London Fashion Week. Spring/Summer 2009
London Fashion Week, Spring 2009: Vivienne Westwood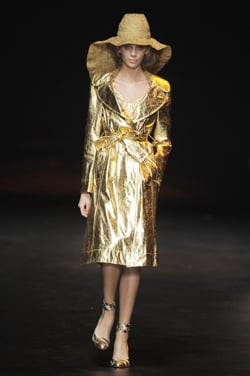 It is pleasing to note that Vivienne Westwood's Red Label show now seems to be a permanent fixture of London Fashion Week. After her Berlin clubland-inspired Anglomania collection at Berlin Fashion Week this summer, Westwood's Red Label girl has taken on a more sophisticated approach for Spring/Summer 2009. With a front row that included Kate Moss, Dita von Teese, Daisy Lowe and rather bizarrely, Pamela Anderson, this was one of the most hotly anticipated shows of the week.
Hooded silk jumpsuits and dresses in the palest taupe were given a street-style edge with square sunglasses and punky top knot hair. Westwood's signature tartan got the pared-down treatment with white and blue Prince of Wales check dresses and fitted jackets. A core of tailored separates gave the collection grounding, whilst a combination of masculine severity in the cuts and classic feminine 'frou' shapes looked fresh and modern. Ethnic influences took the Red Label girl to a more exotic place. Cue large, gold tribal earrings and traditional African prints.
For the full catwalk report plus all the pictures just read more.
There was still that typical Westwood humour of course. A faux-Burberry check visor was paired with a high-waist pencil skirt and 90's hoodies were worn with rolled-up white sweatsuit pants and straightened hair. It is testament to Westwood's talent that these often incongrouous elements sat comfortably together and while the overall look was certainly eclectic it never felt merely random.
The show closed with typical rock and roll aplomb. The late 80's and early 90's club scene was celebrated with molten metallic dresses in shinning steel grey, bronze and bright, yellow gold. An orange-gold sequin dress looked like schmaltzy Christmas wrap, whilst a dark oil-slick dress screamed tough love. Even the more modest muted print dresses got the Amy Winehouse touch with jagged-edge hems and necklines pulled off the shoulder to reveal everyday white bras.