William Tempest hair
Backstage Pass To LFW Spring 2010: William Tempest
On Monday evening, FabSugar UK and I made our way backstage at before the highly anticipated William Tempest Fashion Show. Lan Nguyen was there heading up the makeup team on behalf of Benefit Cosmetics, and Tim Furssedonn was the head hairstylist in charge for Toni & Guy. Tim took a few moments out of his busy schedule to explain the inspiration behind the look for the show and how he created the slick style. He said,

"The look for this show was inspired by high fashion Paris couture. Hair has a high gloss and high finish. The boy (William Tempest) is about to go major, so the hair for the show is major. I've parted it deep on the side with structured waves on side and the other side is pulled taught and secured with gold barrettes for hold and ornamentation."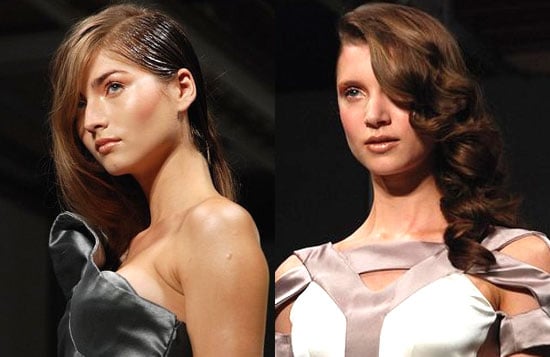 Stay tuned for FabSugar UK's exclusive interview with William Tempest and for lots of pictures of the show, backstage and to find out just how you can re-create this catwalk look at home in four easy steps, read more.
STEP 1: Begin by prepping hair with mousse. Tim used label. m Volume Mousse for hold and texture and processed to blow dry straight.
STEP 2: Next, section hair into four sections. Hairspray each section (Tim used label. m Hairspray and set in pin curls all over the head.
STEP 3: The girls got their makeup done to let the curls set and once they were finished, the pins were taken out, and hair was brushed.
STEP 4: Lastly, Tim applied a generous amount of label. m Shine Spray followed by a hefty amount of label. m Hairspray on one side of the hair. He brushed it through and then pulled the hair to the side and fastened it with a gold barrette so that the curls cascaded down one side of the face only.
Photos courtesy of Benefit