Wimbledon-Inspired Beauty Treats!
Tis the season for Wimbledon! If you're someone like me who tries to beat the heat in style, below are seven must-haves treats to get you through some tennis. If you have any of your own fun Wimbledon-inspired beauty products to share, please leave a comment below!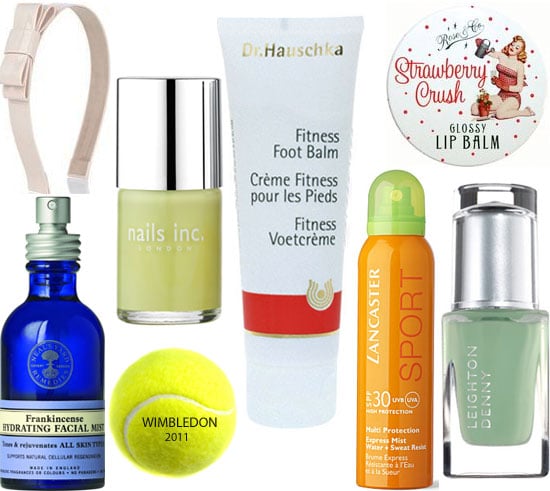 Even the Duchess of Cambridge was wearing a sleeveless dress to sit courtside yesterday at Wimbledon, but I didn't spy any yellow nail varnish on her, like this amazing new shade from Nails Inc called Wimbledon! This colour is part of the new Candy Shop Collection (£11.00) that went on sale yesterday.
I'm also into this yummy and very Wimbledon appropriate Rose & Co Strawberry Crush Glossy Lip Balm (£5). It tastes amazing and helps nourish your lips. Now all you need is the cream!
This Neal's Yard Remedies Frankincense Facial Mist (£10.50) is an amazing product to keep handy in your purse so that you can stay refreshed all day long. It's gorgeously cooling and hydrating, it smells wonderful and won't leave you feeling sticky.
For four more suggestions, just read more.
There's nothing like a cooling foot cream to help refresh your barking dogs after a long day of walking around in the hot sun. Try massaging in a dollop of Dr.Hauschka Fitness Foot Balm (£15.96) into your feet for quick relief and intense results!
I just adore this fun, green shade of nail varnish from Leighton Denny called Inside Scoop (£11). The limited-edition colour resembles the green grass on the tennis court and looks adorable when worn alone or when you alternate it with Wimbledon from Nails Inc.
Keep your hair off of your face with this preppy Fifties Bow Alice Band (£6) from Oasis.
Don't be fooled about the strength of the sun, even if you're in the shade. Walking around all day getting food and pimms and checking out different matches leaves you exposed to sun damage. Try this amazingly sweet-smelling, water-resistant and nonsticky sun cream with an easy-spray nozzle from Lancaster SPF 30 (£21).