Women Cut Down On Food But Spend On Beauty Products During Credit Crunch
You Have to Suffer to be Beautiful During Credit Crunch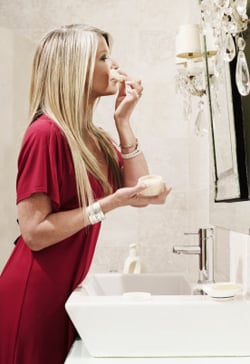 Despite the feelings of doom and gloom that are settling as we face up to the credit crunch, it seems we're very reluctant to let our beauty regimes suffer. According to new research, women are choosing to cut back on their food costs to pay for cosmetics and beauty products as the credit crunch rumours become reality.
Nearly one in three women, which is the equivalent to eight million nationwide, would prefer to eat less than curtail their spending on what we all seem to see as must-have essential beauty items.
In addition to what I'd describe as 'everyday items' like cleanser, show gel, face wash and moisturiser, the survey has also revealed that three-quarters of women also consider makeup and body treatments to be 'everyday essentials' as opposed to luxury items.
According to Marie Claire, the average woman spends £11.53 per week on cosmetics, which I have to admit really doesn't seem like that much (especially with my expensive body lotion habit) but actually adds up to a whopping £33,575 over an average lifetime.
The survey of 1,000 women was conducted by beauty shopping website, FeelUnique.com and while I sincerely believe you do have to take these surveys with at least a pinch of salt, it is interesting to see that the credit crunch is yet to hit the bathrooms and make-up bags of most women. Perhaps our devotion to looking good may even save the economy. Now that's a good reason for a new lipstick.