YSL Touche Eclat Radiant Touch product review at BellaSugarUk
Product Review: YSL Touche Eclat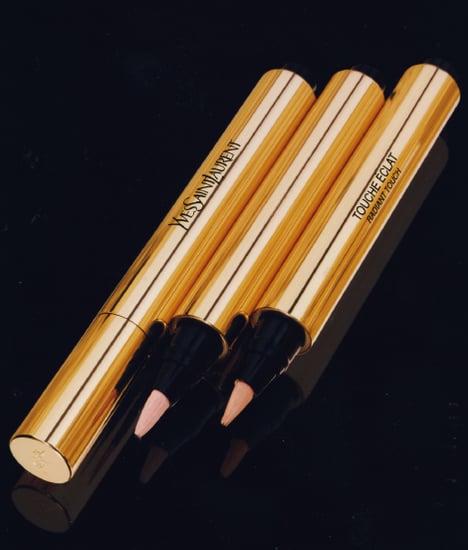 This product is something of a cult classic and until very recently I though there wasn't a woman on the planet who didn't know quite how amazing it was. Then I spent two nights in a small town, for a hen weekend, and got talking to the girls.
Turns out none of them had tried Touche Eclat, (£22.50), as it was so pricey. They also thought it wouldn't last very long, because the pen is so thin. Oh disbelievers!
So, for any of you who haven't yet been seduced by the magic of YSL's wonder product – that recently scooped the Cosmopolitan 2008 'Cosmo Classic' beauty award – here's some reasons why you'll love it, or why I love it anyway: Just read more
It's light-reflecting so instantly makes you look younger, more glowing and prettier.
The product is so easy to use, not messy and it lasts for ages. A quick tip though, be sure to wash the brush part just as you would any makeup brush to avoid a build up of product and germs. Follow my easy tips and wash the end of the pen every two weeks or so, drying with a tissue.
It banishes under eye circles, and makes you look like you've had a full eight hours sleep. A dab in the inner corner of the eye makes you look wide-awake as well.
It slims the nose and makes lips look fuller. A dab just above the lips also defines the cupid's bow.
On days when you don't want to wear much makeup, just apply Touche Eclat on blemishes and under the eyes, to make you look fresh. It works well over tinted moisturiser or on a bare face.
It's ideal for diminishing any imperfections, and adding radiance, when you're on holiday and only wearing sunscreen with a touch of waterproof mascara.
You can apply it over your regular makeup to freshen up your look, for example if you're going out for drinks or a date, straight from the office.
Carry it in your clutch to touch up your makeup at a long event, like a wedding.
The high-shine gold packaging is chic and timeless. What's not to like?
Could I be any more gushing? It must be love.