Are You Cutting Back on Beauty Treatments and Expensive Cosmetics Because of The Credit Crunch? Recession Chic Beauty
Are You Spending Less on Beauty Because of The Credit Crunch?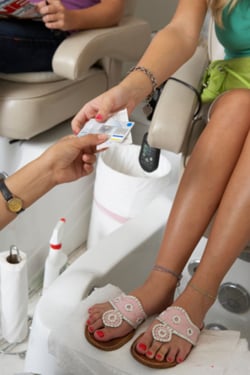 With the economy heading south, isn't it time we stopped worrying that our faces are going to do the same thing? Despite a recent survey that suggests women would rather cut back on food than beauty products, I'm sure we're all feeling the crunch. This weekend I had to hold back from entering the MAC shop; far too dangerous! Plus I've started using Barbara Daly at Tesco makeup for everyday instead of my usual Lancome.
However, The New York Times recently reported that in NY women are still in denial about the credit crash. Even those who've lost their jobs or are cutting back on essentials are still shelling out thousands on botox treatments, spas and expensive hair salons. One woman said "I can't go to a cheaper hair salon because I have a relationship with my stylist, even if a cut and color is $260."
The thinking is that the recession is so horrible, why would you want to look bad too? It reminds me of that World War II spirit of putting on lipstick even when the bombs were falling. How about you, are you letting your beauty regime suffer because of the credit crunch?