Zendaya Slams Makeup Shamer | May 2016
Zendaya Slams Hater Who Compares Her to a "Gay Dude Wearing Makeup"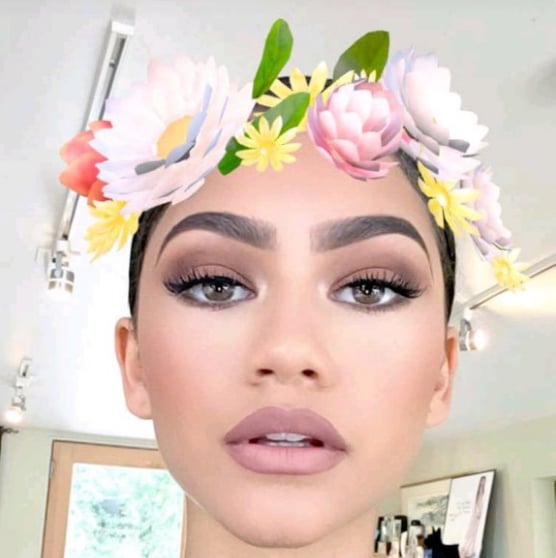 Just like many other Snapchat users, Zendaya has been having fun playing with the platform's filters — especially the music-festival-inspired flower crown enhancement. After showing off the flawless face above, however, she was tagged in a tweet by hater @ClutchLikeRomo. "She looks like a gay dude wearing makeup," he declared.
If you closely follow Zendaya's social media exploits, you know that she does not stay silent when insulted by internet trolls. Just last month, she shut down a no-makeup shamer, who claimed he was "hurt" by how she looked with a bare face. So in this instance, she, of course, clapped back with another well-crafted response.
"Wait...." Zendaya deadpanned in reaction to the homophobic Twitter user. "Is this supposed to be an insult cause they slay sooooooo....." She followed that up with a GIF of Rihanna waving goodbye with the caption "Handled."
The star's fans came out of the woodwork to respond to her perfect reply, including a gay male makeup artist, who thanked the star for "standing up for us" as he showed off his impeccably beat face. "Slay baby," exclaimed Zendaya. See some of the incredible exchange below. Now, if only she could teach us how to sweetly slam haters . . .
Wait....is this supposed to be an insult cause they slay sooooooo..... https://t.co/bIRIp7o6k9

— Zendaya (@Zendaya) May 9, 2016
Handled pic.twitter.com/dmRXHSHEjv

— Zendaya (@Zendaya) May 9, 2016
@Zendaya know us gay boys dint come to play with you hoes✨ thank you for standing up for us 💋✨ pic.twitter.com/zukoaKLKEx

— Ruben Porterfield (@barbieboy224) May 9, 2016
Image Source: Snapchat user Zendaya_96