Ziad Ghanem Fashion Show 2010, Rachel Wood Makeup Artist
Backstage Pass To LFW Autumn 2010: Ziad Ghanem
All star makeup artist Rachel Wood really had her hands full backstage at the Ziad Ghanem show on Monday evening. Backstage was buzzing with four different types of makeup looks that included goth (dark lips, pale skin), showgirl (long lashes that were cut from feather boas), K.D. Lang (sexy androgyny) and rocker boy (clean face with smudged eyeliner and big hair). The inspiration for this loud, highly choreographed catwalk show was centred around fantasy. Rachel described it as, "Think John Galliano meets Hoaxton, but even more twisted. The looks are uber-fabulous, crazy and fun."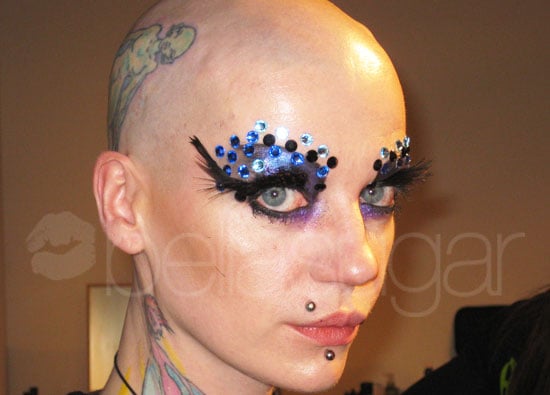 The 21 models for the show were all street cast. Some were dancers, drag queens, singers and artists, as Ziad wanted real people to showcase his latest collection. The one theme that all of the models have in common were rhinestones on their eyes and the use of eye shadows on the lips. The colours ranged from blues to violets to reds and most of these highly pigmented products were from MAC. However, surprisingly, the sponsors of the show were Dr. Kadir and Per-fekt Beauty so that the makeup artists were free to focus on the best products from different brands and concentrate more on skincare.
To read about the different skincare and makeup products used for this outrageous show, just read more.
FACE: There wasn't a lot of foundation so that skin wouldn't look too heavy and overdone, however, two of the star products used backstage was a Gold Matrix Face Mask from Dr. Kadir that contains active gold particles. Psst...I was told that Madonna loves this product! It was used as a primer, and instead of being removed, Rachel kept in on and just let the gold show through, often adding gold glitter on top. Additionally, Per-fekt Eye Gel was used under each of the models eyes.
EYES: MAC Studio Sculpt Concealer was used underneath the eyes and to cover any outstanding redness. Then, heavily pigmented violet, blue and black shadows were used on the lids and black liner lined the upper and lower lashes. Powderflage from Benefit, one of Rachel's favourite brightening powders, was also used under the eyes.
CHEEKS: Cheeks were kept as plain as possible. Powdery taupe hues were used to contour cheeks and then a touch of shimmer was added in either gold or silver depending on the models' skin tone.
LIPS: A range of eye shadows from MAC and Benefit were used on lips to create a really dense, bold effect.
NAILS: I loved this great pinky-red shade from Jessica Nails in Sexy Siren!