Ziad Ghanem Makeup
Backstage Pass To LFW Spring 2010: Ziad Ghanem
During Fashion Week and especially in London, you see a lot of things. Some of the beauty looks are edgy and have that certain British je ne sais quoi, whilst other shows exhibit a and polished and safer style of hair and makeup that you might expect to see from the high fashion catwalks. However, at Vauxhall Fashion Scout, a location for up and coming designers on the cusp of hitting the big time BFC tents — anything goes!
On early Monday evening, I was again able to peek backstage at the whopping 21 different makeup looks created by Rachel Wood with Benefit Cosmetics for the Ziad Ghanem show. The inspiration behind the looks was Jessica Rabbit mixed with the late 70's, early 80's boogie era which was complemented with big, rockabilly hair.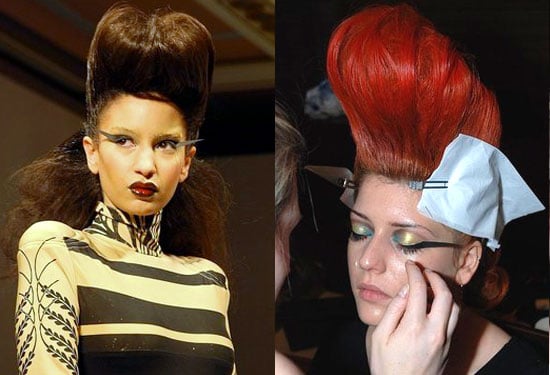 The show was called The Immortalist and was a collaboration of Ziad's Maiden Britain line along with Firetrap. To call the crowd eclectic would be an understatement, as there were lots of extravagant outfits made from neon, lace and leather. Also, the front row was comprised largely of transvestites. As for the makeup, I wouldn't exactly call this look pretty. It was more rough and rocker with a few similarities between the models being waxed out brows that were drawn in with high arches, red, or clear shiny lips, and big lashes.
The clothing had a pop art feel, but sadly, I didn't find the looks to be all that groundbreaking. To see more photos from the runway and backstage and to find out the colours that Rachel used on the models, just read more.
FACE:Rachel prepped the skin with You Rebel Tinted Moisturizer and then dusted it with Hello Flawless (powder) to set the foundation.
EYES: Each of the models had a different rainbow look on their eyes, First, Rachel applied a shade of Lust Dusters all over for a sparkly effect and then she applied to lots of Bad Gal Lash mascara to define the lashes. Lastly, two to three sets of eyelashes were used on each girl for added drama.
Lips: The goal for the lip look was over-the-top dramatic, so lips were lined with Badgal Black Eye Pencil and then filled in with Flirt Alert Full Finish Lipstick (a red hot, vinyl candy apple colour). If the models didn't have a red lip, then they wore clear gloss.
Images courtesy of Benefit