An Interview With A Complexion Company Founder Nomshado Baca
A Complexion Company Founder on What Needs to Be Done to Make the Beauty Industry a Truly Inclusive Space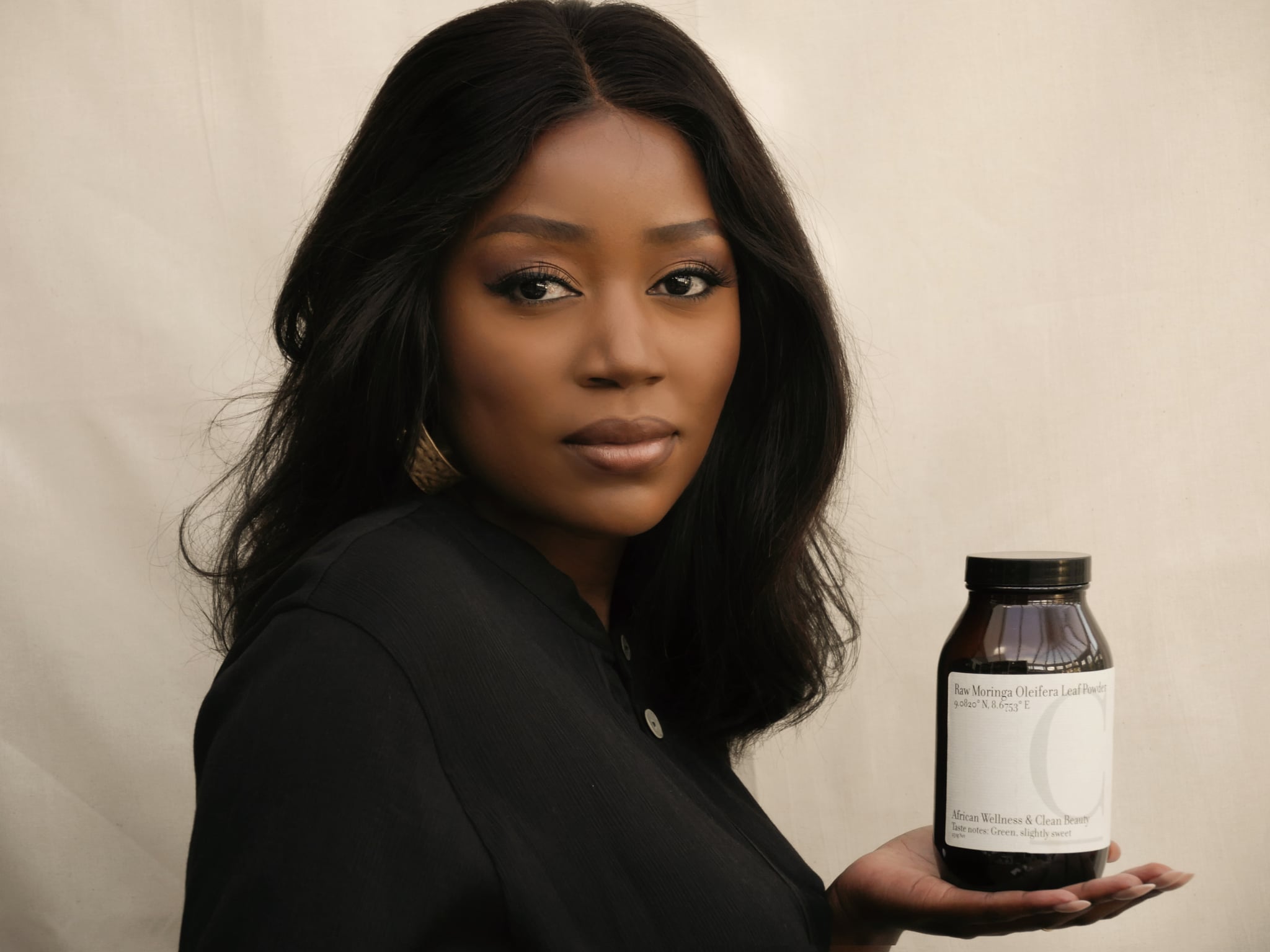 Born in South Africa and based in the UK, Nomshado Michelle Baca is the founder of A Complexion Company, a beauty and wellness brand that she launched just two weeks before the UK went into lockdown due to the novel coronavirus (COVID-19) pandemic. Here, she shares, in her own words, her personal experiences and the challenges she faced as a Black woman starting a luxury beauty company — plus, what brands and retailers need to do to instigate real change for a more diverse and inclusive beauty industry in the future. This story was told to POPSUGAR editor Sophia Panych and has been edited for length and clarity.
Having lived in Africa, and seeing Africans of all [economic] levels, and then moving to the UK and only seeing us occupying the lower levels of society was completely unacceptable in my eyes. Because representation has to be at all levels. I was a big spender in the luxury world. I love everything about it. It exemplifies what I call Black excellence, and yet when I walked into those spaces, especially the luxury wellness and beauty spaces, I was nowhere to be found.
I also worked in fashion for two years, and then in the world of ultrahigh-net-worth individuals for another four years. And having experienced that, I was determined to enter these "white spaces" and to create a space for women like me, nullifying the myth that the Black pound is not powerful and that we're not willing to put money into luxury. I believe this community deserves this, and I want to create a benchmark for what is possible as other brands, and as other Black and non-Black female founders, enter the market. That, to me, is my North Star.
The Right to Good Health Is a Nonnegotiable For All
I believe that there should at least be one safe alternative for a woman of colour in every wellness category. And if there isn't, that's where you will find me making something for them. With A Complexion Company, I wanted to offer a true, high-quality remedy for Black women living in the UK, because up and down the high street, there is not one singular multivitamin supplement, natural or otherwise, that is Black African first. That accounts for the multiple deficiencies we incur as a result of immigration and other systematic issues. The right to nutrition, the right to good health, that is a nonnegotiable and should be available for all. And so that was my reason for launching the brand. It felt urgent and it felt overdue.
We launched with the Raw Moringa Oleifera Leaf Powder (£30), which is a powder beauty supplement, because in traditional uses, that's how you would use the leaf. And there's so much versatility to the powder form, providing you beauty from within as well as externally. You're able to ingest it, bake with it, and, because it has antifungal and antibacterial properties, you can make it into a paste to use as a face mask or as a preshampoo treatment if you have an irritated scalp.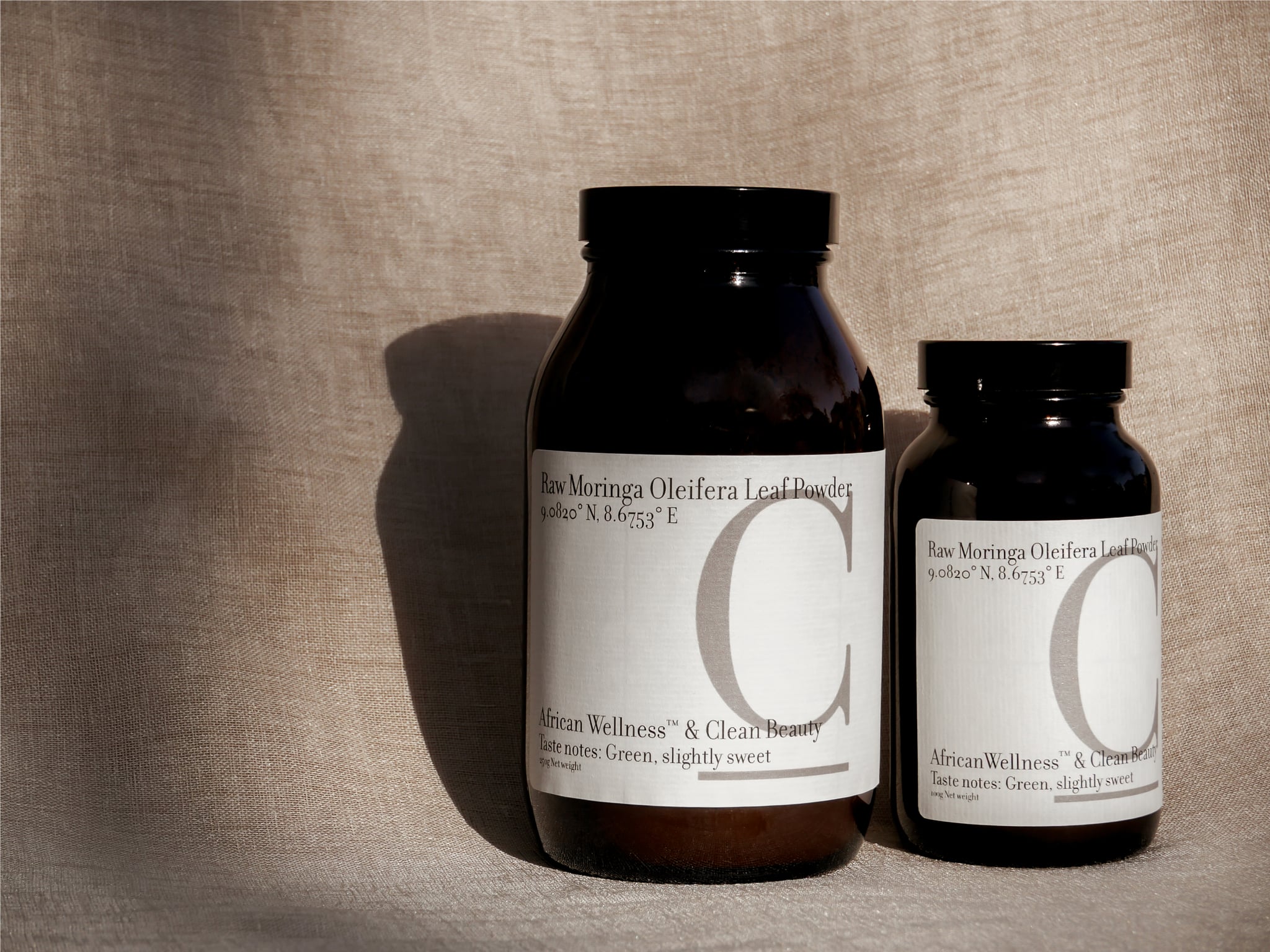 Spending time on yourself is part and parcel of what wellness is. It's not simply a product, it's the rituals around the product that give you that feeling of holistic health, and that's what the powder affords because it's slow beauty. You get to stop and be present and that's very much a part of what I want people to experience with our brand. Everything is intentional, and we want to encourage a higher consciousness within our consumers, not just with the ingredients we pick, but also how you create that experience at home.
It's been my honour and privilege to be on the mission to give women of colour what they deserve, something which they can relate to and they can have as the solution to their everyday problems. And at the same time, anyone can experience, because Black women aren't our only customers. African wellness is for all. We have many non-Black African customers who want to celebrate African wellness and holistic practices, so it's not so much as just meeting a need. I'm creating a platform in which we can be celebrated. Not just within our community, but also from outside.
From Labs to Labels, Change Needs to Occur at Every Level of the Beauty Industry
I was born in Johannesburg, South Africa, during the Apartheid. From a young age, I have been very aware of racial relations and how they can divide, but also, how we can build a bridge to coexist and to have equal opportunities available for all. I see what is happening globally and believe this is just the first stage of the process. And that first stage requires all races to show up at the table and for the conversation to begin, no matter how imperfectly it may be happening.
Racism is not an act, it's a system that creates an environment for the acts to occur. In the context of the beauty industry, it starts at the very foundation. There is little understanding of the African genome and skin types, which results in a Caucasian-first approach to innovation at all levels within the beauty industry. The research and science need to be there so that the chemists can create nontoxic formulas that work on remedying specific issues of Black women. Then the manufacturers will have the formulas to offer the brands, who then will be able to sell to this community without incurring steep product development costs. That's at the base level of what I believe the beauty industry needs to begin to usher in this change. What we're seeing are symptoms of a racist system, but we're not going down to the depths of where this is coming from.
We need to encourage brands to take responsibility and to have accountability to the consumers they are selling to. To push for this change across the industry, to push for this change down the supply chain, and to hire diversely so to not have this Caucasian-first way of thinking in everything they do. From brands' hiring policies and their photography, to their lab innovation and research, and even their packaging — change needs to occur at all levels if we are going to stand and say that there is representation, there is diversity, and there are sufficient resources available for women within the Black African community to empower themselves. It is not a charity to afford us our human rights. We are willing to do the work. We are doing the work and quite often we're doing more than enough. But we're getting far less than any other race. And that is what stops our progress and stops us from empowering ourselves and our communities and the generations to come.
Change needs to occur at all levels if we are going to stand and say that there is representation, there is diversity, and there are sufficient resources available for women within the Black African community to empower themselves.
The Black Community Deserves Better Ingredients
As I've built my company, there are certain things that I've learned about the varying standards of quality offered to the Black community in manufacturing. There's always been an understanding that for this community, you only give them the least safe, the least tested, and the lowest-quality product that you have because, well, they're poor and they'll buy it, and they'll have no choice.
That way of thinking has been so damaging not only from a physical perspective with women of colour, but also on a societal level, with retailers believing that Black women of colour do not have any money to spend, so therefore, not stocking anything for them, or being accommodating to them when they enter the store. It has had such an echoing effect throughout the industry. And where I see opportunities for leadership and influence is with the big brands, because they have the financial resources to make a meaningful stand.
Start-Up Culture Should Better Support Intersectional Entrepreneurship
One of my biggest challenges was due to lack of funding within the diverse community and the structure of the start-up funding world. At the early stages, £30,000 are supposed to be coming from friends and family and then above that comes from investors. The assumption that you could have £30,000 from friends and family is so damaging to the BAME community because most of us are first generation, we're immigrants. Generational wealth has not been accrued within our communities. After 10 months and over 60 meetings, I was only able to raise 15 [percent] of my ask. But I was fortunate to find an angel investor who understood the intricacies and the challenges of intersectional entrepreneurship.
In those 10 months, I was constantly having to justify why. Why you? Why this company? Why do you want to serve this market? I was often sitting in those meetings with individuals who were European, who may not have been as advanced in their ideation stage, and the conversation was very different. They were asked how they were going to start their company. But I could never get to the stage of [telling investors] how. It's those things that fall under the types of microaggressions you experience as a Black founder.
There are so many African ingredients, African holistic practices, and things which are from the continent of Africa that have unfortunately been taken out of context and, therefore, lose that essence of connection which the diaspora is looking for.
Nevertheless, through grit and sheer determination, I launched A Complexion Company two weeks before UK lockdown. We had COVID-19 and then we had Black Lives Matter protests, and we are still growing at a phenomenal rate. Despite the forces against starting this company as a Black woman, we've managed to do extremely well. We've gone international, we've got retailers knocking at our door. It's been such a triumph.
Context, Visibility, and Celebration Is Key
It took me around four years to really condense what I wanted to create in A Complexion Company. I didn't want to simply "catch up" as a Black-owned brand in luxury wellness. I wanted to create a best-in-class, eco-luxury, beauty-and-solutions company that would be recognised amongst Black-owned and non-Black-owned businesses.
What I realised was necessary was bringing the Black woman into context, the African woman into context, and that is, for us, the African wellness element of the company. There are so many African ingredients, African holistic practices, and things which are from the continent of Africa that have unfortunately been taken out of context and, therefore, lose that essence of connection which the diaspora is looking for. That was as important for me as having a product that solves a current issue — for there to be context and visibility and celebration of African culture and heritage.
The Black African woman is at the centre of everything we do and informs every aspect of the brand, even the fonts that I use. I recently posted how much I struggled with creating a luxury font that is informed by African heritage. I was using Serif fonts because in European luxury they all use Serif fonts and that was the default in my head. But it never felt right. It wasn't until I went into African scripts and written historical documents that I started to identify elements which I could incorporate in creating and selecting a font for the company, and thereby creating an African-informed luxury font. Not having a European or Western default. And that's what I believe many of these organisations are suffering from. They have a European or American default at their starting point. If you start there, you are immediately going to end up at the wrong place.
Image Source: A Complexion Company