banish morning-after eyes with Amie Bright Eyes gentle eye makeup remover
New Product Alert: Banish Morning-After Eyes With Amie Makeup Remover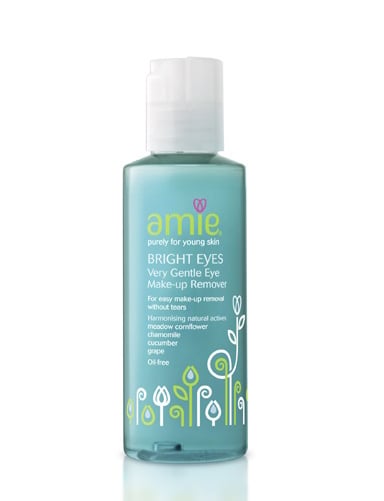 Dirty stop-outs, this one's for you..We've all been guilty of falling into bed with our makeup still on after a long night. Usually the morning-after effects are more bleary-eyed panda than sexy, rock chick. Plus those tell tale kohl smudges on the pillow are a little too Amy Winehouse for comfort.
Personally, I don't believe in those all-in-one cleanser wipes, perhaps at a festival, but generally they seem like a waste of money and often leave you with stinging eyes anyway. But I appreciate the sentiment - who wants to spend more than ten minutes taking off makeup when your (kohl-free) pillow beckons? So the new Bright Eyes makeup remover from Amie (£4.75 for 125 ml) is a welcome offering. It's designed for very sensitive eyes, and uses natural amino acids, combined with cornflower and grape extracts, to gently sweep away all traces of your party gal persona.
I'm also pleased to note that it's dermatologically tested (i.e not on animals) and contains no nasties like parabens, sulphates or petrochemicals. You'd be shocked by how much skincare does contain these. The packaging is also 100% recyclable, which many products still, surprisingly, aren't.
The Amie range was originally designed by a mother for her daughter as a natural alternative to harsh, chemical-ridden cleansers and face-washes that the teen market is full of. It works at any age though. Once you get past the bright blue colour and no-frills packaging, you'll find a product that's effective, gentle and a real bargain. Bring on the late nights...