Meet Base Plus, the New Face Cream You Can Personalise
Meet Base Plus, the New Indie Skin-Care Brand Championing Personalisation in Beauty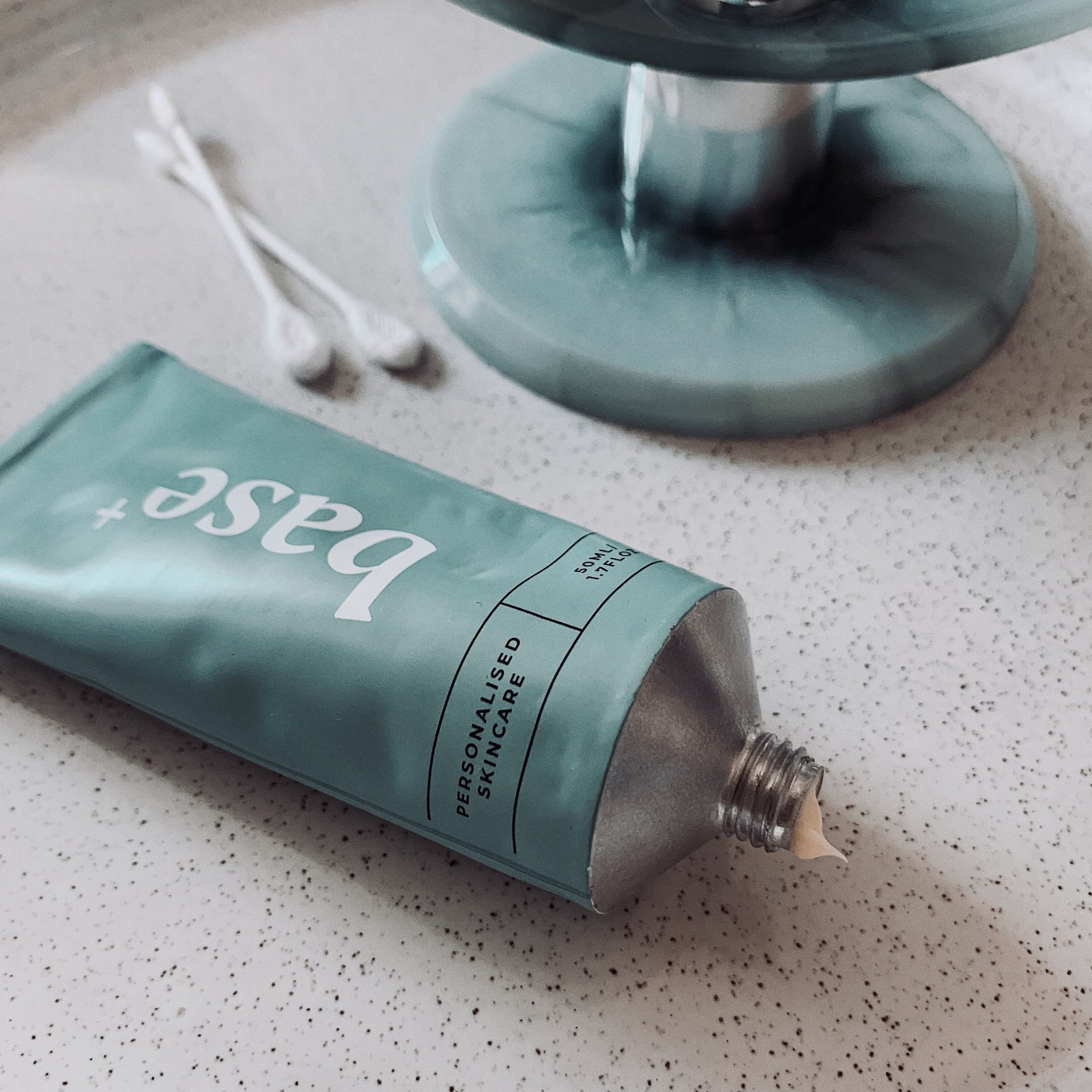 Skin care may have come a long way in recent years, but scroll through any Facebook beauty group or skin-care Subreddit and it's clear that despite all the innovation, many people still struggle to simply find the right products that address their skin concerns. However, as consumers become more conscious of their different needs and preferences, many brands are realising that the "one size fits all" model, well, doesn't fit all — and have begun to find ways to offer customers bespoke products or personalised regimens to help solve their skin-care problems.
Looking to provide a solution in a saturated market is new skin-care brand, Base Plus — founded by Yasmin Greenaway — which promises to "lead the personalisation movement and empower people with the control they desire, over the products they use and their wellbeing" whilst also minimising climate impact. "Now, more than ever, people are willing to experiment with their products and entire routines because they're tired of buying things that don't serve them," said Greenaway, who believes that it's time for the beauty industry to work harder and stretch themselves.
"Now, more than ever, people are willing to experiment with their products and entire routines because they're tired of buying things that don't serve them."
Personalisation in beauty is not a new concept. Here in the UK, brands like Il Makiage, Function of Beauty, and The Inkey List use online quizzes to provide consumers with the perfect foundation match or a skin-care "recipe" featuring a strategic selection of products based on their preferences and issues. Emulsion and Clinique, on the other hand, give you the option to buy different creams, lotions, serums, boosters, and oils that you can combine at home, giving you the ability to create a "bespoke" product that you feel addresses your concerns. Base Plus, on the other hand, is one of the first companies that allows you to create a completely bespoke face cream before the product arrives at your door. It's something we haven't seen much here in the UK, versus in the US, where regulations differ and there is a growing number of brands — Skin Inc, Curology, Neutrogena, Skinsei, SkinCeuticals, and Younique, to name a few — that currently offer consumers the ability to customise the ingredient list of a cream, lotion, SPF, or serum online, which then get mixed up in a lab and delivered to their door.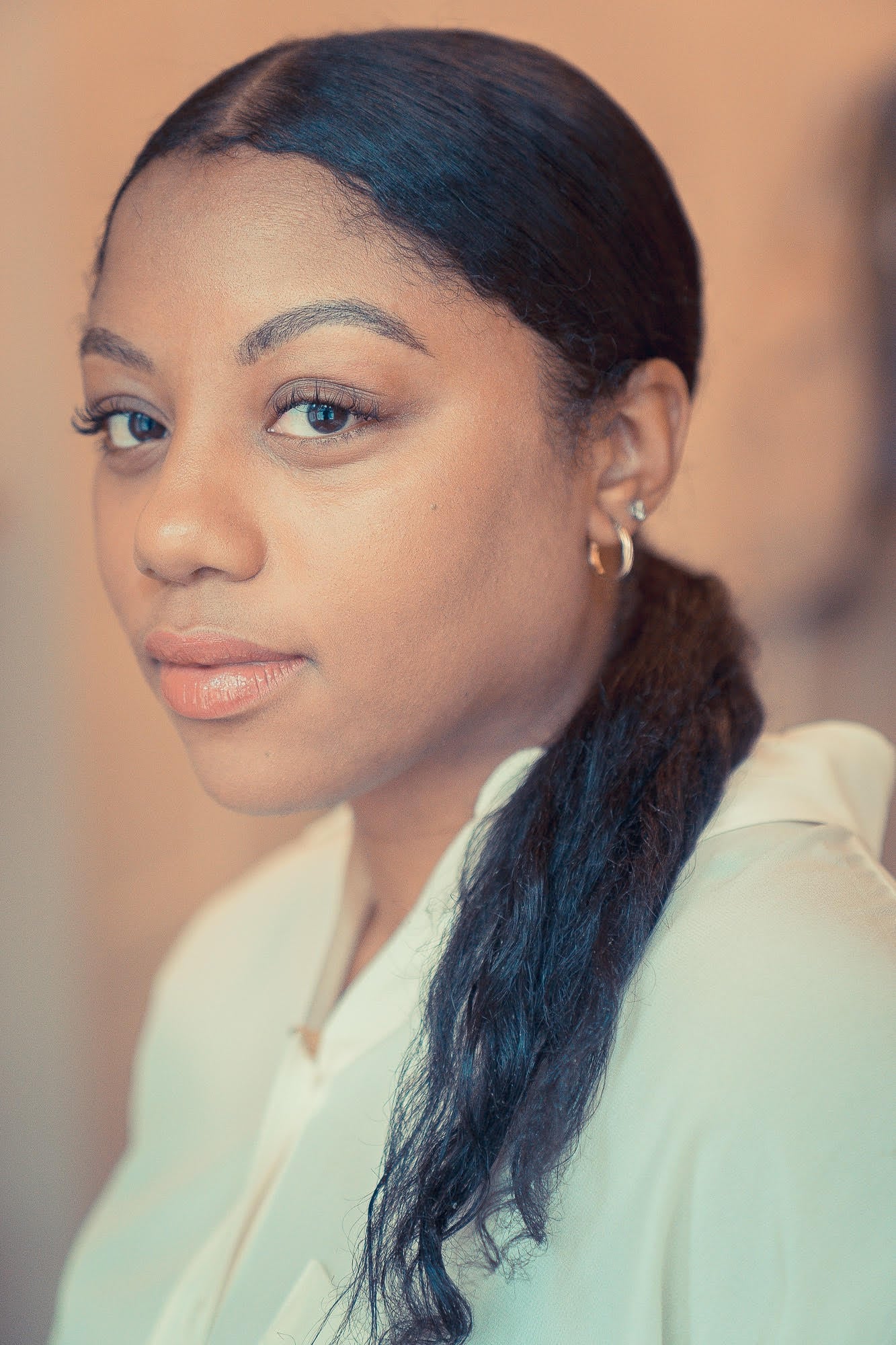 Image Source: skdhdmedia
Yasmin Greenaway (shown above)
Base Plus started from Greenaway's interest in inventing and wanting to create things with her hands. She said that when her friends started to ask her to make things for them according to their different needs, she realised that there was a demand for exactly that in skin care. So she embarked on a CIPD course in Cosmetics Science (whilst also trying to juggle her day job at a top financial services company), before starting to work on developing a daily moisturiser that customers could customise by choosing their own ingredients to include in the formulation. To help, Greenaway recruited five of her friends (Chima, Katie, Laila, Sheridan, and Kamal) to take on various roles, from building the website to formulating the perfect moisturiser base.
Speaking exclusively to POPSUGAR, Greenaway told us how the product came to be — including how the branding of the bottle's signature green body and the white "Base" serif font came to life. "At the time, most of the brands I saw were following a very similar styling — everything was very black and white, clinical in feel. Instead, I wanted something that was colourful and communicated natural but also science-based and premium. We tried many greens!" she said.
The development process to create the perfect Base cream wasn't easy, though. According to Greenaway, it took a full year of iterating the base formula and manufacturing methods to work well with customising ingredients. "It was really important to me that the base [cream] be efficacious and high-quality enough that it could even be used alone," she said.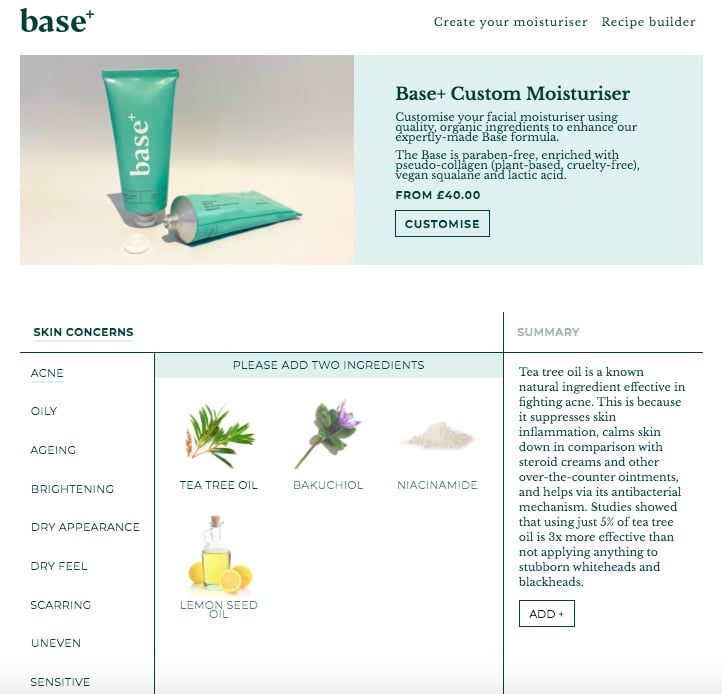 What Greenaway ended up with is a gentle moisturiser that's paraben-free and contains plant-derived collagen, vegan squalane, and hyaluronic acid — ingredients that, on their own, are beneficial to the skin. Customers can then create their bespoke cream by choosing from a list of ingredients, or by using the Base Plus accessible online quiz, which allows you to read information on the purpose of each ingredient, as well as an explanation on how it can treat your skin concern. This, Greenaway hopes, will help ease the process of customising a cream for people who might be intrigued by idea but still daunted by it. "Unlike most other brands, we allow our customers to have a say in their recipe," said Greenaway. "We know customers are very educated these days and do a lot of research. You pick what you want, and we do the all the hard work for you."
Greenaway mentions that whilst the long-term vision is to bring out a full range of skin-care products, in this moment, they are focusing on the bespoke moisturiser. "We're a new company, so we thought we'd start with one thing and do that really well — and because of our business model, we can offer many different combinations with just one product," she explained.
The Base — which comes locked inside a sustainable aluminium tube to prevent moisture from affecting the product (resulting in a long shelf life) — starts at £40; the final price is dependent on the additional ingredients you select.
The Black-owned skin-care brand is currently taking preorders through its website, with plans to launch this September. Head to baseplus.co.uk or the brand's Instagram account, @baseplusskin, for more information.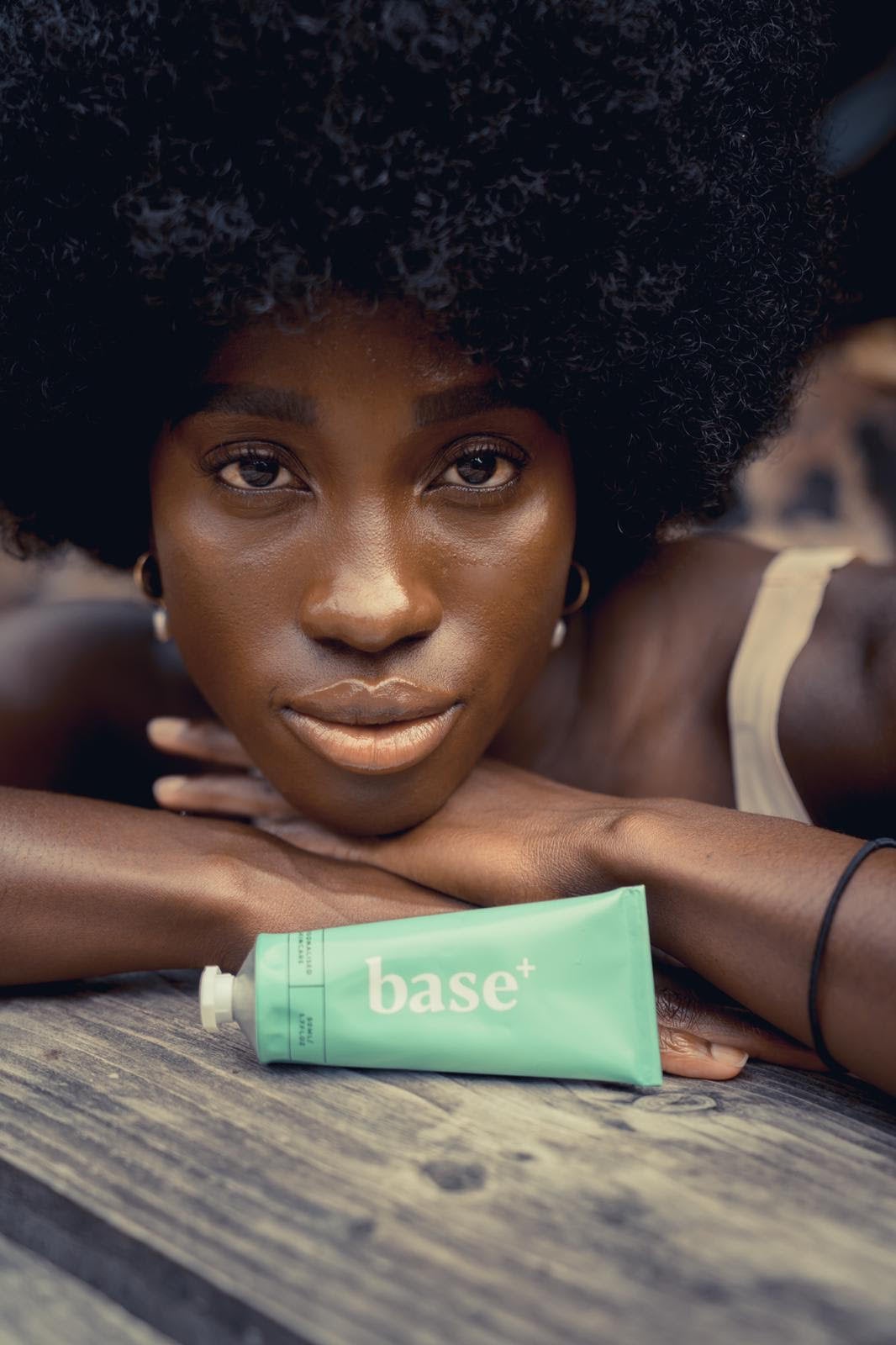 Image Source: skdhdmedia