beauty masterclass how to maintain your pedicure at home with tips from Footopia foot salon at Peter Jones
Beauty Masterclass: Maintain Your Perfect Pedicure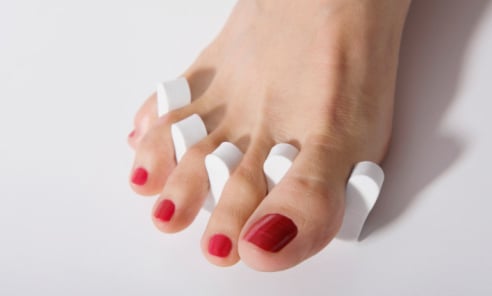 Baring your feet in summer can be almost as scary as wearing a revealing bikini. After a winter of being stuffed into thick socks and boots, your feet may well be looking a little less than sweet.
Your first port of call should be an expert pedicure – go to a salon that's not just about painting your toes a pretty colour, but focuses on solving any potential problems, from in-grown toe nails, to callouses and hard skin. Footopia at Peter Jones is one of my favourites, or go to Scholl for a medical-based foot overhaul.
Once your feet are pedicure-pretty, it's all about maintaining the look at home. I chatted with Robin Opie, foot specialist at Footopia, for her quick at-home tips. To follow her invaluable hints just read more
ESSENTIAL KIT Robin suggests investing in a footfile, for daily dry skin buffing, as well as a rich moisturising cream, such as, The Body Shop Blueberry Body Butter, (£6), to keep feet looking soft and pretty.
KEEP IT SIMPLE It's all about keep your polish looking perky, without too much fuss. Robin advises just using a clear top coat, every four days or so, to keep the colour looking fresh – and to prevent chipping.
FAKE IT "If your feet look glowing, then they instantly appear more attractive" says Robin. She recommends daily exfoliating, with a scrub such as The Sanctuary's Salt Scrub, (£8.95). Then slather on cream.
POLISHED AND PERFECT Choose dark colours if you have paler skin, as this will stop your feet looking washed out. Robin suggests this summer's IT colour – Russian Navy by OPI, (£11). "All skin tones look good with a bright, true red polish" says Robin. "This season everyone's asking for Thriller Brazil, (by OPI), it's the perfect pillar box red shade."