the best facial sun creams for summer from BellaSugar UK, sisley, dermalogica and clinique
Summer in The City Part 2: Facial Sunscreens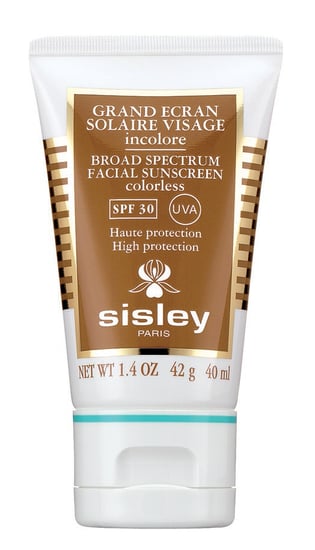 Despite being nagged to, most of us still don't wear sunscreen on a daily basis in the city. Just because you're not actually sunbathing doesn't mean that you aren't at risk from harmful UVA and UVB rays. As a former sunshine addict, I have to remind myself that the sun is the primary cause of wrinkles and other signs of ageing, such as dark under-eye circles and a general lack of radiance. So that's the lecture part dealt with...Sun worshippers take note.
Now, lesson number two: It's worth paying a bit more for a decent facial sunscreen. Apply it under your makeup and don't forget your neck. You should ideally wear it all year round, but at least make sure you do in the summer – even when it's cloudy outside.
A good quality sunscreen will also make a great base for your makeup. If you're skin's oily then look for one that has a mattifying effect, like the Dermalogica sunblock. If you have dry to normal skin, you can still use your normal moisturiser, just layer the sunscreen on top.
One final tip, many good moisturisers come with an in-built SPF 15 and they're great for the winter or colder months, but in the summer I would heartily recommend using a specially-developed sunscreen, as this offers you much more protection. Frankly, an SPF 15 doesn't really cut it. Even if you're inside all day and just running out a lunch to buy a sandwich, I can't stress enough how much of a difference this will make it terms of ageing.
Here's my pick. read more for the three best facial suncreens:
Sisley SPF 30 Broad Spectrum Facial Sunscreen, (£75). This smells gorgeous, with a slight licorice scent. It has a great consistency and leaves you with a glowing base on which to apply makeup. It also has added shea butter which gives the skin a dewy effect. If you simply love to sunbathe, and couldn't possibly renounce it, then this offers very high protection, while allowing you to still get a bit of colour.
Dermalogica SPF 30 Super Sensitive Faceblock, (£31). This is a fantastic sunblock for sensitive skin. It's chemical-free, so if you normally break out after using a sunscreen, or suffer from adult acne, then this is the one for you. It uses mineral UV blockers, including Zinc Oxide, and also contains lavender, green tea and licorice to soothe the skin. You only need a small amount though, and rub it in well, otherwise you'll be left with an unflattering white residue. I love the smell too.
Clinique SPF 25 City Block Sheer, (£12.50). Clinique were one of the first to design a specific facial sunscreen for the city – they also have a SPF 40 version. City Block has a lovely, super-light formula that feels weightless on the skin. As well as offering UVA and UVB protection, it also includes antioxidants to help protect against pollution.