3 Black Beauty Brand Founders Share Their Inspiring Stories
3 Black Beauty Founders on Starting a Brand, From Challenges to Proudest Moments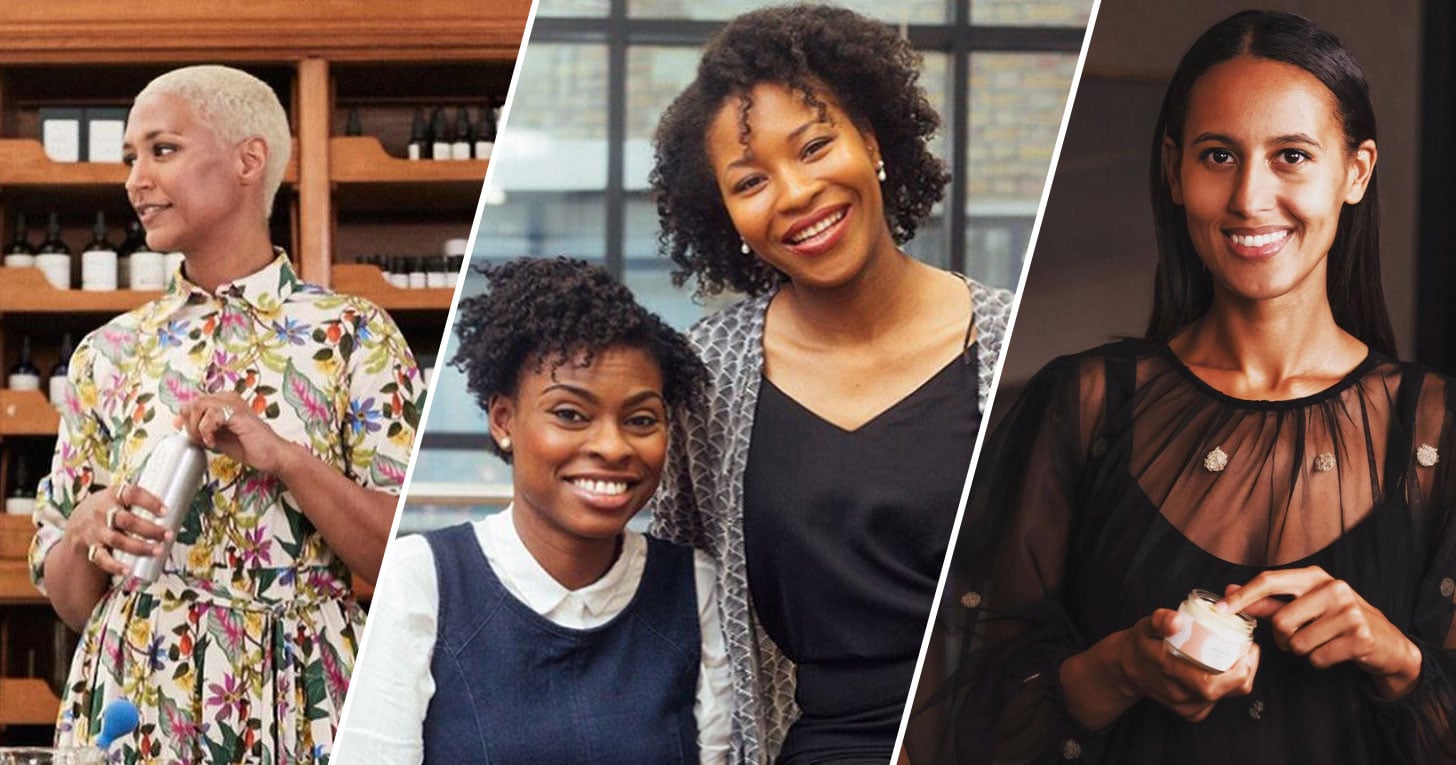 As recent events have shown us, the needs and demands of Black people have often been ignored, and the beauty industry is no exception. Although it's often marketing campaigns and shade offerings that flagrantly highlight the lack of diversity, initiatives such as Pull Up or Shut Up are catalysing the need for brands to publish their staff demographics, which is showing the disheartening number of Black people within senior and influential positions.
With the global beauty industry worth over $500 billion and Black consumers spending nine times more than others, Black-owned beauty brands are still hard to find, which is unsurprising considering the unconscious racial bias and discrimination that Black people face, coupled with only 0.2% of business funding going to Black women. Despite the multiple challenges that Black women face when starting a beauty brand, the category is finally growing. With Pat McGrath spearheading a billion dollar brand, Rihanna's Fenty Beauty taking the world by storm, and Black Pound Day creating a solution-based approach to showcase Black businesses, we are finally getting a taste of the hugely lucrative beauty industry pie. We spoke to three Black beauty founders on how they overcame the hurdles and started their successful brands.
Image Source: Ohana CBD
Jasmin Thomas is the founder of CBD-infused skincare line, Ohana CBD. After being diagnosed with multiple sclerosis (MS), Thomas launched the brand in 2018 on a quest to bring results-driven CBD beauty to the UK market.
POPSUGAR: How did Ohana begin?
Jasmin Thomas: Ohana came to me after a year of using CBD oil and topicals to manage the frustrating symptoms of MS. I was lucky to be working with the largest medical cannabis pharmaceutical company at the time of my diagnosis, so I had great access to the science behind CBD and the multiple ways it could be used. Back in 2017, all of the good topicals were inaccessible because they were produced and sold in America where laws and shipping vary by state. After considerable research it was my aim to create highly functional and efficacious CBD skincare combining clinically proven plant-based actives for a natural skin-care range.
POPSUGAR: How did you finance Ohana?
JT: Initially we were self-funded with packaging, labels, and branding all done on a very tight budget, which I'd saved from my previous job. However, I'm not a formulation scientist and I wanted the products to be a lot more sophisticated and functional than what was available on the UK market. I knew I had to step up the formulation and manufacturing but this costs tens of thousands of pounds.
"It's detrimental selling potential entrepreneurs a false dream. Don't get me wrong, it's fun and there's so much joy from living authentically ... but it doesn't come with a big enough warning on the continuous challenges."
I did a "friends and family" investment round which actually consisted of no friends and family, and just angel investors that I met through events, networking introductions, and reaching out to people via any way possible. This capital allowed us to work with the very best in the industry. When raising, I didn't actually know the limitations on women, let alone women of colour, when going out to raise capital. I didn't have any preconceived notions about how these traits would present separate challenges for me. On reflection, I understand how to overcome and navigate unconscious bias better, and I hope it will make our next round easier.
PS: As it started out as a side hustle, how and when did you know you were ready to take the leap and do it full time?
JT: I was so bored at work and I was really passionate about CBD skincare. It was all I wanted to talk about so I'd sit at my desk, do loads of research, and then practise formulations when I got home. I didn't know I was ready to take the leap. I'd booked a three-week research trip to the US but my office wouldn't let me have the time off. I just told myself, "there is no time like the present", and trusted that the universe would provide and it did!
PS: How did you find a manufacturer?
JT: I hired a brilliant new product development specialist who had 20 years experience working with brand such as Charlotte Tilbury, This Works, and Boots so we ended up with the best manufacturers and formulation scientists. She knew we had very specific requirements when it came to working with a manufacturer and we wanted an organisation that aligned with our brand values. She introduced us to a few and we landed with one in the UK whose first question to us was, "what are your sustainability initiatives?" I immediately knew we were on the same page.
PS: What's the biggest misconception of having your own brand?
JT: It's not all fun and daisies. There's an idyllic creative bubble that is sometimes portrayed on Instagram from business founders posting pictures like they don't have a care in the world when they probably have four late invoices, a product that is taking three months longer than expected, and Covid-19 impacting sales and affecting cash flow.
One of my most detested quotes is, 'find something you love and you'll never work a day in your life'. You'll actually work harder than you ever have, it's hard to switch off, the hours are longer, and you'll most likely take reduced maternity leave.
I think it's detrimental selling potential entrepreneurs a false dream. Don't get me wrong, it's fun and there's so much joy from living authentically and not being bound by 25 holiday days and a desk, but it doesn't come with a big enough warning on the potential ups and downs and continuous challenges.
PS: What's the most challenging thing about having your own brand?
JT: There's a lot to learn and so many challenges that come with owning your own brand which when adding CBD complicates it further. Alongside typical brand challenges and lots of trial and error in different areas of the business, within the CBD industry, they extend to finding payment platforms, not being able to use paid social media, navigating different local laws, educating consumers, and the list goes on and on. You'll only find really passionate people sticking through these challenges because it's not easy but is always worth it when you get positive feedback.
PS: What has been your proudest achievement with the business so far?
JT: Truthfully, I need to get better at appreciating the small wins and being proud of the growth we've had over the last 18 months. What I would say, is that I'm proud of the unwavering faith I had in myself to just do it — starting a company, raising capital, and learning as I go. I'm far from the most knowledgeable person to execute this business, but I am passionate and confident and those two attributes have got me here today.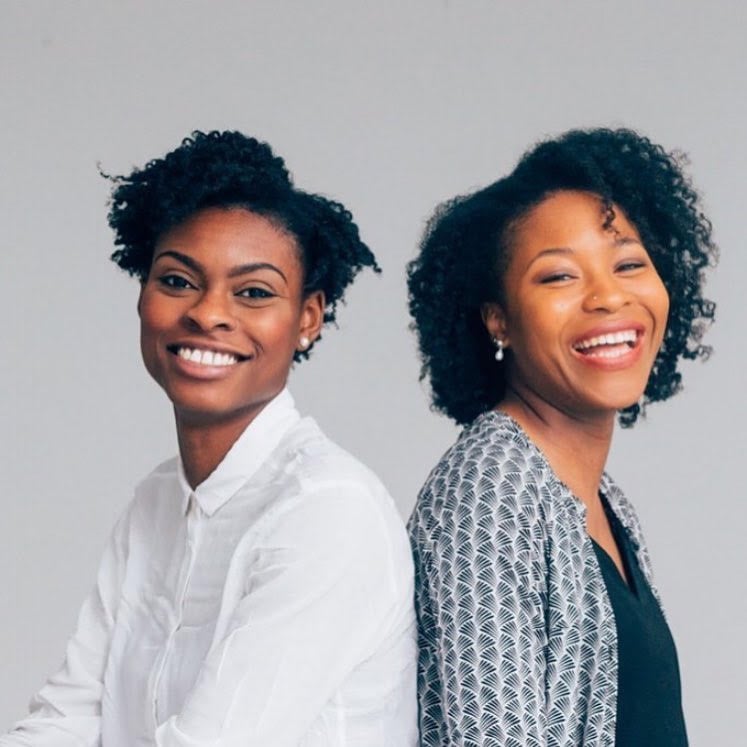 Image Source: Afrocenchix
Afrocenchix founders Joycelyn Mate and Rachael Corson met at university where they shared frustrations about inefficient afro hair products. Their vision and over a decade of learning and developing led them to become the first brand for afro hair to launch in all nine Whole Foods stores
POPSUGAR: How was Afrocenchix born?
Afrocenchix: It was back in 2008 when we first met; in 2009 we researched and produced our first hair oil, which quickly sold out when we took our small batch to a community fair in Neasden, North West London.
We set out on a mission to share what we had learnt about healthy hair-care practices using natural products. In 2010, we won the 'Ethical and Sustainable Business Innovation' award from the University of Birmingham which encouraged us to take the idea more seriously. Rachael studied for a year at the Institute of Trichologists and we expanded to include more carefully researched products.
Now based in London, we develop expertly-researched and carefully-created products in partnership with formulations and cosmetics scientists. We're proud to be the first British brand specifically for afro hair in a major retailer now we have partnered with Whole Foods Market!
"We don't believe that being selfish ever pays off. The pandemic has made it tempting to close down and only focus on looking after yourself but we resisted that and looked for ways to support our community."
PS: How did you finance Afrocenchix?
A: We started at 19 with nothing but £50 each, scraped together from part time jobs at uni. Around 2017 we realised we needed a cash injection. We were working on Afrocenchix with no salary; tutoring, contracting, and generally side hustling to pay the bills and we were massively overstretched. People kept saying how amazing our pitch was and yet the money didn't follow. Only 0.2% of business funding goes to Black women so when we set out to raise £360K (while Rachael was heavily pregnant!). We knew we'd have a serious fight on our hands. However, we raised over $650,000 in VC and Angel investment last year.
PS: How did you find a manufacturer?
A: We make everything in house but in order to scale, we're partnering with an incredible factory that we've been getting to know over the last few years. The tech transfer process has taken over a year as our products are complex! Our advice would be to visit as many factories as possible and talk to the owners until you find someone who shares your ethics. Our factory partner won us over when they gave us a tour and showed us their on site recycling facilities!
PS: How has the business changed since the social media awakening?
A: Great but also challenging. With the BLM movement and the disproportionate impact of Covid-19 on the Black community, we've taken some hits. Several team members are dealing with loss or supporting people close to them in their grief. The decisional fatigue and stress of making decisions that could impact someone's life or livelihood has been intense and taken an emotional toll.
When the pandemic hit, we switched our approach to offering free support and education. We don't believe that being selfish ever pays off. The pandemic has made it tempting to close down and only focus on looking after yourself but we resisted that and looked for ways to support our community, especially our customers that run small businesses.
PS: What's the biggest misconception of having your own brand?
A: That it's easy and building a brand can happen overnight! It's taken us 10 years of grit to be called 'an overnight success.' Afrocenchix turned 10 years old last month and we find it's helpful to talk about whatever we're going through as a business to help others and show there are no shortcuts.
PS: What is your best "pinch me" moment?
A: We have so many over the last 10 years! Pitching to Gary Vee, Diddy, Ashton Kutcher, and Kirsten Green, launching in Whole Foods and Holland & Barrett, raising investment which allowed us to hire a permanent team, and getting our filling and labelling machines – before this, we were labelling products by hand! If we had to choose, it would be reflecting on how incredible our team is and how lucky we are to work with them to serve our community.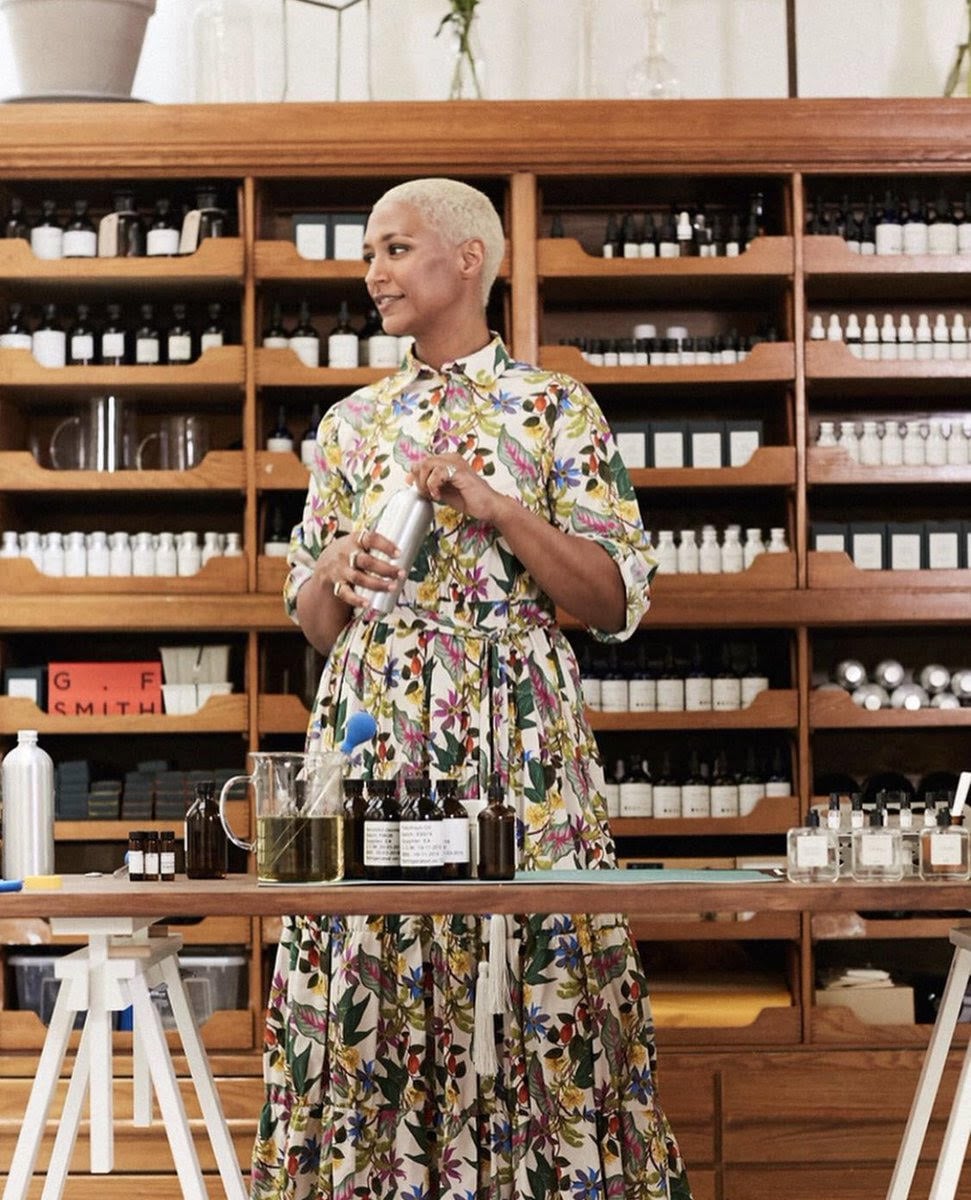 Image Source: Maya Njie
Inspired by her Swedish and West African heritage, Maya Njie started her eponymous fragrance brand in 2016. With stockists including Liberty and Harvey Nichols, Maya is one of the very few Black perfumers in the world.
POPSUGAR: Why did you want to start a fragrance brand?
Maya Njie: I love fragrance in all it's forms and it's been an important part of my life for as long as I can remember, but the brand started as a side hustle. I was front of house in an office and I'd scent the reception area at the beginning of each day and whenever I did people would try and buy the fragrance. I was reluctant at first as they were so personal, but after many enquiries I decided to start selling them. It got to the point where it was difficult to do both jobs and my position was coming to an end so I decided to take the leap.
PS: How did you finance the brand?
MN: I am completely self funded. Any profits made over the years has been reinvested into different aspects of the business — anything from improving the packaging to taking on a studio and employing staff.
PS: How did you find a manufacturer?
MN: I currently do the manufacturing and fulfilment myself. I have considered outsourcing the manufacturing but feel that working with smaller runs and controlling the output according to demand suits me better at this time.
PS: How has business developed amid Covid-19 and the global Black Lives Movement?
MN: It's been really busy, both in terms of increase in sales and visibility. There has been a lot of interest from different directions and general support too which has been lovely — I hope it continues.
PS: What's the biggest misconception of having your own brand?
MN: It's the idea that I get to sit and design perfumes all day. Creative formulation is currently a very small part of the pie but I am trying to shift this. I'd like to delve into my library of ingredients more often and spend less time at my computer, on my phone, or on social media.
PS: What's been the most challenging thing about having your own brand?
MN: For me, it's been being on my own in the business for so long. Having someone to bounce ideas with and solve problems with really does help in moving things forward. It's a lot of hard work and it doesn't let up either. Also, not being able to take work home with you can be difficult, it's important to allow oneself to completely switch off sometimes. As hard as it is being a business owner I do love working for myself and wouldn't have it any other way.
PS: What is your proudest achievement/pinch me moment with the business so far?
MN: I have yet to top my window campaign in Liberty where I had creative control and got to use them how I wanted. I loved seeing that campaign in one of my favourite stores with members of my family being part of the concept.
Image Sources: Maya Njie, Afrocenchix and Ohana CBD