By Far Daydream of Someone I Knew Fragrance Review
Kendall Jenner's Favourite Fragrance Brand Lives Up to the Hype
As POPSUGAR editors, we independently select and write about stuff we love and think you'll like too. If you buy a product we have recommended, we may receive affiliate commission, which in turn supports our work.
Growing up, I never would have foreseen that I would become a perfume-lover. My mum has a sensitive nose, so I always shied away from wearing fragrances because they would often make her complain of headaches. Now, however, I've got a dresser covered in perfume bottles, and I never leave the house without spritzing on my favourite scent of the moment — even if I'm just going outside for a walk around the block.
I usually find new fragrances to love out in the wild — I often stop strangers and ask what they're wearing — but my most recent obsession is a recommendation from Kendall Jenner herself. (OK, Jenner didn't, like, text me or anything, but I saw her posting about a fragrance from accessories brand By Far on her Instagram account.) Her favourite from the brand is the By Far Daydream of a Bingo Queen (£180), but I fell in love with the By Far Daydream of Someone I Knew (£180).
If you're in the market for a new summer scent, keep reading to check out my full review of the fragrance.
About the By Far Daydream Fragrance Collection
The By Far Daydream fragrances come with a 20ml charm bottle, a gold metal bracelet, and a 100ml refill bottle.
The 100ml refill bottle allows you to top up the mini bottle five times.
There are six different fragrances to choose from: Daydream of a Splash, Daydream of a Bingo Queen, Daydream of a Love Triangle, Daydream of Someone I Knew, Daydream of Passing Clouds, and Daydream of Hopscotch.
The fragrances are all vegan, cruelty-free, and free from synthetic colours.
The fragrances are eau de parfums.
What I Like About the By Far Daydream of Someone I Knew Fragrance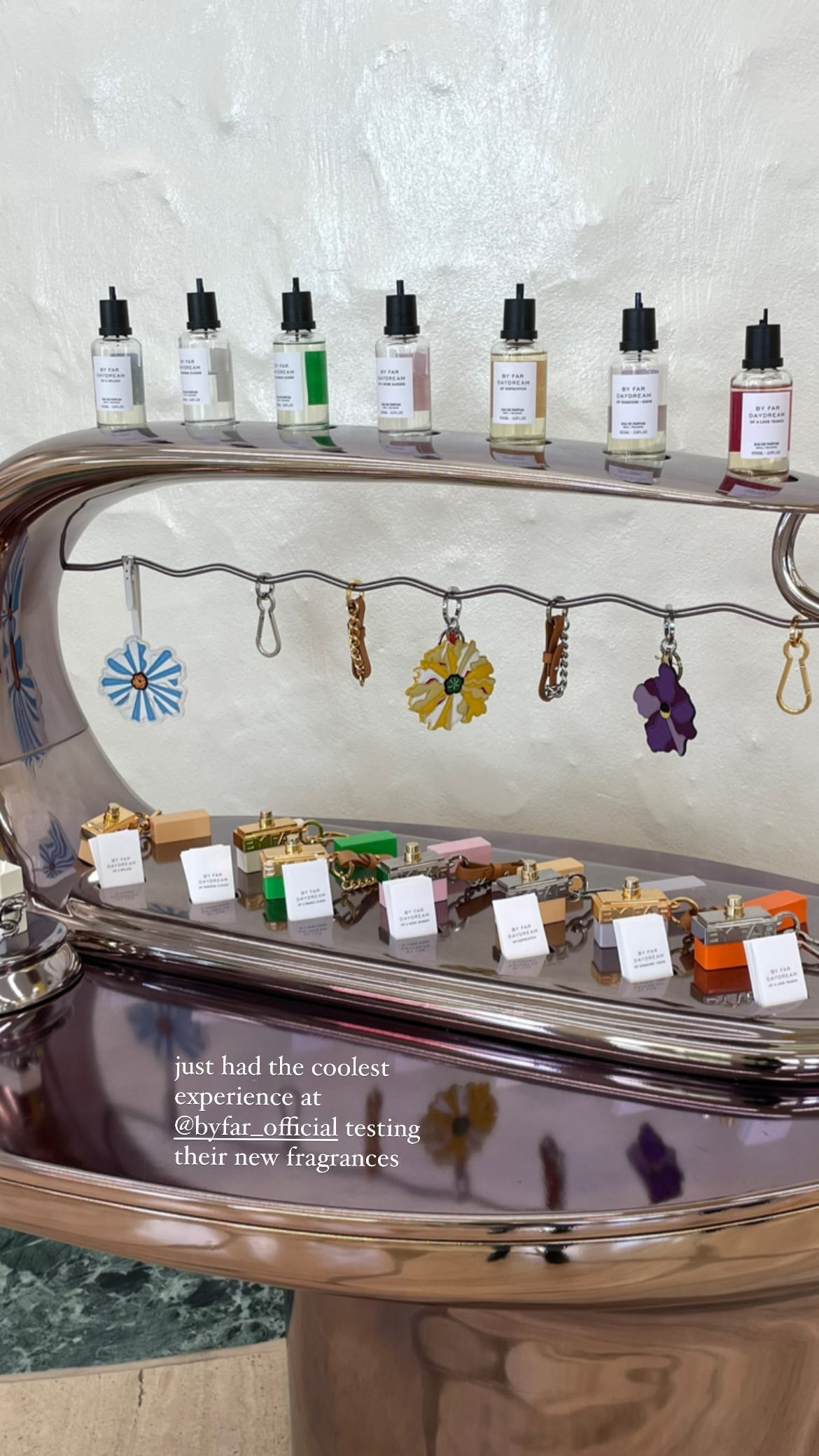 I picked my fragrance at the By Far store in Los Angeles, so I had the opportunity to test out all of the available scents. Every time I thought I had settled on the one I wanted, I ended up liking the one I tested right after it even better. In the end, I was waffling between two different options, but I went with Daydream of Someone I Knew because I felt energised when I inhaled it.
It has top notes of earl grey tea and amber, heart notes of jasmine and rose, and an oakmoss base. It's technically a floral scent, but it isn't powdery and doesn't smell like you just walked into your grandma's living room — plastic couch covers and all. It's light and airy, and it leaves me smelling like the best version of myself: sweet and lighthearted (two words most people would not use to describe me).
Besides the fact that it smells amazing, the packaging is 10/10. The perfume bottle doubles as a keychain, which you can clip to your favourite bag or just leave on your vanity. Whenever I travel, this is always my go-to perfume to bring with me. It's 100ml, so I can fly with it, which means I just hook it onto my carry-on and I'm ready to go. I opted to get the charm in my favourite colour, orange, but there are a bunch to choose from: green, beige, pink, white, and purple.
How to Use the By Far Daydream of Someone I Knew Fragrance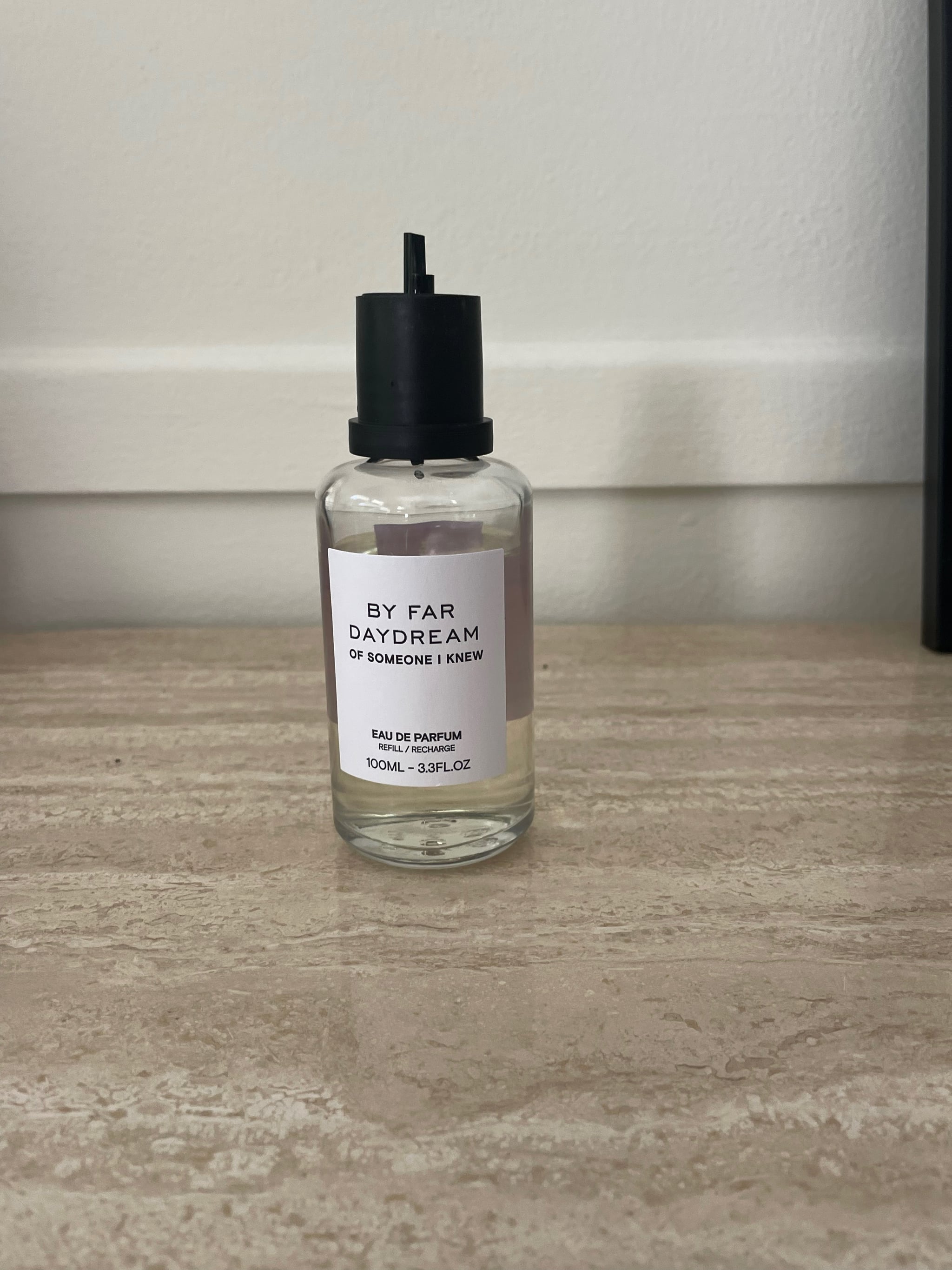 Using this perfume is just like any other — spray it on your pulse points, then walk out the door. However, I like to follow a couple tips to make sure the scent lasts all day. I moisturise daily, but I always make sure to layer on the lotion right before I spritz this perfume — preferably an unscented product, unless I know it's a scent that layers well with this specific fragrance.
From there, I spray on my pulse points: my neck, my wrists, behind my ears, my cleavage, and my hair. (If I'm going out, I usually spray underneath my shirt as well as my lower back.) I love spritzing my clothes as well, because I find that this scent in particular lasts very long on my tops, which is great for making sure I smell nice for hours on end.
What to Consider Before Trying the By Far Daydream of Someone I Knew Fragrance
I recently learned that there is a difference between eau de parfums, eau de toilettes, and eau de colognes. Eau de parfums have the highest concentration of fragrance oil, which usually means they are a bit heavier (and often last longer). I've found that I prefer eau de parfums, but if you're looking for something really light, you might want to consider an eau de toilette.
Is the By Far Daydream of Someone I Knew Fragrance Worth the Splurge?
Priced at £180, this is not an inexpensive fragrance; however, it's worth it if you consider what you get. A similar luxury fragrance will run you around $200 for 50ml, but this perfume gets you double the amount (100ml) for just a little bit more cost wise. Plus, the bottle isn't just a bottle — it's also an accessory.
Rating:
Image Source: POPSUGAR Photography / Renee Rodriguez