What Is Dry Cleansing?
"Dry Cleansing" Might Make You Rethink How You Wash Your Face
As POPSUGAR editors, we independently select and write about stuff we love and think you'll like too. If you buy a product we have recommended, we may receive affiliate commission, which in turn supports our work.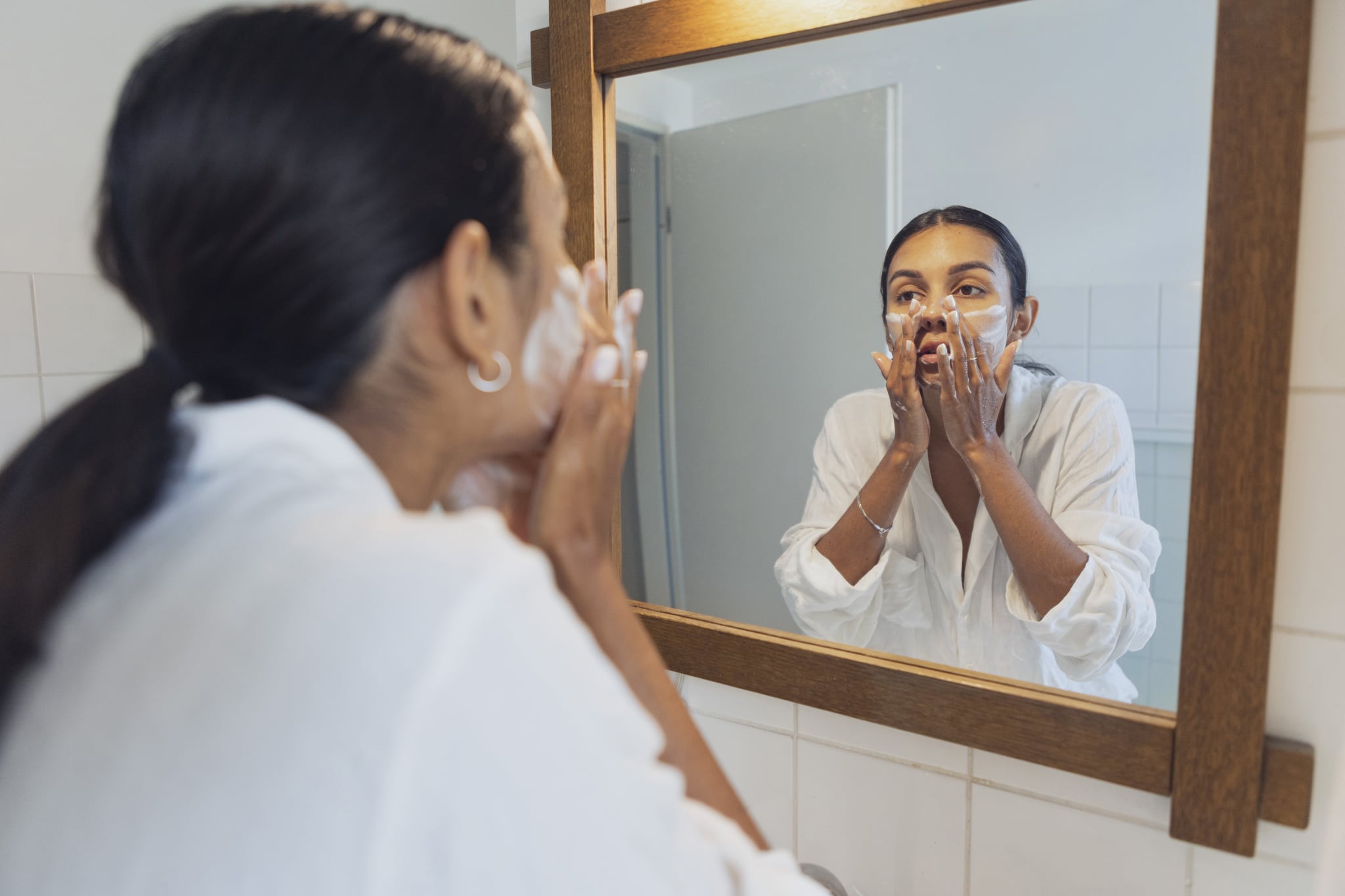 "Dry cleansing" is a skin-care technique that involves washing your face with dry skin versus wet.
It requires a nonfoaming cleanser and has many skin-care benefits.
Two dermatologists and a licenced aesthetician answer all your dry-cleansing questions.
There are a few things in life that feel like no-brainers: consuming all of "White Lotus" season two in one go, browsing the dessert menu after a dinner out (even if you have no intention of ordering anything), and washing your face at the end of each night. The process of cleansing the day's dirt and oil from your skin has always been pretty straightforward (water, cleanser, water) — until now. There's a new skin-care technique that's making the rounds online, and it has us rethinking our entire face-wash routine. Introducing: "dry cleansing."
What Is Dry Cleansing?
Like the name suggests, dry cleansing skips the initial step of dampening your skin. "Dry cleansing is using a nonfoaming facial cleanser without initially adding water," says Hadley King, MD, board-certified dermatologist and clinical instructor of dermatology at Weill Medical College of Cornell University. "The cleanser is massaged onto dry skin as the first step, then the hands can be rinsed in warm water and used to massage again, now adding water to the process."
You're probably heard about applying cleansing oils or cleansing balms to your dry skin in a technique known as double cleansing, but dry cleansing can be done with other types of cleansers, too. The key is picking the right face-wash formula. Rule number one: no foaming cleansers allowed. Instead, opt for gentle oil-, balm-, or cream-based cleansers.
"Lipid-free cleansing lotions don't actually need water to cleanse the skin," says Joshua Ziechner, MD, director of cosmetic and clinical research in the dermatology department at Mount Sinai Hospital in New York City. "These are the hydrating, lotion-like cleansers that do not lather. They can be applied directly to the face with your fingertips, rubbed in, and wiped off in the absence of water."
Skin Benefits of Dry Cleansing
The biggest benefit to dry cleansing is that you're getting the full impact of your cleanser of choice without it being diluted with water. "It's possible if your cleanser has active ingredients (like acids) or antibacterials (like benzoyl peroxide), then they will be a little more active before they are mixed with water," says Jordana Mattioli, LE, a licenced esthetician at Complete Skin MD in New York City.
If you're using a lotion-like cleanser, it can also help moisturise dry or dehydrated skin. "They are quite effective on their own and leave behind a protective film to hydrate the skin," Dr. Zeichner says.
"[Dry cleansing] is quite gentle," Dr. King says. "And using gentle, nonfoaming cleansers that are free of harsh detergents will be particularly helpful for dry and/or sensitive skin. And then a damp muslin cloth or something similar can be used to gently wipe the face to remove excess cleanser and provide very gentle physical exfoliation."
Who Should Skip Dry Cleansing?
According to Dr. King, those with very oily skin types might prefer foaming cleansers with more surfactants. In that case, dry cleansing might not be for you. "Lathering cleansers really need water to be effective," Dr. Zeichner adds. "Plus, removing the cleanser from the skin is as important as applying it, as not fully removing the cleanser can lead to skin irritation. Leaving the surfactants on the surface of the skin can disrupt the outer skin layer."
As with using anything off-label, you are taking a bit of a gamble. "Brands aren't formulating their washes to be used on dry skin unless it says so in the directions; sometimes balms or oils will tell you to apply to dry skin before emulsifying," Mattioli says. "So if you're using a cleanser differently from how it's intended, then it just might not be the best idea."
The Best Products For Dry Cleansing
Again, the biggest thing to remember is you want to stick to nonfoaming, gentle cleansers that are either oil or cream based. "As long as you feel your face wash is slippery enough where it's not tugging on your skin while you massage it in without water, then it's safe [to use for dry cleansing]," Mattioli says.
As for specific products worth considering? Dr. Zeichner says the Simple Skin Moisturising Face Wash ($8) is a great example of a hydrating cleanser that can be used without water. Dr. King also recommends the Shea Moisture Cannabis and Witch Hazel Skin Rescue Cream Cleanser ($11) for people across all skin types. "Shea butter, hemp-seed oil, and avocado oil support the skin barrier, while salicylic acid and witch hazel provide clarifying properties," she says. Another option is the Dove Go Fresh Face Cleanse ($6), which Dr. King says "contains moisturising ingredients that support the skin barrier and rinses clean without overstripping the skin of its natural oils."