get the fringe to suit your face shape like Maria Sharapova at Wimbledon
Beauty Copycat: Fringe Benefits Like Maria Sharapova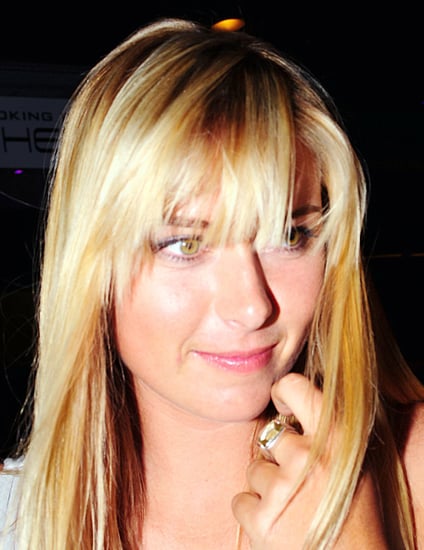 Wimbledon has begun, and already the stakes are high – well at least in terms of style. Serena Williams looked typically glamorous on the courts yesterday in a white belted trench coat, while blonde siren Maria Sharapova has been seen around London with her on-trend, long fringe – that's more than a nod to Kate Moss's look.
Maria's fringe adds an effortlessly messy edge to an otherwise over-perfect, Barbie girl look. The fringe has been showing up on my trend radar for a while, the whole hair-in-the-eyes gives it a sultry edge, as well as having a retro feel. Maria's choppy fringe suits her strong features, but I'm sorry to say, I've noticed some girls wearing fringes without a thought to their face shape. It's tempting to try and cut a fringe yourself, but I'd really recommend getting it done in a salon, at least the first time, then you can pick up tricks for maintaining it at home.
John Vial, Creative Director of Realhair, says "As a general rule, fringes tend to make the face look wider, so if you have a long face a fringe can enhance the eyes and cheek bones simultaneously." Although fringes to tend to draw attention to the eyes, make sure yours isn't too long and choppy, unless you have very large eyes like Maria. For more tips and expert tricks read more
If you have a round face, then be extra-careful as a fringe can often make it look rounder still. John advises that if you have a wide face, then "its best to avoid full fringes and work towards one that is softer or asymmetric".
Both Maria and Kate Moss now have grown-out fringes that aren't too full, so can be worn swept to the side for a boho look. When wearing a full fringe, like Maria's was in the Sony Ericsson ads, for example, John says that "it looks great if the middle is slightly longer, as this tends to lift the eye area, whereas rounded fringes can make the eyes look heavy".
So it's not just about snip and go. To make it easier Realhair has a new Fringe Bar where they'll offer you advice about the best fringe for your face shape. They're also offering a walk-in The Realhair Fringe Fix, which is a complimentary fringe trim for existing clients, with no appointment required. So now there's no excuse for a bad fringe day!