get the perfect ponytail beauty tip
A Quick Tip For a Perfect Ponytail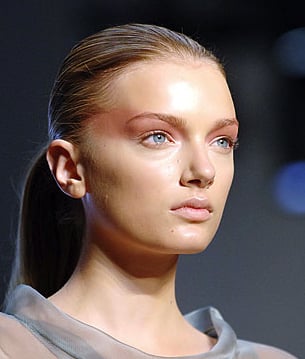 The pony has never been so hot - from the Calvin Klein show –as seen here – to celebs such as Kate Beckinsale and Jennifer Aniston working the look. It's a classic, chicly sleek approach. While I'm a big fan of messy ponytails, it's the groomed, preppy pony that's really big this season. So, here's three easy steps to getting that Upper East Side style:
STEP 1: Tease the crown of your hair ever so slightly so that you have some fullness around your face when your hair is pulled back. Keep it smooth though by misting on a shine spray first.
STEP 2: Brush your hair back with a good boar-bristle brush to smooth out the surface. Then, gather your hair into a mid-to-high ponytail and secure it with an elastic.
STEP 3: For a super-sleek look go over the pony with straighteners.