Huda Kattan's Glowish Range Is For a No-Makeup Makeup Look
Huda Beauty Just Launched Glowish, a No-Makeup Makeup Range I'll Be Wearing All Summer
Huda Kattan has never liked tinted moisturiser. It's a fact that makes her newest launch — a light coverage skin tint — all the more surprising.
"Tinted moisturisers just move all over the place — they don't have any real staying power", she told POPSUGAR over Zoom. "Personally, I would put it on, and then around noon, you would see everything was all over the place." Kattan's personal disdain for the product category didn't stop her team from trying to pitch the idea of a Huda Beauty skin tint, however. "At first I was like, no way. We're not doing it. Throw it out the door", Kattan recalled. Her team, however, was adamant."They were like, 'OK, we're going to try something that we know is going to stay on your face, and it also has this really cool ingredient called ugly bell peppers.' I was like, 'Wait, wait, wait, wait. What is that, first of all?' I'm so intrigued".
Then came the coronavirus pandemic, and people either stopped wearing foundation altogether or at least cut back on wearing full-coverage complexion products. Even Kattan — a self-proclaimed "cake face" — found herself scaling back whilst in lockdown.
That is the origin story of Kattan's newest beauty venture, Glowish by Huda Beauty, a new range of products that is all about enhancing and showing off your skin's natural texture and luminosity. The initial products — the Multidew Skin Tint (£27) and the Soft Radiance Bronzing Powder (£27), with more to come in the future — are lightweight and buildable, the opposite of the full-coverage complexion products for which the beauty entrepreneur initially became famous. The name comes from a combination of the words "glow" and "wishful", the former referring to her glow-enhancing makeup range and latter being the name of Kattan's skin-care collection.
"The concept of this makeup — the in-between full glam, which is not new, but new for us — became something we became really obsessed with, honestly, during COVID", Kattan explained. "I remember going to the office when we first said, 'OK, guys. We're not going to to be able to work from the office anymore', and I went in, grabbed my stash of Glowish, grabbing my stash of makeup, and I ended up only using our Glowish at home because I wanted something that gave me some of those benefits that Glowish has inside of it." The Multidew Sin Tint, available in 13 shades, contains sustainably sourced red bell pepper, which is full of skin-protecting antioxidants, as well as hydrating and brightening Damascus rose oil, a nod to the Get Even Skin Rose Oil in her Wishful skin-care line..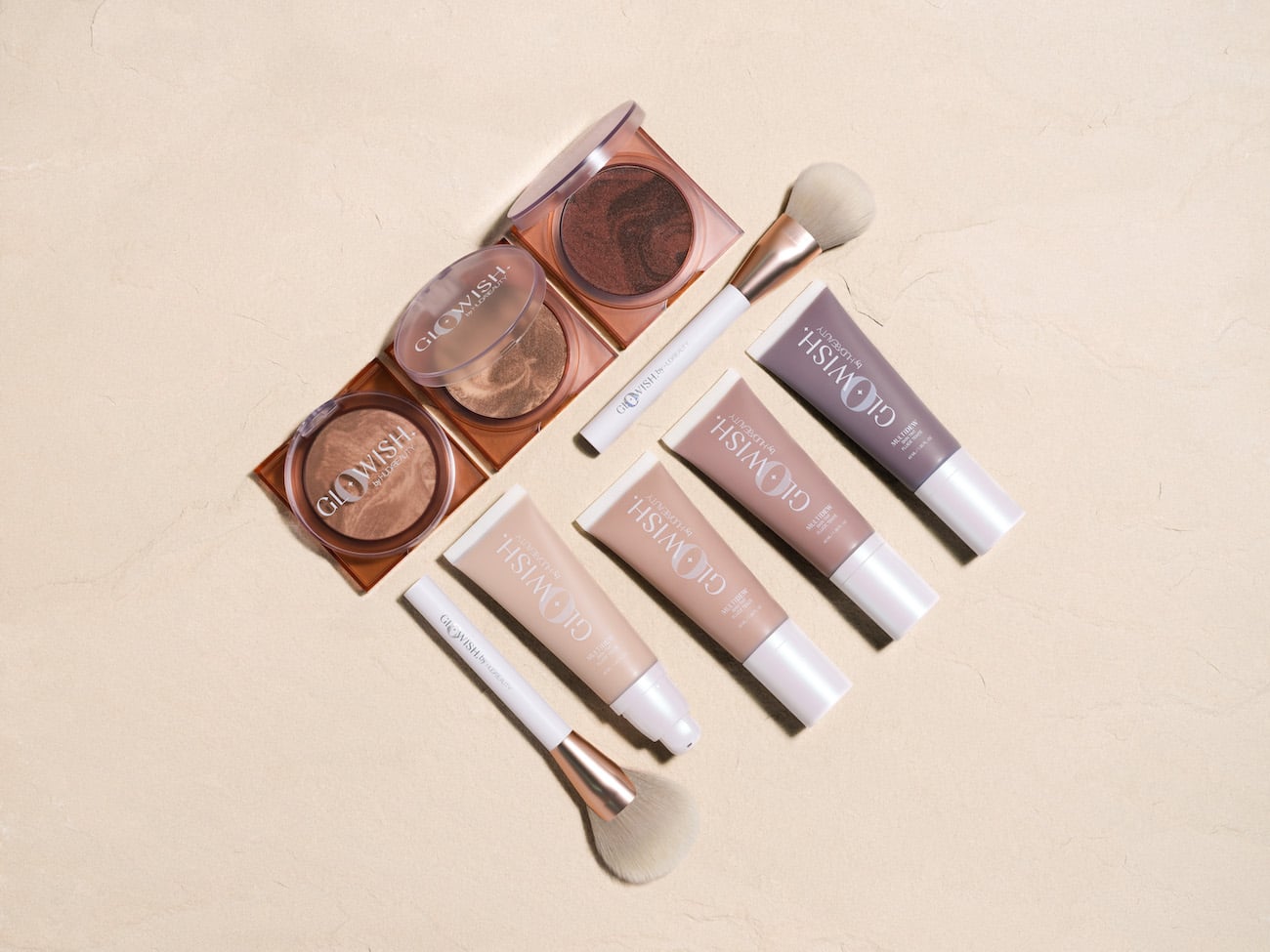 Image Source: Huda Beauty
When it comes to the formula, Kattan's team kept their promise of creating a tinted moisturiser that lasts. Kattan claims it doesn't transfer on her face mask whenever she's worn it, and as someone who got to test the formula a few days before it launched, I can attest to it's long-wear claims. On my combination skin, tinted moisturiser lasts maybe four hours before any hint of pigment disappears. The Multidew Skin Tint stayed put through an entire work day. The most surprising bit is that whilst it's strong enough to last, it doesn't look like makeup on your skin. It truly give you that "your-skin-but-better" effect.
"Most tinted moisturisers are just moisturisers with pigments, and some of them do have added polymers, which is what makes them last a little bit longer," Kattan explained of the formula. "We added a lot of polymers in Multidew and avoided some of the ingredients that can make tinted moisturisers a little bit more fluid and interact with the staying power, things like SPF." Because of that, you should make sure to apply your sunscreen before you put on the Multidew Skin Tint (if you need some recommendations for great face sunscreens, click here), which you can either do with your fingers, or with the Glowish Airbrush Finish Brush (£27), which is sold separately.
The second debut Glowish product is the Soft Radiance Bronzing Powder, which I have to say is an absolutely stellar formula if you're someone who love a more natural bronzed look. The silky powder formula is sheer but buildable, which means no matter how much you apply, you can still sense your skin's natural texture and luminosity behind it. It's radiant but not shimmery, so your skin doesn't look like it's covered in glitter. And it comes in five shades — none of them read too chalky, too orange, or too red. They just make your skin look naturally sun-kissed, and well . . . "glowish", as Kattan would say about the type of finish the entire range gives you. "We made the name into an adjective at the office", Kattan laughed. "We'd tell each other, 'you're so glowish', or 'you look so glowish'". And as someone who always preferred a more natural makeup look, I'll be happily using these two products to look "glowish" all summer long.
The Glowish products launch in June 2021 at ShopHudaBeauty.com, Boots, Cult Beauty, Feel Unique, Harrods, and Selfridges. Keep reading to check out the products, and add your name to the wait list.