When Will UK Hair Salons Be Allowed to Reopen in 2021
Boris Johnson Says That Hair Salons Can Reopen in England on 12th April 2021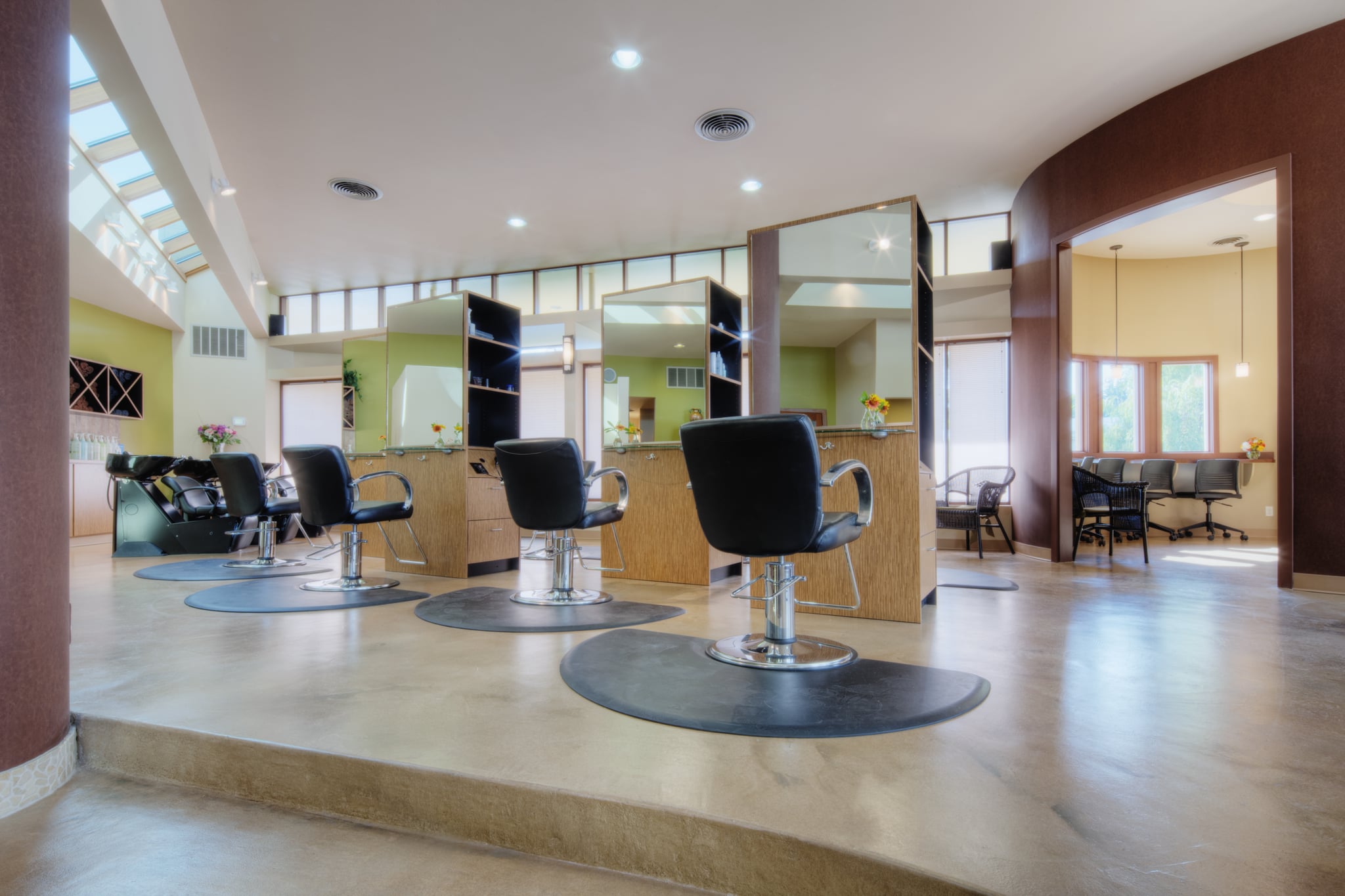 Update (22 Feb. 2021): Hair salons have been given the green light to reopen on 12 April 2021 in England, according to the government's roadmap to ease lockdown restrictions, which prime minister Boris Johnson presented to the House of Commons today. The news comes as great relief after hair salons were forced to close their doors yet again when the UK went back into a nationwide lockdown on 5 Jan. 2021 due to the increase in coronavirus cases.
For beauty salons to open on 12 April, however, Johnson stressed that England's four criteria must be met before the country can move through each phase of the lockdown. These include, the vaccine deployment programme continues successfully, data shows the vaccines are sufficiently effective in reducing hospitalisation and deaths in people who are vaccinated, infection rates do not risk a surge in hospitalisations putting an unsustainable pressure on the NHS, and the risk assessment is not changed by the new variants of concern.
Update (23 June 2020): On Tuesday, the government announced that hair salons have officially been given the green light to resume business in England as of 4 July. "Almost as eagerly awaited as a pint will be a haircut, particularly by me," Boris Johnson joked as he delivered the news to the House of Commons.
In his speech, the prime minister stated that hair salons can only open provided they have the correct PPE and COVID safety guidelines in place. The PPE required includes visors, gowns, and gloves for all staff, in addition to masks for both staff and customers. It is also likely that salons will have Perspex screens up at wash basins, and in some salons, temperature checks will be taken from customers upon entry.
Original Post (30 April 2020): Across Europe, hair salons are reopening and, like looking at the future through a crystal ball, it can go someway to suggest what the UK's salon experience will be like when businesses can reopen their doors, all being well, on 4 July. We are updating this story as we receive more information and this week, L'Oréal Professionnel and Hershesons released plans for what their salons will look like when they open (more on that below).
I live in Amsterdam and here salons opened on the 11 May, with the safety measures differing from salon to salon. At Toni & Guy — a stone's throw from the Van Gogh museum — the front door is kept locked and anyone with an appointment is instructed to come alone. Everyone is to wash their hands immediately upon entering and keep, where possible, a 1.5 metre distance once inside (unlike the UK which is set to become a 2 metre society, the Dutch are keeping a 1.5 metre distance as standard). My boyfriend headed to Mokum Barbers this week and was asked to wait outside until his stylist was ready for him. Once inside his barber wore gloves and a face mask, while he was given a disposable gown to wear.
Over in Paris, the Christophe Robin salon put up an Instagram post ahead of reopening on Wednesday 13 May to brief everyone on protocol. The team there are wearing masks, visors, gowns and gloves, while work stations and tools are disinfected between each client. Fewer people can visit the salon, appointments should be made via phone or email, and no cash is accepted on payment. As with the salons in Amsterdam, you must wash your hands on entry, but in Paris they've gone one step further, requiring all clients to wear face masks, and no refreshments or magazines are being offered.
As European Hair Salons Reopen, the UK Remains Closed
Of course, everyone hoped salons would be able to open sooner in the UK, not just because a high proportion of the nation are living with grown-out roots, DIY haircut disasters, and increasingly split ends, but because many of us have strong bonds with our hairdressers and want to support them.
One benefit of the delayed reopening means that when salons finally open their doors clients and staff can stay safe. "The difficulties facing our industry are immense – there is literally no way for us to comply with the social distancing rule so we fully expected both hair and beauty to be later in returning to work," Lesley Blair, Chair of BABTAC (British Association of Beauty Therapy & Cosmetology) tells POPSUGAR UK of the government's 50-page plan.
"We have looked at the other countries' protocols and are watching to see what they are doing right and wrong and amend accordingly," says Keith Conniford, CEO of The Hair and Barber Council, noting that "given that each country is operating differently with varying opening rules post lockdown, this can be confusing as much as it can be helpful."
Looking to the Continent For Insight
Millie Kendall MBE, CEO of the British Beauty Council, who is working closely with BABTAC, is also keeping an eye on the continent. "We will be looking at these countries to ensure a second wave doesn't happen where salons have reopened in the earlier stages. We are monitoring this closely and are looking at what we can propose to [the UK] government in order to get salons open as soon as it is safe to do so. Perhaps we could look at opening in rural towns and villages and not city centres yet, or look at hair and nails first with beauty to follow. We think there needs to be more detail to enable a staggered reopening and we are proposing to government as much of this as we can. This is not something we have ever faced before so we need to look at scientific evidence first, PPE supply chains and availability, and overall economic viability."
BABTAC has produced in-depth back-to-work guidelines for all salons in the UK, which is a great resource for workers and customers alike. While Conniford tells us that the Hair and Barber Council will be releasing their guidelines in the next fortnight.
In the guidelines, BABTAC is advising that beauty therapists, barbers, and hairdressers wear medical grade gloves, surgical masks, and disposable aprons and gowns.
What You Can Expect at Your Future Salon Appointments
As for clients, it's likely that we will be encouraged to wash our hands on entering the premises, with extra disinfectant wipes (suitable for viruses) available. It looks like salons will be able to decide whether clients should wear PPE as well, and whether they will have to bring their own or whether PPE will be offered by the salon at an additional cost. Before appointments, it's highly likely you will be emailed with all the companies' safety guidelines before you enter the salon. You will be asked to come alone and may also be asked to, where possible, leave personal belongings such as handbags, scarfs, and jewellery at home.
L'Oréal Professionnel has created a thorough 48-page Back to Business Salon Support Guide with extensive guidelines for its salons. Beyond the standard advice, such as hand washing and wearing PPE, it delves into other areas that give us more of a glimpse of what re-opened salon experience could be like. The document is packed with suggestions such as encouraging speed services like dry cuts and root touch-ups in the first instance or even splitting longer appointments in two (a cut one day, colour the next), using disposable gowns, towels, and even shoe covers for clients, disinfecting all tools after every use including hairdryers and straighteners, going cashless where possible, and washing uniforms daily. If salons don't have space for waiting rooms then queuing outside may become the norm as we have seen with supermarkets. Even the minutiae of how salons communicate their specific rules with clients is covered. Salon owners are being encouraged to email customers with their new guidelines (as each salon will vary depending on its size, tech capabilities, and more). It's likely your go-to salon will also share that information on social media before reopening to get everyone on the same page and hopefully minimise any risks.
Hershesons, a central London salon, has always prided itself on hygienic practices but has put together a six-step plan to ensure client safety when they can finally reopen. They are looking at extended opening hours, 7am-midnight for example. "This will allow us to ensure that we can minimise the number of clients and team members in the salon at any one time to ensure social distancing rules are observed," the plan states. "We have mapped the space and calculated this exact number to be fully confident in how many appointments we book in."
As well as PPE and a 'no-touch' payment service, the salon is looking to continue offering the virtual consultations that have been helping people with hair woes during lockdown. This is to give clients and hairdressers enough time to discuss options for the upcoming visit but to ensure the team is not taking up more time than is absolutely necessary for the actual in-salon appointment.
When Are UK Hair Salons Predicted to Reopen?
At the moment, the 4 July date is pencilled in, rather than set in stone. "Perhaps it is based on the government's concern we won't have access to PPE, but this is something we are vehemently asking for clarity on," says Kendall. "We have created "suggested guidelines" along with our Affiliate Board members and Patrons who are experts in each sector (hair, beauty, nails, freelancers, retail), these are being published on our website as and when they are complete with a summary in our reports section, but these are not mandatory or government mandated. We have sent them into government to be fed into the teams looking at creating the guidelines."
Kendall believes that PPE will be essential in salons post-lockdown. "But a lot of our workforce already have very high standards of hygiene. Barbicide and sterilisation of equipment will become the norm. Appointment scheduling will change. Face coverings for clients will be required. Wellness questionnaires will be suggested for mobile [workers] to ensure they have carried out a risk assessment when visiting a client's home. I think some beauty treatments just won't be available as of yet. Clients won't linger, and no food or beverages will be served."
Where salons of old were a jovial and indulgent experience, for the foreseeable they will be come a place of service and function. But, I'm sure you'd agree that if wearing masks, forgoing a cup of coffee or glass of bubbly, and a glossy magazine can allow our much-loved beauty therapists and hairdressers to get back to work safely, it's a sacrifice well worth making.
POPSUGAR aims to give you the most accurate and up-to-date information about the coronavirus, but details and recommendations about this pandemic may have changed since publication. For the latest information on COVID-19, please check out resources from the WHO and the NHS.