how to buff your nails from BellaSugar Uk
Quick Tip For Beautifully Buffed Nails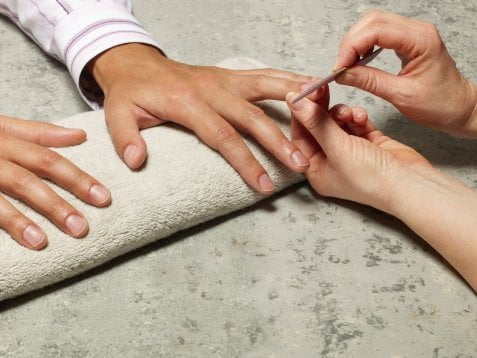 Recently I keep being asked – should you buff your nails at home? Does this make them weaker? The answer is no, at least so long as you buff correctly.
Buffing is the best way to keep nails looking shiny and healthy, as well as making them strong. Aim to remove any dips and ridges, to create a smooth canvas. This makes your varnish last longer, as well as making it easier to apply. Here's my simple four step guide to how to buff:
STEP 1: Before buffing, apply cuticle oil to the nails such as Nails Inc. vitamin E cuticle oil pen, (£10). Buffing after applying the oil will encourage the oil to be absorbed, adding extra nourishment to your nails.
STEP 2: Avoid metal files and use a professional buffer instead. Try The Sanctuary 4-Way Buffer, (£2). Then, starting with the roughest grit side of the buffer, begin to buff your nails with a gentle motion, working from one side to the other – not back and forth. At first, just aim to smooth out major ridges.
STEP 3: Use the second roughest part of the buffer, then the next roughest, so you go from roughest to smoothest. Keep working from one side to the other, in a smooth motion.
STEP 4: Finally, use the smoothest side of the buffer for super-shiny nails. If cuticles are peeling or snagging, use cuticle oil every few days.