how to shape your eyebrows for the perfect arch
How-To: The Perfect Eyebrow Arch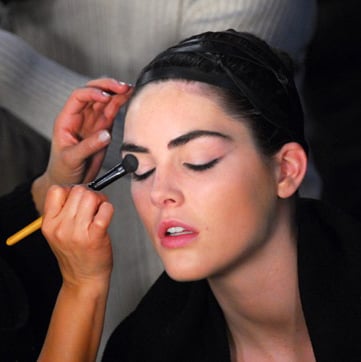 Strong, heavy eyebrows are cool right now. Just think of Agyness Deyn or American model, Hilary Rhoda. But bold brows still need to look defined and not straggly.
Well-shaped brows can make your eyes look bigger and more defined, cheekbones appear more chiselled and generally, make your face look more balanced and attractive.
So here's my easy guide to at-home shaping: read more
Beware of a too high or too skinny arch – it will only look unnatural. Look straight in the mirror. To see where your brows should start hold a pencil, or makeup brush, vertically against one nostril. Where the pencil meets your existing eyebrows is a good starting point. Repeat on both sides and make a tiny dot with an eyeliner so you'll know the exact point.
Now hold the pencil vertically, with the tip against one nostril. Then angle it so that the opposite end is aligned with the corner of the eye. Where the pencil hits the brow is where it should end. Make a dot there and repeat on the other eye.
If your eyes are close together, making the gap between your brows a little wider, can make the eyes look wider set. Vice versa, if your eyes are far apart.
Work out where the highest point of the arch of the eyebrow should be by holding a ruler from the edge of the nostril, past the outer edge of the iris (the coloured part of your eye) and up to the brow. Again, mark this point with a dot.
Now link the dots in a gentle arch. This will give you your ideal eyebrow shape to use as a guide.
Begin plucking from underneath the brow, removing one hair at a time from the inside of the brow to the outside. Pull hairs in the direction in which they grow.
Try to avoid plucking too many hairs, if any, from the top of the brow, as this makes for a flatter shape.
Never, ever, over pluck. You can always come back and pluck more later. It's good to pluck both brows, wait for ten minutes or so, and then take another look at your handiwork.