Huda Beauty Launches Lipsticks With Harrods and Selfridges
Huda Beauty Created 2 New Liquid Matte Lipsticks With Beauty Advisors From Harrods and Selfridges
As POPSUGAR editors, we independently select and write about stuff we love and think you'll like too. If you buy a product we have recommended, we may receive affiliate commission, which in turn supports our work.
When it comes to liquid lipsticks, the Huda Beauty Liquid Matte Lipstick is one of the best and most beloved formulas on the market. The intense amount of pigment, the comfortable texture, and the extensive shade range are all reasons it continues to be a fan favourite in a very crowded category. Speaking of shades, it's been a few years since Huda Kattan and her team have added new colours to the Liquid Matte collection, but that changes this month with the addition of two new limited-edition hues that each have a very special backstory — starting right here in the United Kingdom.
The Huda Beauty Liquid Matte Lipsticks in Girl on Fire and Queen of Sheba were developed with help from Huda Beauty beauty advisors from two iconic British retailers. The shade Girl on Fire was created by Sana, a beauty advisor for the brand at Selfridges, whilst Queen of Sheba was created by Bilkis, a beauty advisor for the brand at Harrods. And the two women did more than just pick a colour they liked. Pre-pandemic, they were flown out to Huda Beauty headquarters in Dubai, where they worked with founder Huda Kattan and the product development team to design shades that were not only personal to them, but also based on their vast experiences working at the counter and deep understanding of what consumers really want from the brand.
"We wanted to show our appreciation for these phenomenal women who inspire so many other people every day and have incredible talents of their own." — Huda Kattan
"My team is very important to me and I am so so lucky to have such amazing teams across the world. And when you have such incredible people working with you, it's all about supporting each other, lifting each other up, and empowering everyone to be their best selves. So honestly, it felt very natural to work on this kind of collaboration," founder Huda Kattan told POPSUGAR in an exclusive interview about the launch. "Working at Harrods and Selfridges, Sana and Bilkis know the brand inside and out, and we wanted to show our appreciation for these phenomenal women who inspire so many other people every day and have incredible talents of their own. We knew it was their dream to come to Dubai and create an exclusive product for Huda Beauty and their stores. So it was really special to have them travel to our HQ, getting their hands dirty and working on the whole product-development process."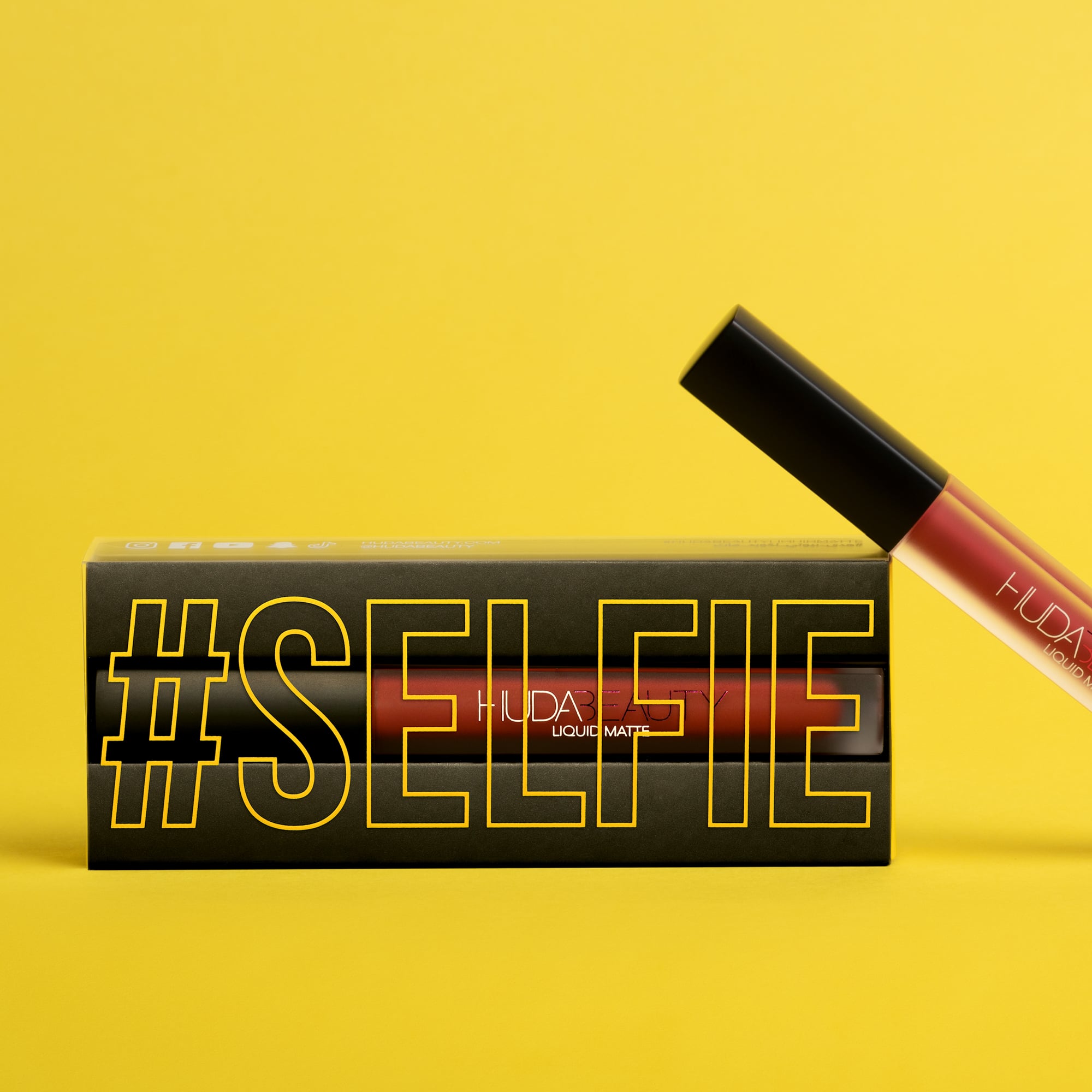 Kattan added: "Being able to give them this opportunity was incredible. They were part of the whole process, working with product development, me, and all the team to create their dream product. Seeing their drive and passion was inspiring to me — I see fire in my team all the time, with their creativity and new ideas, so it was just phenomenal to see this in Sana and Bilkis and to be inspired by them. It just keeps reminding me of the passion that everyone who works at Huda Beauty has and it was inspiring and humbling to see such gorgeous young girls have so much love for the brand and it makes me so proud that they are part of my team."
When it comes to the shades themselves, Huda Beauty Liquid Matte Lipstick in Girl on Fire is a toasted red with pink undertones that was developed to suit all skin tones. Created by Sana, who works with Huda Beauty at Selfridges Birmingham, the shade name was inspired by the Arabic translation of her given name, which means "radiance". Queen of Sheba, the shade created by Harrods beauty advisor Bilkis, is a cool-toned pinky nude colour, and was also named in honour of the person who helped create it. Bilkis is the Arabic name for the legendary queen.
For the special collaboration, Kattan and her team chose to work with the Liquid Matte Lipstick formula for a variety of reasons. "It is such a great formula, the pay-off is incredible, the pigment is the best," Kattan explained. "Liquid Matte has been a favourite of mine for such a long time and we thought it was time to add some new shades. Plus, both Sana and Bilkis love lip products, so it worked out perfectly. We haven't launched any new shades in a few years and it truly was worth the wait. Sana's Girl on Fire is the most gorgeous sexy shade of red with girly pink undertones, and Bilkis's shade, Queen of Sheba, is an incredibly refined and beautiful pink nude. Both colours are fit for royalty!"
When asked what she loves most about the two new limited-edition shades, Kattan replied: "That they came straight from the heart of Sana and Bilkis. Everything we create is from the heart, and it was awesome to see the same philosophy instilled in these beautiful women. They were made by powerful women to be worn by powerful beauty-lovers!"
Keep reading to shop the two limited-edition Liquid Matte Lipsticks, which hit shelves on 13 July.