iridescence and iridescent glowing skin, beauty definition glossary from BellaSugar UK
Beauty Glossary: Iridescence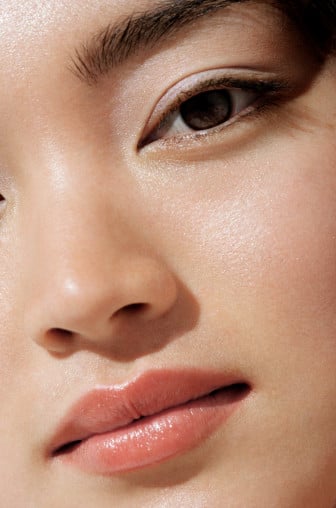 Iridescence, like so much beauty, is all about illusion. It's a glow, or shine, caused by multiple reflections and occurs because of multi-layered, semi-transparent surfaces. Iridescence, scientifically speaking, is an optical phenomenon where the hue changes according to the angle from which it's viewed.
Iridescent skin, is skin that has a glowy, almost super natural, light-reflecting quality – which mimics the natural, youthful glow of very young skin. Iridescent skin is all about products that fake, and exaggerate, this youthful glow; using highlighters, primers and iridescent shimmers to give a luminescent effect.
Highlighters, like Stila's and Benefit's, are the best way to add noticeable iridescence. Use them to draw the attention to your best features, whether that be cleavage or long limbs. An iridescent sheen makes that part of the skin, literally, stand out – it's the opposite of using dark colours or shading to create depth. So the brow bones, cheek bones, shoulders, cleavage and collar bones all benefit from using iridescent highlighters.
Highlighter, or an iridescent shimmer product, can also be dotted around the cheek area, under blusher, to create an all over radiant effect. Remember, though, avoid using iridescent products where you have blemishes, as it will only make them more noticeable.
Some foundations and tinted moisturisers are also iridescent. This is a good way to add a subtle, luminous, glow to your complexion. Certain primers or under-foundation bases, such as Shiseido Pre-Makeup Cream, also contain iridescent particles to even out skin tone and add radiance.