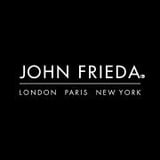 We've partnered with
John Frieda
to share with you the at-home hair colourant that's so easy to use, you may never go back to the salon.
Ask any beauty enthusiast and they'll tell you that their routine relies on regular salon visits for brow maintenance, manicures, and even monthly facials. Of course, these professional services came to a halt amid the novel coronavirus (COVID-19) pandemic, leaving most people to fend for themselves. While many of these services can be done easily at home — who hasn't been honing their nail-painting talent since they were teenagers? — there's one beauty service that can be hard to replicate without the help of a professional: hair colour.
Dyeing your hair is a tricky treatment to master, which is why most people are willing to spend at least £100 every four-to-six weeks to get their roots touched up by a professional. Luckily, one of our staffers may have just found the secret to skipping your next colour appointment — and it costs a fraction of your usual bill. Meet John Frieda's Precision Foam Colour.
The Foam You Never Knew You Needed
Alexis Perrin, production coordinator, doesn't colour her hair often — in fact, it's been a couple of years since she had it lightened to a softer brunette in a salon — but when the sudden urge to give her natural brown hair a subtle tint of red arose, it was too late to book anything amid the lockdown. Her solution came housed inside a £9.99 box of colourant and made the process a lot easier than she expected.
Like many people who are staying home, Alexis contemplated salon alternatives, especially when becoming curious about switching up her colour and refreshing her roots. "I was most excited to dye my hair to change up my look," she said, noting that, although as a nonprofessional, she wasn't nervous about the process because of the foam formula. Colourant can be intimidating, but the Precision Foam Colour made Alexis a pro.
If you've never coloured your own hair before, it's important to know that it's often very messy. Let's just say your sink doesn't usually make it out without a stain. But the Precision Foam Colour is in a league of its own, thanks to its airy texture. Unlike many other colourants on the market, this one dispenses as foam for a drip-free application. This is perhaps what also makes this particular product so beneficial for someone colouring their roots for 100 percent grey coverage — the technique of massaging the foam allows for a more even coverage.
Better still, a drip-free formula allows for a mess-free process ("It didn't drip everywhere!" Alexis said), so you won't need a second pair of hands for help — not even as a beginner, like Alexis. Most at-home colourists know it's a whole lot easier with the help of a friend, but the foam formula was perfectly manageable for one person.
Alexis didn't need to cover any greys in particular, but she did need to saturate her hair in enough of this colour (specifically, Dark Red Brown 4R) to transform her brown hair to a vibrant, albeit subtle, red. Alexis noted that even as a first-time at-home hair colourist, she knew it was crucial to section her curly hair to ensure that the foam covered every inch of her roots. People with dense or very long hair should also consider using two boxes of colourant to ensure they have enough of the formula to cover everything.
How exactly does this colourant work? Similar to most at-home colourants, you combine the colour and developer together in the applicator bottle and reseal the top. Then, you gently tilt the bottle from side to side five times — do not shake it. Replace the existing top with the foam dispenser. Before application, give the centre of the bottle a few light squeezes; this will activate the product. Finally, dispense the product into your hand — not directly onto your scalp — and massage the foam into your roots down to the ends. The more you massage, the more foam you create and it spreads for 100 percent coverage. "I'm the type of person who likes to do things as much to the instructions as possible," Alexis said. "This was easy to manage and really easy to get into my roots."
The Full-Coverage Results
The key to at-home colourant is always covering your roots before your ends, especially when your goal is grey root coverage. Let your colour develop for 20 minutes and add extra 10 minutes to cover grey hair. (Grey hair is naturally harder to penetrate, so colour typically has to be left on grey hair for longer. If you're specifically colouring grey roots, expect at least a 30-minute process time, in total.) Thanks to the non-drip formula, Alexis's wait time was a cinch. Typically, hair colourants are known to bleed onto skin, down the face, and right onto your clothes, but Alexis was able to avoid this completely.
Once Alexis's timer was up, her brown hair was transformed. All that was left to do was rinse and condition her hair. The Precision Foam Colour comes with an intensive colour conditioner to immediately revitalise the hair so you really look like you just walked out of the salon. Although Alexis says she'll still be going to the salon to maintain her cut and style, she knows the product she'll rely on the next time she's ready to revive the bold colour or curious to try something new.