Laura Mercier Translucent Loose Setting Powder Honey Review
Laura Mercier Expands Its Translucent Loose Setting Powder Range With a Shade For Medium Skin Tones
As POPSUGAR editors, we independently select and write about stuff we love and think you'll like too. POPSUGAR has affiliate and advertising partnerships so we get revenue from sharing this content and from your purchase.
When French makeup artist Laura Mercier launched her own brand back in 1996, she started with five products that she felt needed to be brought to market. One of those items was the Translucent Loose Setting Powder, which, even after two decades, continues to be one of the best-selling face powders in the world. Loved by both consumers and professional makeup artists, the TLSP (as it's commonly referred to these days) now comes in several different varieties; there's the Glow version, which features a hint of shimmer, and a Deep shade, that is formulated for people with dark and deep skin tones.
Whilst there's a lot to love about the TLSP range, there was one thing missing: a shade specifically for those with medium golden or olive complexions. This month, that's changing with the addition of the Laura Mercier Translucent Loose Setting Powder in Translucent Honey (£30), which is the exact same amazing TSLP formula, just in a warm, peach-yellow colour to ensure those with medium skin tones can experience the same setting power, without their skin looking dull in the process.
POPSUGAR's sales planner, Kiri Paul, has been a fan of the original Loose Setting Powder for a couple of years, so when we got a sneak peek of the new Translucent Honey shade, I knew we had to get her a sample to give it a try. Keep scrolling to read her full review (spoiler alert: she absolutely loves it):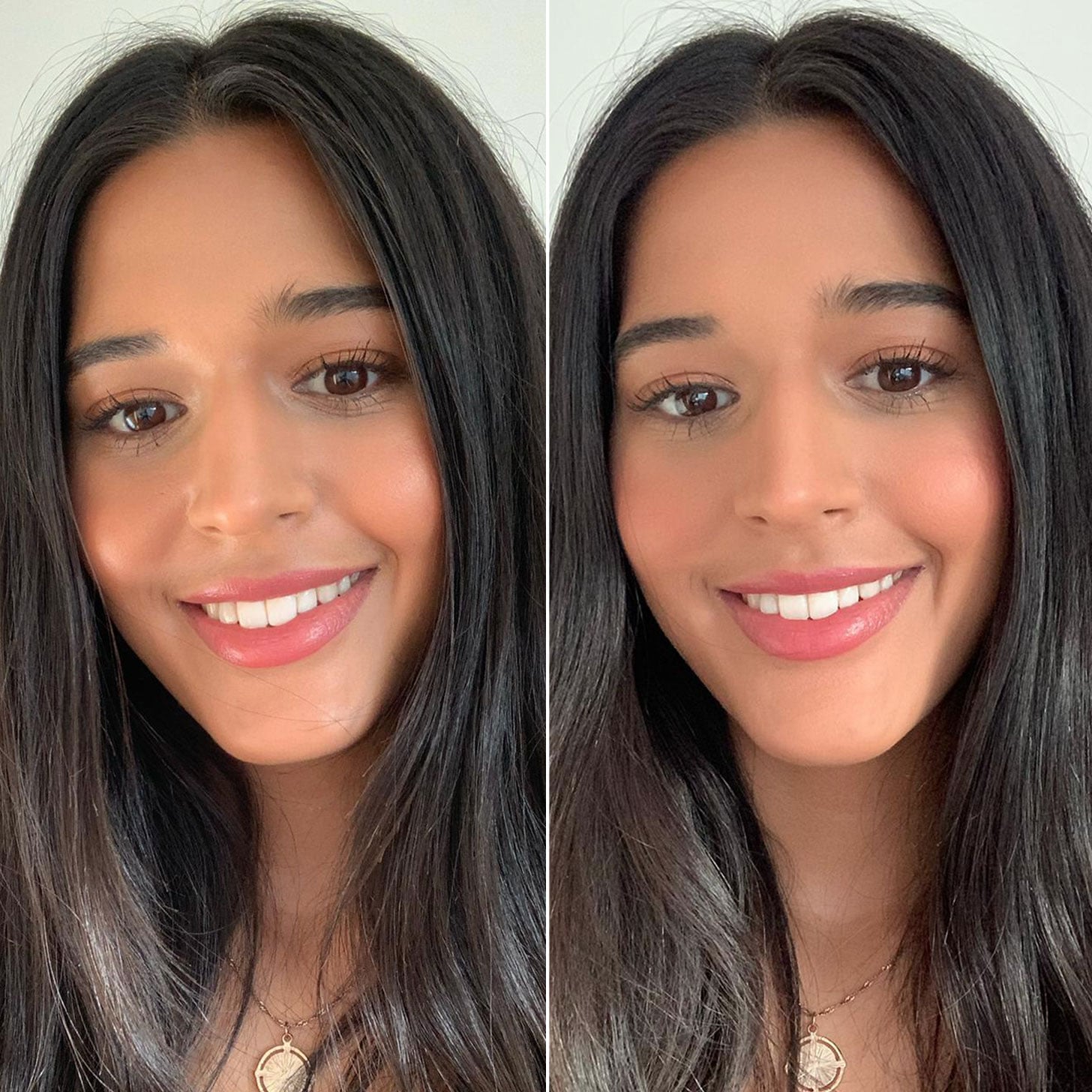 BEFORE: Kiri's makeup without the Laura Mercier Translucent Loose Powder in Honey on top; AFTER: Kiri's makeup set with the Laura Mercier TLSP in Honey
"I've been using the TLSP original for about two or three years now. I like that it's finely milled and because it's a loose powder, rather than pressed, I find that you don't see it on your face — it blends into your makeup rather than just sitting on top of your skin. And even though it's incredibly lightweight, it's still really good at setting your makeup, without covering up your skin's natural glow.
The only issue I have with the Translucent shade was that, well . . . it isn't translucent enough for my skin tone. It leaves a white ashy tone or a sort of greyness, especially under my eyes. I have naturally dark circles under my eyes, and I find that it is difficult not to make that area look grey, even though the powder itself was so fine and lightweight.
When I tried the new Translucent Honey shade, I loved it immediately. It performs exactly the same as the original Translucent Powder (which again, I do really like) but without making my undereyes look grey. In fact, because the new powder is a peachy-yellow shade, which means it's a warm colour, it makes my skin and my eyes look brighter. And while I'm sure they're the exact same formula, because the sheer peachy-yellow pigment blends so nicely with my skin tone, it actually seems like the powder itself is finer in texture.
To apply the powder, I use a big fat brush and dust it across my T-Zone, and then under my eyes. When I have a long occasion — a wedding or a party or I'm going out — I'll bake underneath, so I'll wet it, bake it, and then wipe it off, which this formula does really well, too. The powder does comes with a puff inside, but while that is good for all over your face, when I'm applying it under my eyes I like to use a brush for more precision."
When it comes to my undereyes in particular, I start by using a warm concealer — Clinique Beyond Perfecting Super Concealer in Medium (£19), to be exact — followed by the Nars Creamy Concealer in Ginger (£24) on top of that, which I then follow with the loose powder. With the TLSP Honey, it just means that everything sets really well — it doesn't crease, it isn't visible, so overall it just looks a bit more gentle-looking on my skin.
Going forward, I will 100 percent purchase the Honey shade instead of the original. The only difference between the two is the colour, but for someone with my complexion, it truly makes such a difference."
The Laura Mercier Translucent Loose Setting Powder in Translucent Honey (£30) launches on 15th September.