L'Oréal Paris and Elie Saab Launch a Makeup Collection
L'Oréal Paris and Designer Elie Saab Team Up For a Seriously Elegant Makeup Collection
As POPSUGAR editors, we independently select and write about stuff we love and think you'll like too. POPSUGAR has affiliate and advertising partnerships so we get revenue from sharing this content and from your purchase.
French fashion designer Elie Saab makes some of the most exquisite dresses you've ever seen. His breathtaking designs are worn around the world — on the red carpet, by celebrities like Angelina Jolie, Janelle Monáe, Jennifer Lopez, and Halle Berry (in fact, he designed Berry's iconic 2002 Oscars dress, which is quite possibly one of the most memorable red carpet fashion moments of all time), and at the altar by more than a few royal brides. Saab has spent decades helping women feel beautiful with his incredible gowns, something he's now aiming to do in the beauty space with a little help from L'Oréal Paris.
The L'Oréal Paris x Elie Saab "Power of Grace" collection, which launches on 6 May, is a well-edited makeup range that includes an eyeshadow palette, a mascara, four lipsticks, and three lip glosses. "My goal has always been to make women feel beautiful and this collection allows me to bring an array of products to fit into women's lives; helping them to feel more elegant and confident every day," Saab said of the collection. At the virtual launch event for the range, when asked to describe the collection in three words, Saab answered quickly and definitively: "power, grace, and femininity."
"This collection, it's an edit for every woman who wants to have a fashion couture element to their makeup." — Val Garland
The entire "Power of Grace" range — which L'Oréal Paris global makeup artist (and BBC Glow Up host) Val Garland describes as a "haute couture nude collection" — comes packaged in elegant pale pink and gold packaging that recalls the intricate embroidery and embellishment of Saab's gowns. I don't feel I'm exaggerating when I say it's probably the chicest packaging we've ever seen from L'Oréal.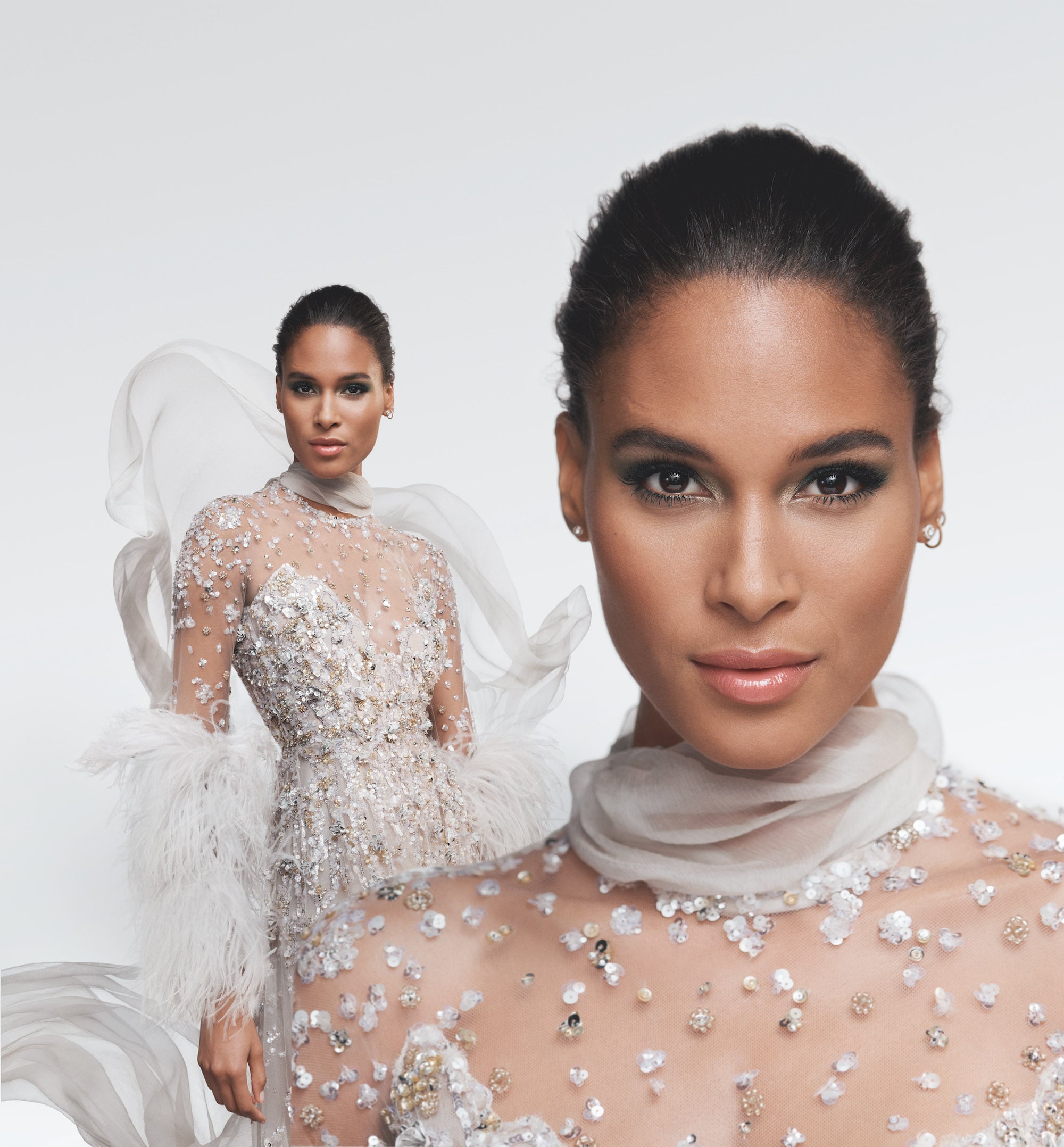 Image Source: L'Oréal Paris
From pretty pink and red lipsticks to decadent jewel-toned shadows, the makeup itself is also reminiscent of Saab's designs, which was something Garland set out to do when designing the nine-piece collection. "I'm always in awe of the craftsmanship in Elie Saab's couture designs; the exquisite handsewn embroideries and embellishments and his signature fantasy creations that we all anticipate seeing every Paris Fashion Week," she said via press release. "I wanted to translate his vision with makeup, by incorporating subtle shimmer finishes in the gloss and dazzling glitters in the eye shadows to truly reflect his designs."
Going into more detail during the virtual launch event for the range, Garland added that "for this collaboration with Mr. Elie Saab, I needed to sort of look inside his head, looking at the detail, the technique, the fabric — was it silk, was it velvet, was it metallic — and I was thinking about how can we incorporate the quality into the colour to embody Mr Saab's codes of couture into the language of makeup. And we reimagined the softness of the silk, the beautiful glow of the satin, into an edited, limited-edition of modern, glamorous nudes."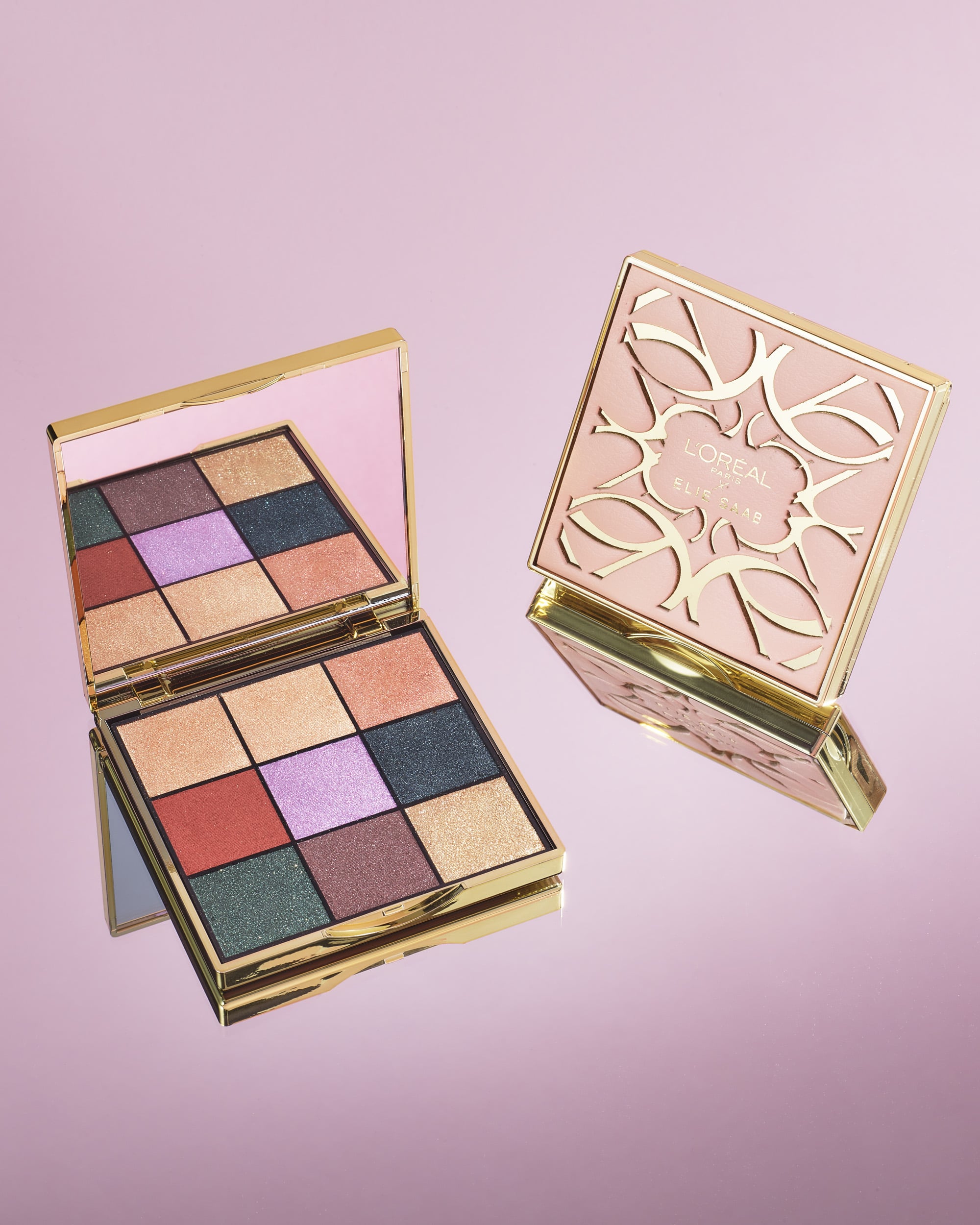 Image Source: L'Oréal Paris
The nine-pan eyeshadow palette is most certainly the star of the range. Not only is the compact gorgeous, but the selection of shimmery shades — which includes both bold hues like green and lilac and four neutral tones — is both extravagant and easy to wear at the same time. "My favourite must-have is the eye shadow palette," Garland said of the compact. "The pale pink, handcrafted leather cover is so soft and luxurious; it's like a collector's item. There are 9 colours in the palette from a classic shimmering nude and rusty copper brown to a rich burgundy and forest green. The eye shadows are creamy in texture and incredibly pigmented; you can create any look with this palette, the choice is endless."
"I love the nude theme of this collection because it's designed for everyone; it's all about letting your natural beauty shine through." — Val Garland
And while the makeup looks as dazzling and delicate as Saab's designs, these aren't products you only save for a special occasion (although the shadow palette and red lipsticks are definitely a way to make a big statement at an event . . . whenever we can have those again). Garland ensured these were hard-working, versatile cosmetics. "I wanted to add a touch of haute couture into women's everyday makeup, so I created a collection that can be worn during the daytime and all the way into the evening."
Garland also made sure to make the point that the collection goes beyond the cosmetics themselves, helping to spread both brands' message of empowerment. "Nude makeup is about looking effortlessly real. It's just about the very best vision of your self-expression, the best representation of who you are," she said. "The 'Power of Grace' is all about the idea of self worth. We're worth it. You're worth it. I'm worth it. That is the power of grace."
Keep reading to check out and shop the entire L'Oréal Paris x Elie Saab makeup collection, which is available online at Superdrug and Look Fantastic and in-store at Boots.