Nars Powerchrome Loose Eye Pigments at Rixo Autumn 2020 Show
Nars Debuts New Powerchrome Loose Eye Pigments Backstage at London Fashion Week
Backstage at Fashion Week — whether you're in New York, London, Milan, or Paris — is always a great place to spot new, not-yet-released beauty products. And while sometimes these products are so new and not-yet-released that they don't even have a name yet, brands often use fashion shows as a way to give us beauty-lovers an early tease of what's hitting shelves in the coming months. This was exactly the case on the second day of London Fashion Week, when Nars Cosmetics debuted its new Powerchrome Loose Eye Pigments — which launch March 1 exclusively at Nars counters and its online boutique — at Rixo's Autumn 2020 presentation.
The new professional loose pigments come in a variety of shades — like bronze, rose gold, and bright red — with more colours coming throughout the year. At Rixo, makeup artist Vincent Ford used a glittering turquoise (Powerchrome Loose Eye Pigment in Riding High) and a twinkly sapphire (Powerchrome Loose Eye Pigment in Naked City), placing them right at the inner corners of the models' eyes to create a colourful accent amidst the equally colourful array of shadows he put on the lids.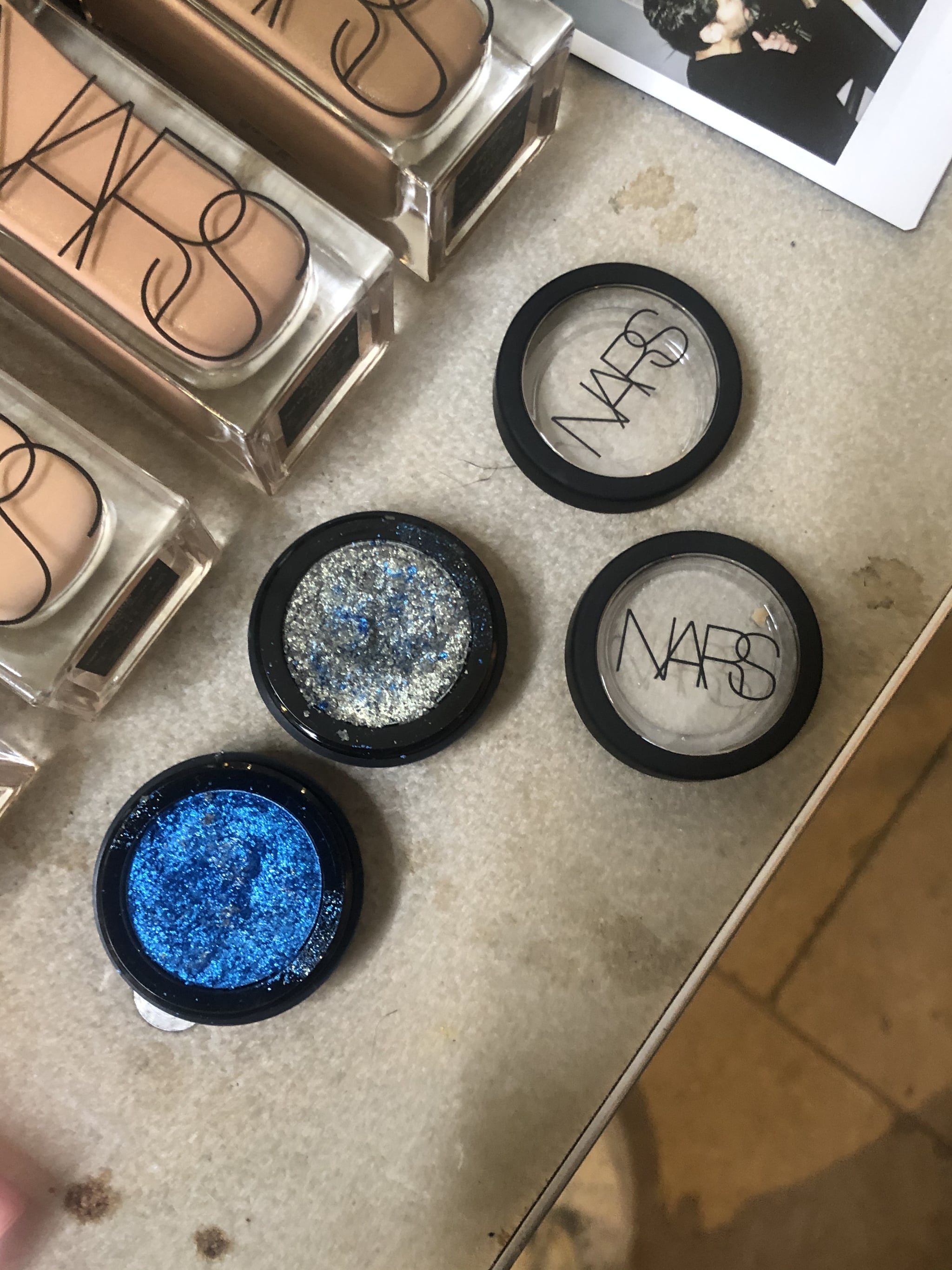 For its Autumn 2020 collection, Rixo partnered up with Christian Lacroix, the legendary French designer known for his love of bold colours and prints. This collaboration inspired Ford to design two colourful smoky eyes for the presentation. Using the blushes in the new Nars Overlust Cheek Palette (£59, from the brand's new Afterglow Collection), Ford created a "boomerang blush look" by applying the powders onto the cheeks, up to the temples, then along the creases of the eyes. "It's really reminiscent of Lacroix's shows in the early 2000s," said Ford. Then, on the eyelids, he applied either Douro, which is a matte yellow, or Fatale, a matte bright red, both of which are from Nars's range of eye shadows (£17 each), followed by a few coats of Nars Climax Mascara (£21) on the lashes.
"When I was talking to the girls at Rixo, they told me about these turquoise pieces in the collection and how they wanted me to bring that into the makeup," said Ford. And this is where the new Powerchrome pigments came in. Ford dipped a small, domed eye-shadow brush (specifically, he used a brush from the Nars x Charlotte Gainsbourg collaboration, which I still consider to be one Nars's coolest collections ever) right into the pigments, then dabbed the bristles onto the back of his hands before dotting them onto the inner corners of the eyes.
"With these pigments, I really suggest pressing the brush onto your hand first, and then apply it," explained Ford. "What that does is pull the pigment into the brush so that it doesn't go flying around when you apply it on the skin." To top it all off, Ford glued a single crystal on top of the pigment, "just to bring that element of glamour in."
Keep reading to see both colourful, couture eye-makeup looks — and the new Nars Powerchrome Loose Eye Pigments — in action.