Ouai x Byredo Dry Shampoo Review 2020
The New Ouai x Byredo Dry Shampoo May Just Be the Best-Smelling Hair Product I've Ever Used
As POPSUGAR editors, we independently select and write about stuff we love and think you'll like too. POPSUGAR has affiliate and advertising partnerships so we get revenue from sharing this content and from your purchase.
We love when two of our all-time favourite brands collaborate, and 2020 has (surprisingly) provided us with several truly exciting beauty and fashion partnerships. Earlier this summer, Rihanna tapped shoe designer Amina Muaddi to design a collection of heels for Fenty. Last month, Ganni and Levi's announced the launch of a rentable denim capsule collection, while Pat McGrath teased a red special MatteTrance lipstick for Supreme. This month's collab, however, is truly a match made in beauty heaven, with hairstylist Jen Atkin and perfumer Ben Gorham coming together to create one gorgeous smelling hair product: the Ouai x Byredo Mojave Ghost Super Dry Shampoo (£20), launching 1st September.
"It was my dream to be able to do something with Ben and Byredo," Atkin told POPSUGAR over Zoom in anticipation of the launch. "I love Ben, but even before I knew Ben was a part of Byredo, to be honest, I remember going to Barneys and seeing Byredo and being like, What is this brand? It's so simplistic, and cool, and quiet, and for me, it was one of the very first really just aesthetically beautiful [beauty] brands out there."
Over the years, Gorham has not only provided Atkin with inspiration for own brand — when creating mood boards for Ouai, she admits there were a lot Byredo reference photos on them — but also a sounding board from one beauty entrepreneur to another. "I have been lucky to be able to sit down with [Ben] and get really great advice," said Atkin. "It's crazy, he's been in the game for 14 years now and Byredo is still such a cool brand."
The Ouai and Byredo collaboration came to life whilst most of the world was in lockdown due to the coronavirus pandemic, including Atkin, who threw out the idea over Instagram. "I just kind of slid into Ben's DMs and was like, 'Would you be into doing this?' Luckily, he thought it would be a great idea," she said. So Atkin and her team got to work figuring out how to infuse the Ouai Super Dry Shampoo — a hero product for the brand — with one of Byredo's elegant-yet-understated eau de parfums.
Deciding on which fragrance to use was an easy choice for Atkin, who has worn Byredo's Mojave Ghost for years. "When we were talking about what fragrance to do, it was between Mojave Ghost and Gypsy Water, and Mojave Ghost just works," explained Atkin. "Not only is it one of my favourite scents, but whatever scent we chose also needed to blend in with the Ouai family, and because it contains cedarwood and sandalwood — two notes found in many of the Ouai perfumes — Mojave Ghost just felt right."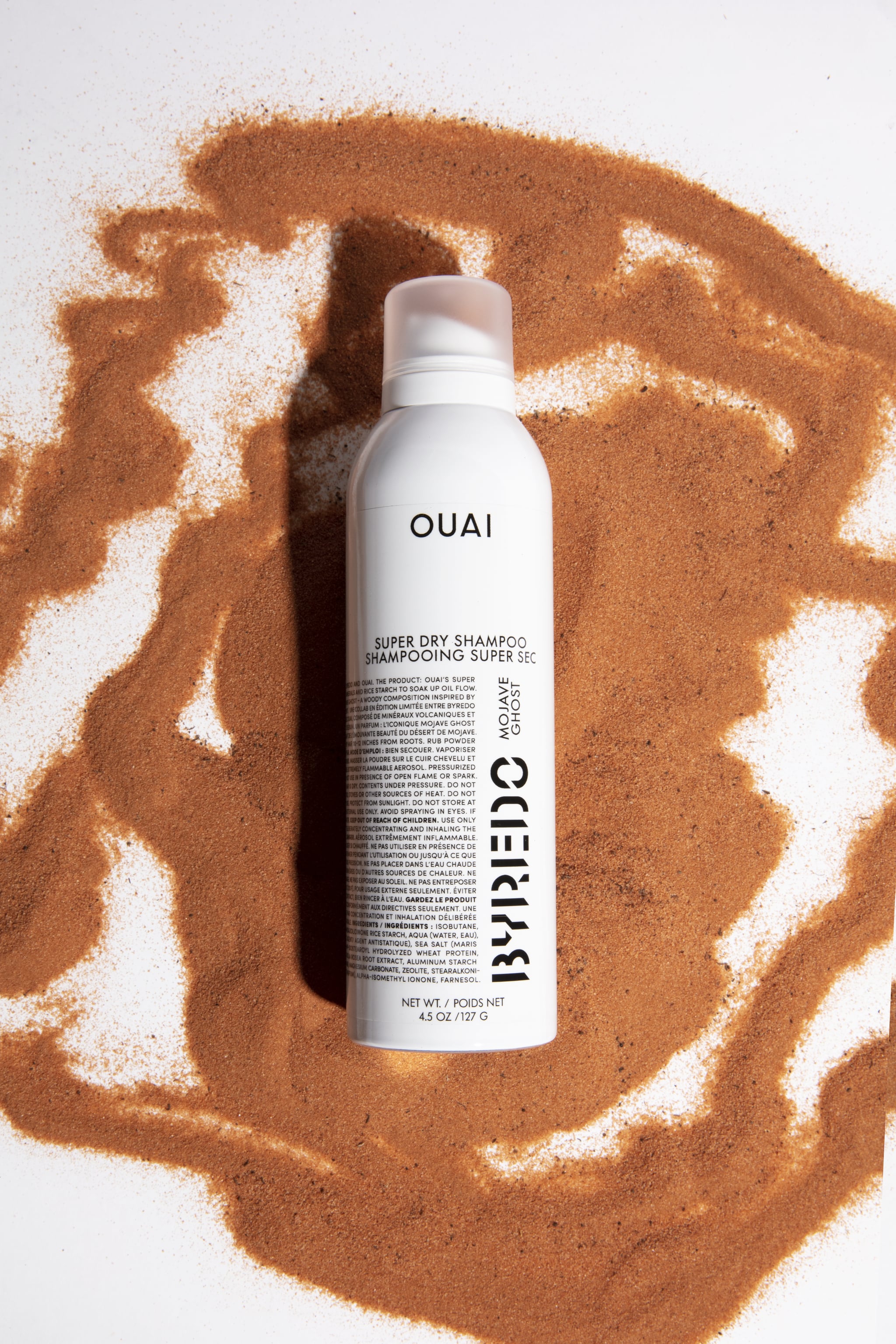 As someone who has also worn Mojave Ghost for years — and regularly received compliments on it (in taxis, on the tube, at events, you name it) — I've long tried to find the right words to describe the beautiful fragrance as it's incredibly multifaceted. I describe it as fresh and clean yet seductively creamy, thanks to the magnolia note at the heart and the smooth base of cedarwood, sandalwood, and musk. It's very subtly floral, but also seems to have the faintest metallic quality (that would be the ambrette and violet notes) that give the pretty perfume a bit of an edge. Far from succinct, I was interested to hear Atkin's take on our favourite eau.
"We keep saying it's like a trip to the desert," she replied. "But I guess I would describe it as a musky floral. It's really just this sexy, unisex scent because I know so many guys and so many girls who wear it. It's funny, I remember now when I went to Givaudan to originally do the scents for our Ouai shampoo and I brought in so much Mojave Ghost. I also brought in bottles of Kai (editor's note: a white floral fragrance immensely popular in the States in the 2010s) and Child, which was this little rollerball that you could only get at Fred Segal. I don't know if you can even buy it anymore."
The Ouai and Byredo partnership makes sense, not only due to the fact that they share a similar minimal, chicer-than-chic aesthetic, but also because anyone who is familiar with Atkin and her brand know how obsessed she is with perfume, which is evident in how beautiful her range of hair care and styling products smell. "I feel like scent says so much about your identity," she said when asked the reasons behind her affinity for fragrance. "The fact that you can smell something and it reminds you of high school, or reminds you of somebody that you dated, that is just so powerful. And I feel like our hair and makeup is a part of who we are."
"In my opinion, scent is often the first thing somebody is going to really recognise about you," Atkin continued. "I've always love scent and when we first launched Ouai, I hated the way that hair products smelled, so I wanted to change that. We also wanted the scent of our products to last, even down to our dog shampoo. We wanted your dog to smell good for more than two or three days."
So how long does the Ouai x Byredo Mojave Ghost Super Dry Shampoo last? After testing it, I'd say four-to-five spritzes — which is enough to absorb the excess oil along my hairline and roots — lasts me a good two days, with the scent quite faint by the end of the second day. The dry shampoo works just as well as the original version, and contains the same key ingredients (rice starch and volcanic mineral) so you get the same level of oil absorption, the same amount of volume, the same invisible finish, and the same non-dusty, non-chalky feel.
And while most ancillary fragrance products (i.e. body lotions, hair mists, deodorants versions of a perfume) often smell slightly different than the original eau de parfum, I can confidently say — as a longtime fan of Mojave Ghost — that the Ouai x Byredo Super Dry Shampoo smells exactly like the perfume version. Spray the two in the air and you wouldn't know the difference, which is an impressive feat. Atkin jokingly described this collaboration as the only highlight of 2020 for her, who like the rest us, has had her year totally derailed by the pandemic. "But truly, it is definitely one of the best moments that we've had so far as a brand," she said in all seriousness. A sentiment I think any beauty lover would whole-heartedly agree with.