Ren Brightening Dark Circle Eye Cream Review With Photos
Ren's Brightening Eye Cream Became 1 of My Most Loved Lockdown Beauty Products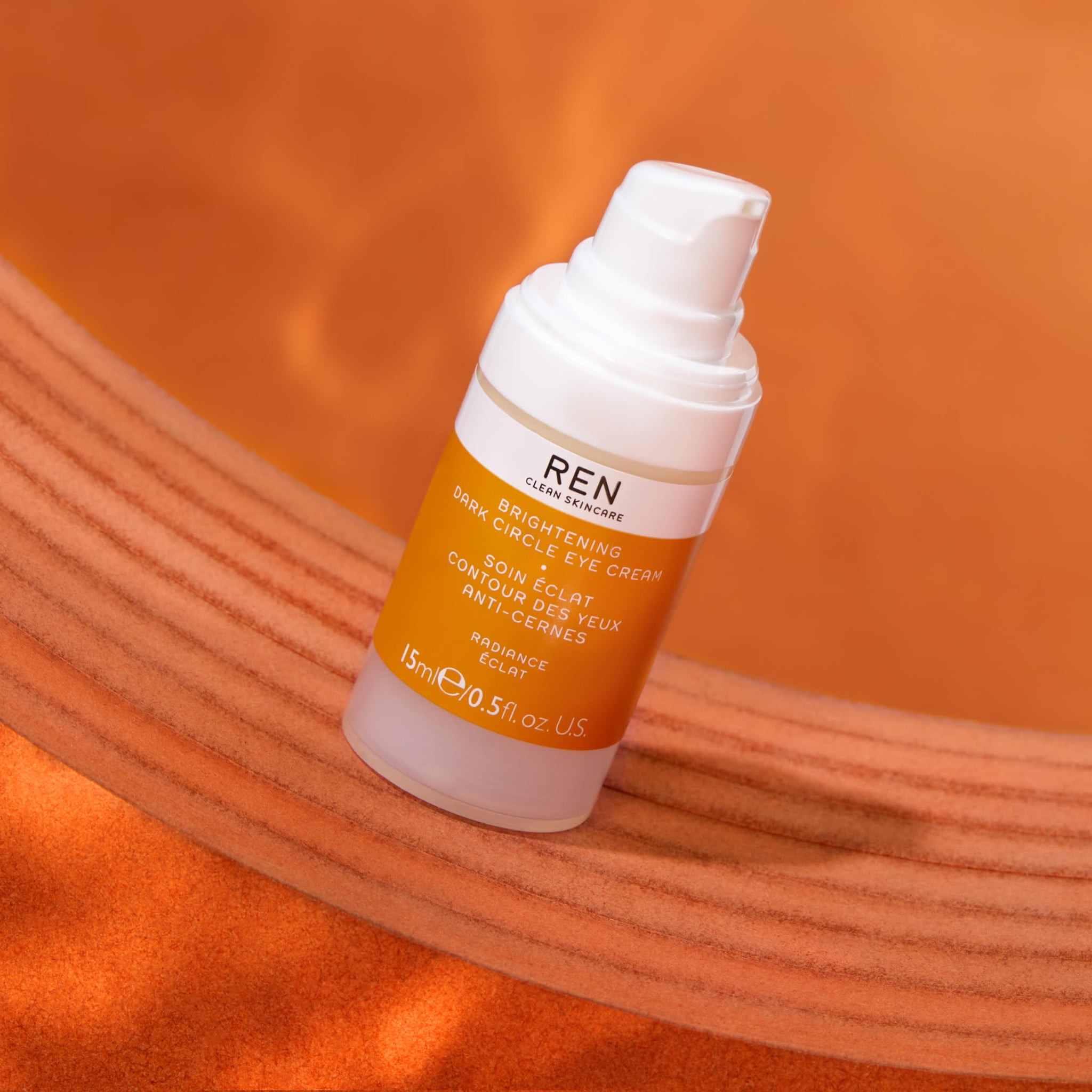 The impact of the pandemic has affected our sleep, stress levels, and mental health in more ways than one, and combined with months spent indoors and too much screen time, for many of us, our skin has taken a hit. Dark circles have well and truly become a daily fixture for many of us — and a trending TikTok topic at that, too. With piqued interest and more demand, a crop of new skin-care formulations have been surfacing to target the delicate area around the eyes — including the new and seriously hyped Ren Clean Skincare Brightening Dark Circle Eye Cream (£42).
Ren Clean Skincare Brightening Dark Circle Eye Cream claims to diminish dark circles in just seven days and is also said to work on every skin tone and type (even sensitive skin) to deliver an instantly brighter and more hydrated complexion, too. Since the underlying stress and lack of sleep inflicted by lockdown is starting to show more than ever on my skin, but especially under my eyes, I put it to the test to see if it lives up to the hype.
Firstly, What Causes Dark Undereye Circles?
The skin around our eyes is thinner and a lot more delicate, making it more susceptible to external aggressors and damage. "The eyelids are very vascular, and the eyelid skin is very thin; this will make them more apparent under the eyelid skin and cause the appearance of dark circles," Miss Elizabeth Hawkes, consultant ophthalmic and oculoplastic surgeon at London's Cadogan Clinic, told POPSUGAR. She added that the cause of dark circles can be anything from genetics "due to ethnicity because of higher levels of melanin" to a family history of dark circles, and even dehydration and smoking.
Ageing is another common cause of dark circles. "Volume loss and descent of the structures around the eyelid will cause the appearance of the tear trough [a deep crease between the lower eyelid and upper cheek] and also worsen the appearance of dark circles," Hawkes explained. She also stated that while "topical creams are good for dehydration relief, they will not restore volume and will not cause the blood vessels under the eyes to constrict, nor will they reverse a family history of dark circles."
How the Ren Brightening Dark Circle Eye Cream Works
Made up of 95 percent natural ingredients, the formula uses the power of elderberry flower extract — a powerful antioxidant that helps neutralise free radicals (more on those later) on the surface of the skin — to help reduce the appearance of dark undereye circles. Working in tandem with glycogen, a naturally occurring molecule known best for its hydrating properties, the formula not only protects skin's important moisture barrier and the delicate area under the eyes, but it also rehydrates the skin. "Glycogen is a stored form of glucose and works as an energy source. There is some thought that it may be of benefit in skin care and work in a similar way to hyaluronic acid in terms of its hydrating effects," Hawkes said. "And by providing an additional energy source to sun-damaged cells, it may help cell growth."
David Delport, Ren Clean Skincare's global ambassador, reiterated glycogen's importance within the formula: "Hydration is key to maintaining a healthy skin barrier function. If our skin barrier is weakened, we lose water through trans-epidermal water loss, leading to a vicious cycle of skin being unable to properly protect itself. By boosting hydration with glycogen, you give your skin the support it needs to function at its best, which is especially important at night when trans-epidermal water loss is at its peak," he explained.
What Makes Ren's Brightening Dark Circle Eye Cream Unique?
"Ren Clean Skincare Brightening Dark Circle Eye Cream targets dark circles and puffiness with antioxidant action [using elderberry flower extract] rather than vitamin C, retinol, and AHAs," said Delport. He explained that while there's nothing wrong with those ingredients, by stripping out actives and potentially irritant ingredients, the new eye cream offers an alternative for those with easily sensitised skin — something which is especially important considering that your eye area is the most delicate, and therefore, the area most prone to sensitivity.
Why exactly are antioxidants so great when used in an eye cream? "Antioxidants protect the skin from free radical production. Free radicals are molecules that damage the skin by breaking down collagen, which is essential for giving skin its plumpness," Hawkes said. "By combining antioxidants with SPF UV protection in skin care, they can help to reduce pigmentation, reduce visible signs of ageing, and calm skin inflammations," she added.
Unique formula aside, the skin-care brand is also on a mission to become "zero waste" by the end of 2021, producing only recycled, recyclable, or reusable packaging by the end of the year. Not only is the packaging of this eye cream made from 97 percent infinity recycling (a process that repurposes materials that would have otherwise gone to landfill), but all of the ingredients inside the bottle are sustainably sourced, too — like the upcycled elderberry flower extract sourced from the Grasse region in France, and the glycogen molecule, which is sourced from non-GMO corn grown on farms in Canada.
Thanks to the latest eye cream, Ren will have repurposed around 3.1 tonnes of plastic that would otherwise go to landfill; and that's just in 2021 alone.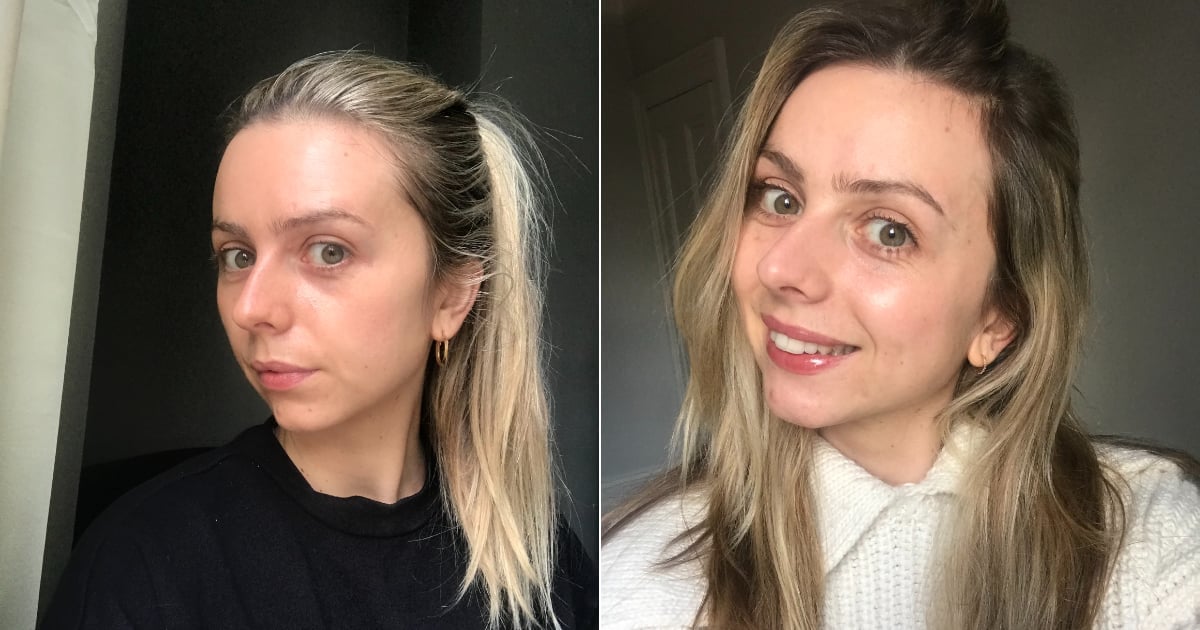 Before (left) and after (right) using the Ren Brightening Dark Circle Eye Cream
Putting the Ren Brightening Dark Circle Eye Cream to the Test
Despite the sheer volume of eye creams on the market, all readily promising to eliminate dark circles and erase the remnants of a late night, I am yet to find one that truly lives up to the hype. Favouring a hydrating serum or rich cream over an eye cream any day of the week, I've often considered them to be a superfluous step, an indication of well-being, genetics, and age rather than the result of the formula itself. But that was all before lockdown.
Over the past few months, I've gradually noticed the shadows under my eyes getting darker and more defined. Whereby a quick dab of concealer or strategically placed primer would once remedy an unassuming shadow after a late night, these new set lines and hollow tear troughs have been an unwelcome lockdown addition, giving away my persistent tiredness (a result of navigating newly freelance life and adapting to lockdown) and started to make me look and feel more tired as a result. I know I'm not the only one, either. "Right now, we're dealing with more screen time, higher stress (and damaging cortisol levels), as well as the mechanical stress of mask wearing," Delport confirmed.
I can certainly attest to the screen time and stress levels, so to put it to the test, I incorporated the Ren Brightening Dark Circle Eye Cream in with my other favourites from the brand: Perfect Canvas Clean Jelly Oil Cleanser (£25) and Ready Steady Glow AHA Tonic (£27) to see if it could deliver another winning formula. For three weeks, I used it every morning without fail and most evenings.
The Results I Saw From the Ren Brightening Dark Circle Eye Cream
On first application, the eye cream offered instant gratification in terms of its brightening effects (maybe due to the fact it was adding moisture to the skin), but it was only after a week or so that I noticed a difference in the colour under my eyes. There was considerable improvement with my undereye shadows (however, this could have been down to a number of factors, better sleep being one of them) and even a slight lift in the eye area; my skin looked more awake, a lot more hydrated and healthier.
As someone with very sensitive skin, I've also had my fair share of breakouts when trying a new formula (especially when it comes to eye creams, as I'm very prone to eczema around my eyelids). With no added fragrance, the water-in-oil formula is comfortable on my skin after every use, brightening the entire eye area — including my eyelids — without any irritation at all.
Final Thoughts on the Ren Brightening Dark Circle Eye Cream
I'm still a firm believer that there is no cream that can rectify a bad night's sleep; I do believe, however, that Ren Clean Skincare's new formula is the next best thing. It's the first eye cream I've tried that's felt hydrating and soothing and also appears to visibly brighten my undereye shadows, too.
While many factors, including pigmentation, genetics, ageing, and thinning skin all have a significant part to play, this eye cream really worked for me to brighten up my complexion during lockdown. And having spent most of 2021 looking completely knackered, it's certainly a welcome addition to my skin-care routine.
Image Source: Ren Clean Skincare