scunchie cool 80s hair trend and Carrie and jack Berger debate the scrunchie in Sex and The City
Trend Alert: The Scunchie Returns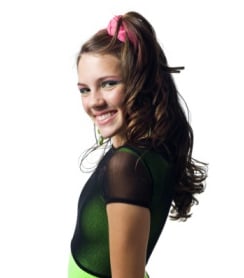 When Carrie criticised Jack Berger in Sex and The City, season six, for giving his novel's leading lady a hair scrunchie, she was talking for all of us. What sophisticated New York woman would run around town in a scrunchie? Of course, Jack later broke up with Carrie on a post-it note, begging the question – was the scrunchie to blame?
Perhaps Mr Berger was actually ahead of his time, because this season it's all about the scrunchie. Hip young things are wearing them, 80s-style in side-ponytails, or high on the head for a retro, aerobics-instructor vibe. It's a look that's mainly come from the streets – you can't move in Brick Lane on a Sunday without seeing lycra-wearing girls with scrunchies, either in their hair, or around their wrists.
It's a playfully, tongue-in-cheek trend that relies on mixing the demure with the trashy. For some tips just read more
Wear a red velvet scrunchie from your local chemist (they're so cheap too, £2 at most) with natural, dewy skin and just a touch of black eyeliner. Or go for an edgy, trashy look by matching your print scrunchie – Boots do some hilarious ones – with bright, yellow nail varnish from Nails Inc,(£9.50). Add some coral makeup, like a cream blush and you're hot to trot. Becca Lip and Cheek creme, in petal, (£22), is a pale coral that looks on-trend, but still pretty.
Keep hair messy and textured, like Pat Benatar in the Love is a Battlefield video. Remember 13 Going On 30? Try the Kevin Murphy Anti-Gravity texturiser, (£11.99). Simply apply to wet hair and blow dry. For extra oomph dry your hair upside down, lifting with your fingers from the roots.
Not for the fainthearted, I admit. But for an irreverent style, it's bang on-trend. Get ready for some reactions though - fashion is a battlefield. No promises, no demands. Just a little fun...