How Skingredients Is Disrupting the Skin-Care Industry
How Skingredients Is Disrupting the Skin-Care Industry With Its Less-Is-More Philosophy
As POPSUGAR editors, we independently select and write about stuff we love and think you'll like too. If you buy a product we have recommended, we may receive affiliate commission, which in turn supports our work.
After years of the 10-step routine, hundreds of trendy new ingredients (snail slime, anyone?), and more information in the internet than we know what to do with, it's refreshing to see that there are a few brands on the scene trying to pare it all down and simplify skin care for people. One of those brands is Skingredients, founded by Irish-based facialist Jennifer Rock (aka The Skin Nerd on Instagram). It's based on four core products that work for every skin type, plus a couple of add-ons depending on whether you need more moisture or deep cleaning on any given day.
Rock studied as a dermal facialist and went on to work as a trainer for a variety of different skin-care brands, where she got the chance to work with medical experts like plastic surgeons and nutritionists. These experiences inspired Rock to create The Skin Nerd, an online platform that offers virtual skin-care consultations. Members of the Nerd Network get a one-on-one consultation via WhatsApp or Skype, followed up with a homework sheet full of personalised product recommendations (from a variety of different brands) and how to use them. The focus was on educating consumers on how to best take care of their skin versus pushing a single product line.
Fully aware of the oversaturation of the skin-care industry, the Nerd Network's 55,000 clients eventually convinced Rock to start her own product range. "I truly mean it when I say Skingredients was created from listening to them day in, day out, because as much [the Nerd Network] has — and we still do have 60 to 70 brands on the site now — what still is apparent about the sector is that it's quite populated, quite saturated, and there's a lot of misinformation and confusion," Rock explained. With all of Rock's experience, she could see "how much of [skin care] is just pushing product on people and perhaps preying on the insecurities", and because of that, she decided to create a range that's super simple and, like The Skin Nerd, rooted in education.
"What still is apparent about the [skin-care] sector is that it's quite populated, quite saturated, and there's a lot of misinformation and confusion."
The result was Skingredients, a brand based on four core products that include ingredients Rock believes everyone needs in their routine regardless of their skin type and skin tone. "The ethos behind the brand is that I feel there's a simplistic way to approach skin care, which is that there's key ingredients that we all need regardless of geography, age, colour, genders, etc. It's perhaps not the most commercially driven reasons to have created a product line — because if I was commercially driven, I would just have launched newness after newness — but I'm staying true to my morals and the belief that skin care can be simple," Rock said.
The four core products include a creamy cleanser, a hydrating and soothing pre-serum, a vitamin A serum, and a mineral-based SPF 50. There's no daily face cream, because Rock believes that if you use those four products regularly, you won't need to lock in the moisture with a cream. The most helpful analogy to understanding Skingredients is to think of the ingredients in the products like the food groups on your dinner plate. "I wanted to lean on the dinner-plate analogy because people understand what they should put into their body. It doesn't mean we all do it, but we understand it. And the same analogy applies in skin care whereby I believe truly that people should have polyhydroxy acid, hyaluronic acid, vitamin A, vitamin C, SPF, antioxidants in their routine. And if you have those key ingredients every single day, it means you're treating the skin with respect," she said.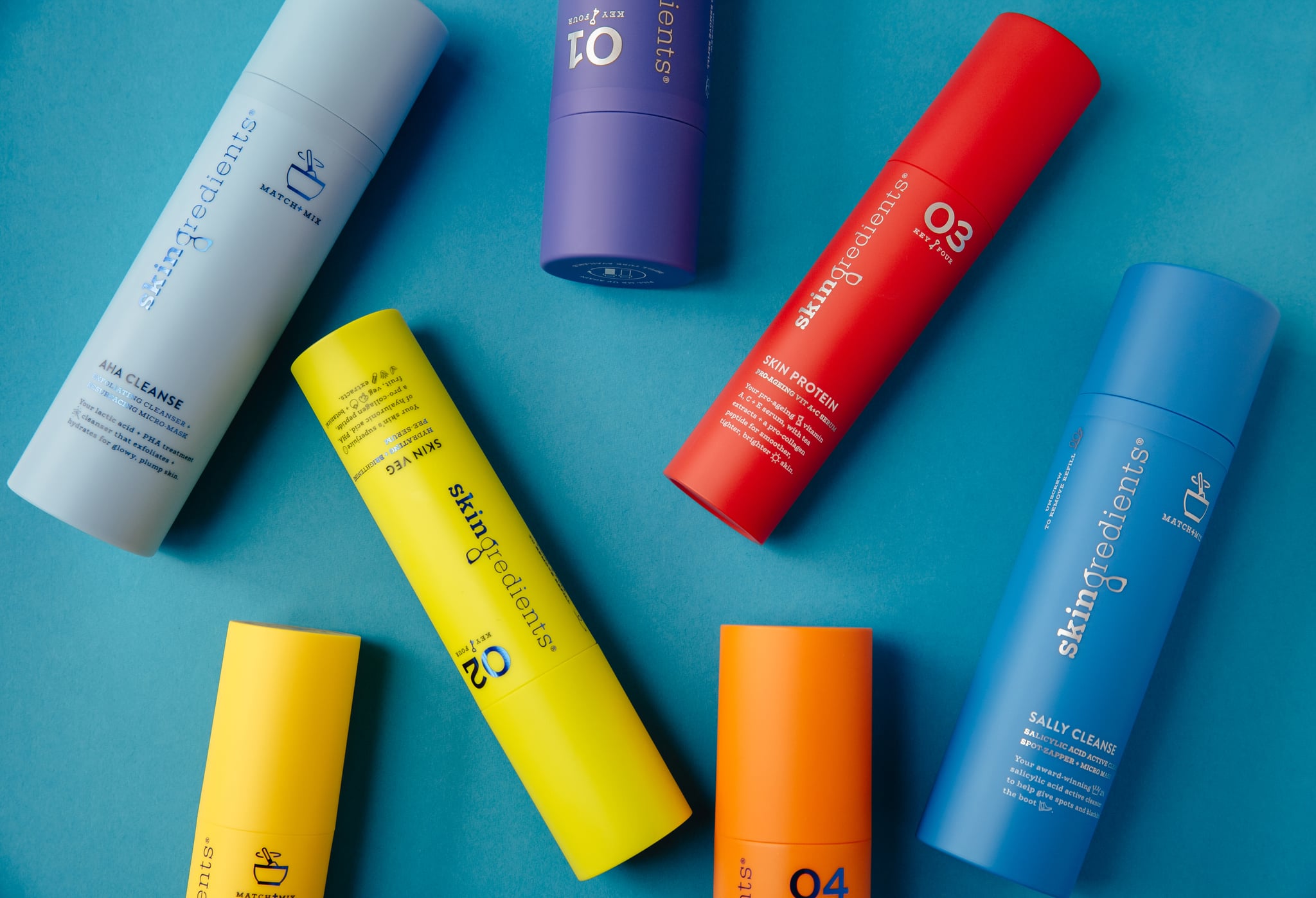 There are also three add-on products: a salicylic-based face wash, a ceramide-spiked cream, and the newly launched AHA cream cleanser. They're what Rock calls them "Match + Mix" products, and you can use them in your routine as needed. Rock equates them to condiments in your diet. "The key four products are the same for everyone regardless of skin type," Rock explained. "Whereas the Match + Mix products are a nod towards the fact that of course there are skin types and of course oil can go up and down, dryness can go up and down. They're almost almost like the condiments to your dinner plate in so far as you might need them more one day and less the next day."
The latest Skingredients development, in addition to the new exfoliating AHA cleanser, is the fact that just a year after launching, the brand completely redesigned all of its packaging to be refillable. Rock had always wanted to have refillable packaging, but the reality of the beauty industry is that a small, indie, Irish brand couldn't afford to start out with it. It's a common problem in the industry, and one that Rock doesn't mind being transparent about. "The reality is we were small and nobody really wanted to get behind us; we also couldn't have afforded it," she explained.
"Sustainability is quite a sexy message right now, but if it's done properly, it definitely isn't sexy to navigate."
Rock was persistent though, and the minute she could she started making changes. "We launched two years ago on the 6th June 2019. Three months after the launch, on 16th September, I finally found the people I work with now to create the refills. We were only two seconds out the door and I was like, 'Right, let's make this a reality.'" Rock also made other changes in an effort to be more environmentally conscious, like moving the brand's manufacturers to Europe so they no longer have to ship product as far.
"I'm trying to do it so that it's not just, 'Here's our new refills.' It's actually going back to the beginning. How do we source our raw ingredients? Who's our manufacturer? How do we reduce flying? How do we stop flying? And that's a harder business decision overall because it means you're actually affecting your entire supply chain. But I'm hoping people will see that we're doing things for the right reasons as opposed to just the bottom-line reasons. Sustainability is quite a sexy message right now, but if it's done properly, it definitely isn't sexy to navigate."
I've been a beauty editor for over a decade and have suffered my fair share of cosmetic-induced contact dermatitis (basically a rash caused by skin-care products) to the point where I now try not to overload my skin with products. Historically, I've also not always tolerated retinol, an ingredient I want to be using regularly since I'm in my mid-30s. When I first discovered Skingredients I was intrigued — it was one of the first skin-care brands I'd come across that truly felt like they were doing something different and trying to take the faff out of skin care. Also, the promise of a retinol I could use daily seemed too good to be true. The best part? That the products lived up to pitch. I used the key four products for three months straight and my skin looked better, felt better, and I loved having an easy routine to follow. If you're as interested as I was, keep reading to learn about each and every product in the Skingredients line, which is available to shop in the UK at Cult Beauty.