TikTok Cling Film Makeup Hack With Photos
I Tried TikTok's Cling Film Makeup Hack and I Have Thoughts
As POPSUGAR editors, we independently select and write about stuff we love and think you'll like too. If you buy a product we have recommended, we may receive affiliate commission, which in turn supports our work.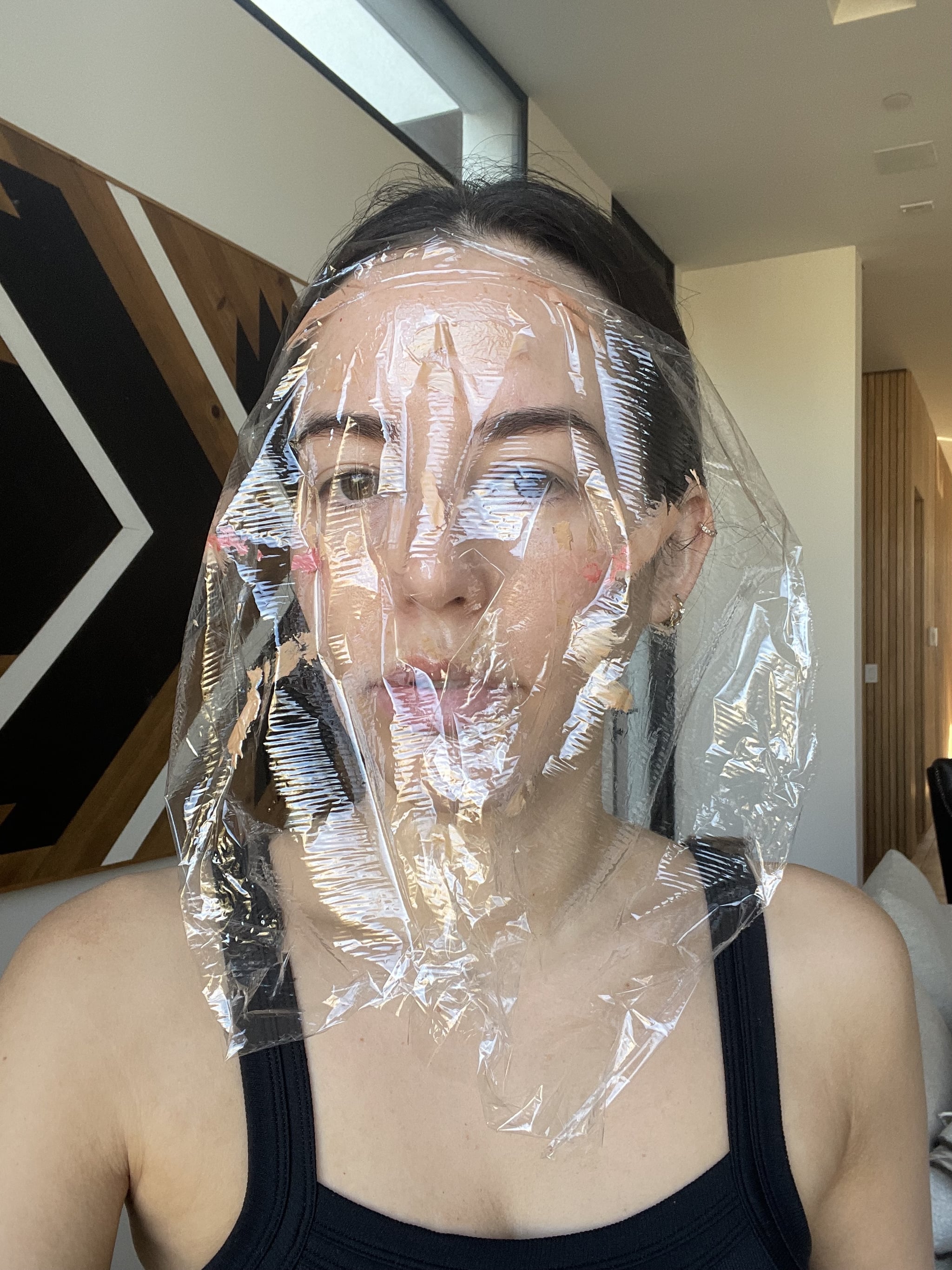 TikTok is home to many a bizarre beauty hack, and it seems like lately, I've been on a mission to try them all. A few months ago, I did a hair detox and didn't wash my hair for 7 days, and recently, I learned how to contour my face only using my hair. A few weeks ago, I came across a viral video of a beauty influencer testing a makeup hack where she applied her liquid products on top of cling film that she had positioned over her face. I was immediately intrigued, and even more so when I kept seeing more TikTok users trying it out.
If you're confused, let me explain. Essentially, TikTok users and beauty influencers alike are taking a piece of cling film, laying it over their face, and then applying their liquid makeup products on top of the cling film where they would normally place their makeup directly on their face. From there, they're folding the cling film in half and storing it for later, making it easy to take an entire face of makeup on the go. Everyone on TikTok was saying it's great for taking with you to the gym or to your partner's house, completely avoiding the need to lug around a heavy makeup bag.
Since our faces are symmetrical (or in my case, kind of symmetrical), the idea was that once you're ready to put your makeup on, you just apply the cling film to your face (makeup side down), press it into your skin (like a stamp), remove the plastic, and then blend with a beauty sponge or a makeup brush. Dangerous? Maybe, but it sounded simple enough, so I got everything ready I would need to test it out.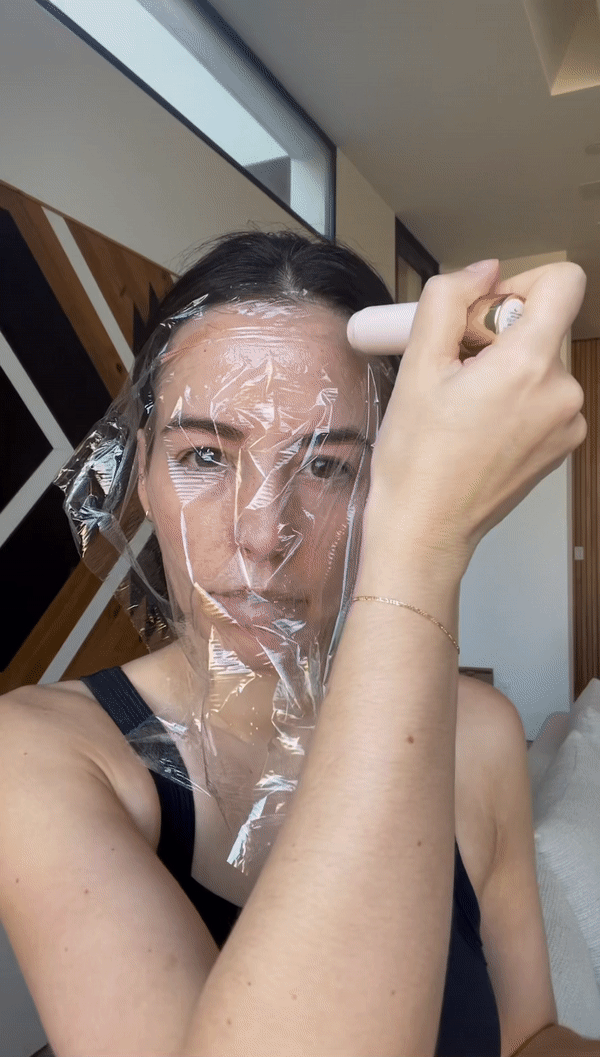 First I grabbed my cling film of choice and ripped off a piece that was about double the size of my face. From there, I placed it on my skin, making sure it was stuck to the top area of my head near my hairline. Next, I started applying makeup to the upper half of my face, leaving the bottom of the cling film loose so I could breathe. I applied my new favourite cream contour, Rare Beauty's Warm Wishes Effortless Bronzer Stick ($23), liquid concealer— I went with Anastasia Beverly Hills Magic Touch Concealer ($29), blush, and foundation.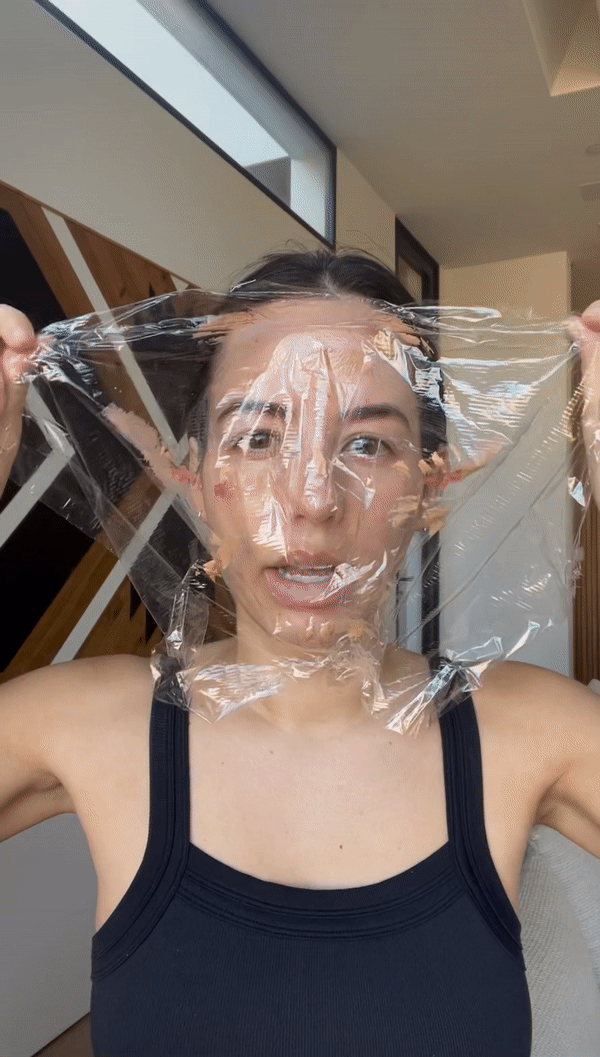 Next — after taking a few seconds to breathe — I pushed the bottom half of the cling film onto my face and began applying makeup to the lower half of the cling film, which mostly consisted of the remainder of my foundation and a tiny bit of contour. After I was finished applying my makeup to the cling film, I took it off of my face and folded it in half.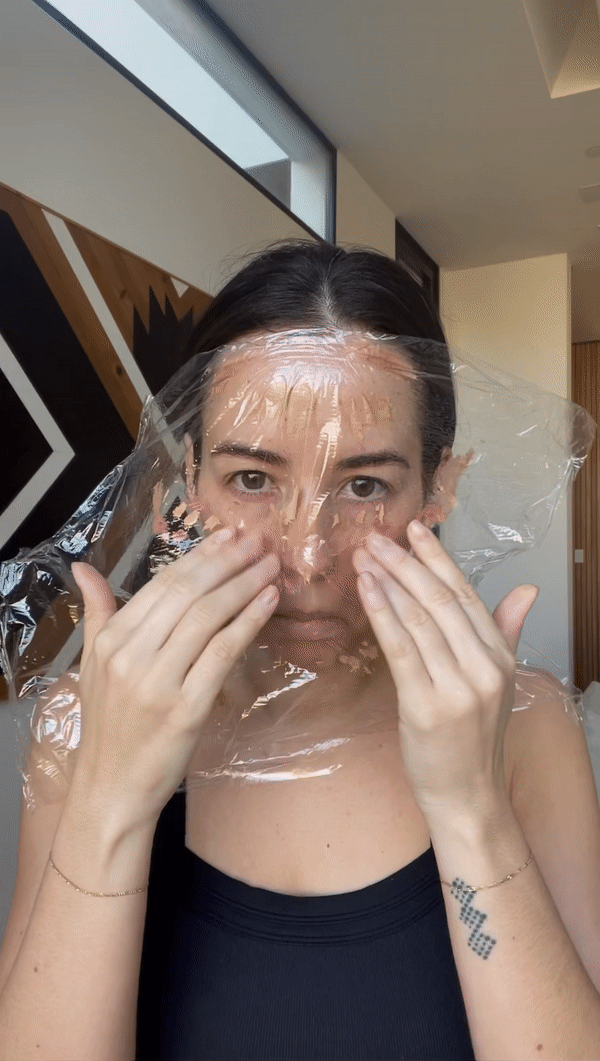 Then, I unfolded the plastic, placed it onto my face, and stamped the product onto my skin. From there, I took a beauty blender and blended everything out. In the end, my face looked . . . OK. A lot of the product had migrated all over the cling film, so I ended up having blush in weird places and my concealer wasn't exactly where I wanted it. It didn't look bad, but it didn't look great.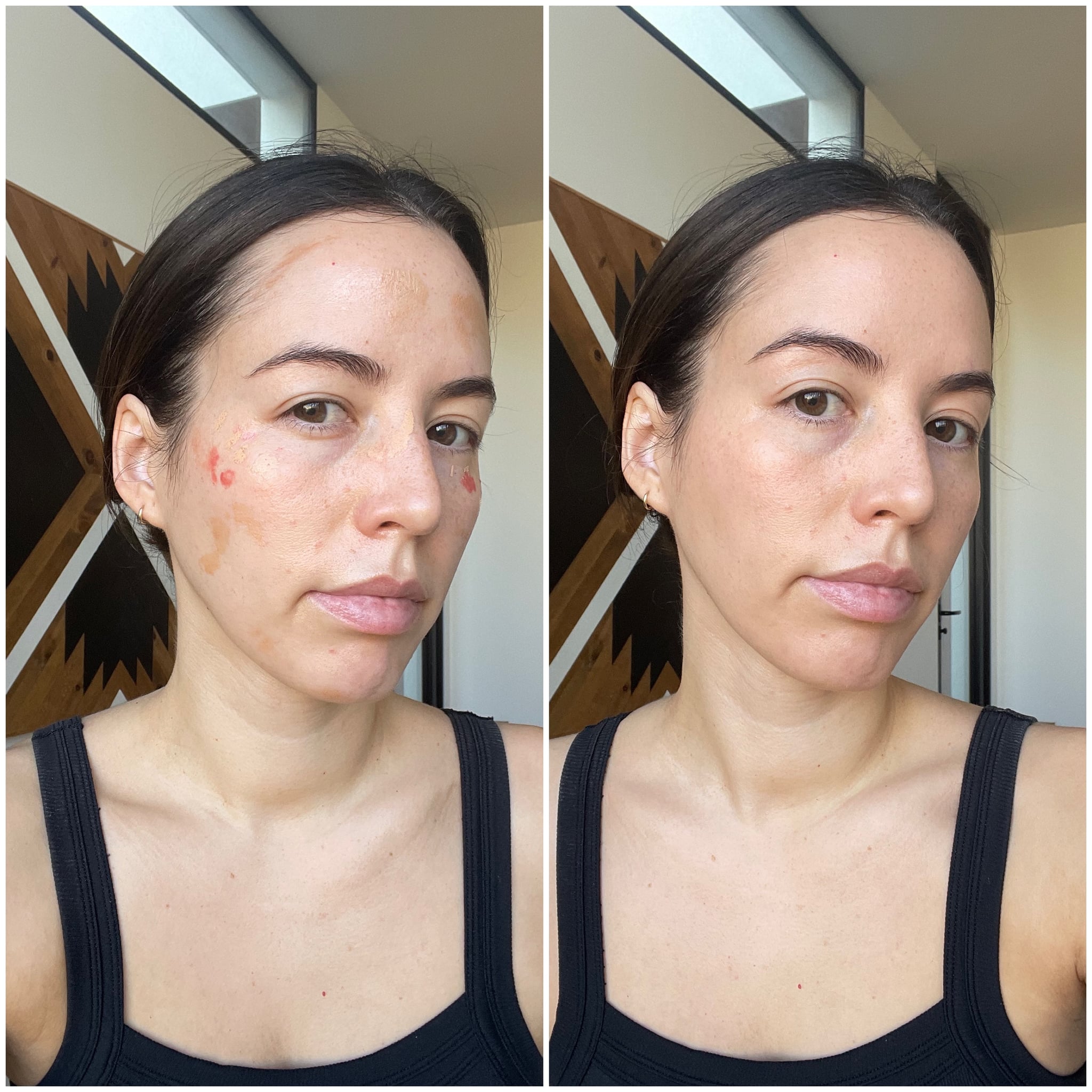 The hardest part about the entire experience was, well, breathing. As you can probably imagine, it's not super easy to breathe with a piece of plastic over your face, and I definitely inhaled a little too enthusiastically once or twice and felt the cling film immediately cling to my nose. My boyfriend was also extremely concerned for me when he walked in on me during the first half of the application, so make sure if you plan to try this at home you warn your housemates ahead of time.
Although the prospect of being able to tote my entire face around in my purse was appealing, it only works for cream or liquid makeup, which meant that I would still need to carry around my powders like my bronzer and setting powder. I would also still need to lug around all of my brow products, my eyelash curler, my mascara, and my lip products.
I might consider using this hack if I absolutely need to travel light, but I don't think it's something I'll do very often in the future. Although TikTok has led me to some of the greatest beauty hacks I've ever found, I'm not sure this one will be making that list.
Image Source: POPSUGAR Photography / Renee Rodriguez